All Hail Julius Caesar at Trinity Rep
Five reasons to see Trinity Rep's version that stars Anne Scurria as Julius Caesar.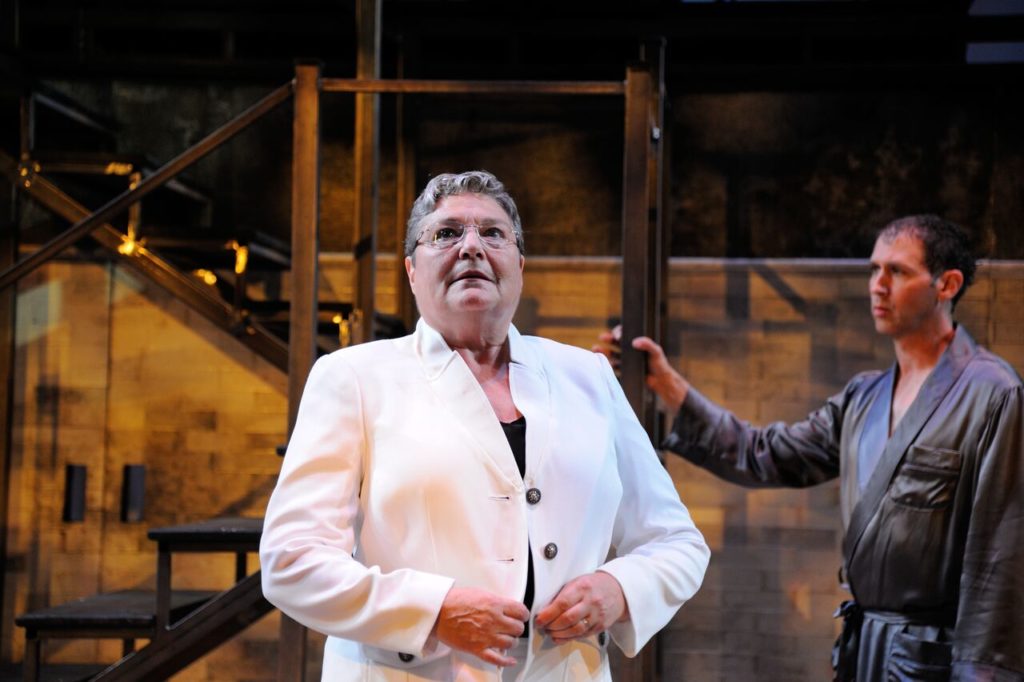 Shakespeare's Julius Caesar is a play that normally evokes images of togas and grape vines twining around the actor's bodies — but not Trinity Repertory Company's version. Trinity Rep does away with convention, producing a chilling, haunting and totally unexpected rendition of the Bard's classic tragedy. It goes even further than Oskar Eustis' 1990 production set in the Kennedy era by bringing the action forward even further, to the present – or even the impending future. Trinity Rep's Julius Caesar provokes the skeptic in us, the fear of government and the corruption of power, and reminds us that though perhaps embellished, the events surrounding Caesar's death actually happened. It happened in Rome on the Ides of March, 44 BC, and it could happen again.
Director Tyler Dobrowsky's rendition of Julius Caesar will give you goosebumps. Here's why:
1. Dystopian setting meets Peron's Argentina: Is that police siren an effect from the sound system or actually wailing down Weybosset Street? No matter, it fits perfectly with the twisted dystopian setting of the play. Cement-colored walls and metal pipes are the decor du jour, with a smattering of dictatorial propaganda pasted and projected for emphasis. Posters with the stenciled image of the short-haired Anne Scurria as Caesar are spread onto the walls, and in the background, cheers of "Caesar!" grow louder and louder. This is like Juan and Evita Peron's quasi-dictatorial government and propaganda in Argentina, a scenario where love of a leader is strong even as freedom is slowly leached away.
The cast of Shakespeare's Julius Caesar at Trinity Rep. Set design by Michael McGarty, costume design by Oliver Gajic
and lighting design by John Ambrosone.
2. Brilliant costumes: The costumes in this production put the icing on the cake. From Cassius' green army suit laden with pins to Brutus's simple black tie and white button-down combo, each character's attire suits his or her role and personality. Julius Caesar is clad in finely tailored suits, including one spectacular pale blue coat that you could envision on any current female politician. After Caesar's fall, Brutus and his followers wear grey-blue camouflage army pants and boots with grey T-shirts, dog tags and berets to top it off. The police costumes are my favorite: black combat boots paired with bullet-proof vests and menacing black batons.
3. Brutus, the tortured do-gooder: Brutus, as played by Stephen Thorne, is a relatable character. I mean, we all have those moments of indecision, where the "right thing to do" is as clear as the waters of the Seekonk River. The decision to kill Caesar eventually kills Brutus and the tension in his fraught mind is palpable through Thorne's superb acting; you can practically see the blood vessel on his temple throbbing under the stress. When the line between good and evil turns grey, you are left with a crumpled man, bogged down by stress like Thorne's Brutus.
Brian McEleney as Cassius and Stephen Thorne as Brutus.
4. The music: The quartet of musicians on the upper deck twang intentionally off-kilter melodies to narrate the performance. Composed of two violins, a viola and a cello, the tragic music brings us into a crumbling world.
5. Visual Effects: Where to begin here… My favorite part of the visual effects is the newsflash with the reporter standing outside Providence's domed statehouse, the camera cutting to Julius Caesar greeting the crowd with a smile, but sternly refusing the crown offered to her thrice. I felt like I turned on Channel 12 and this Caesar had taken over Providence. Trinity Rep also uses projections to foreshadow events, predicting Caesar's gory death with a video of blood pouring down her head and vibrating strings glistening red.
See Julius Caesar onstage in the Dowling Theater at Trinity Repertory Company through October 11. Tickets are $30–$71. Trinity Repertory Company, 201 Washington St., Providence, 401-351-4242, trinityrep.com.