All Aboard the Providence Northern Model Railroad Club
Model train enthusiasts can visit the club's fictional railway.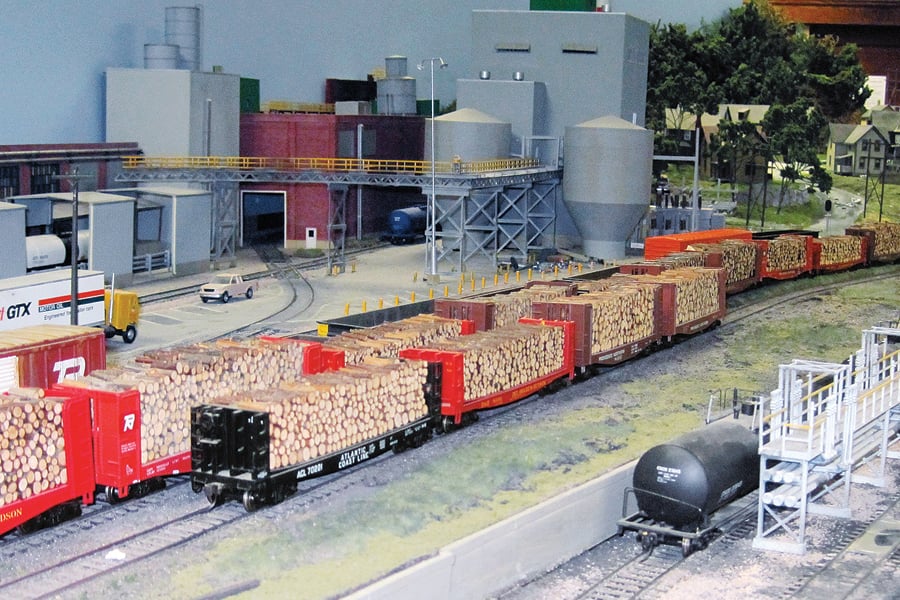 The Providence Northern railroad originates in the capital city and runs as far north as Montreal. If you've never ridden it, that's because it's "make believe, but real," says Providence Northern Model Railroad Club member John Breitmaier, a retired Amtrak conductor-turned-model train enthusiast who designed the track plan.
The fictional railroad compresses what would be hundreds of miles of track traversing New England into a thirty-five-by-sixty-foot layout in the Warwick Grange. Breitmaier enjoyed his time working on real trains, but says, "I enjoy this more." The club has thirty-five members, both male and female, including carpenters, electricians, a retired Providence College physics professor and IT folks, as well as a dentist, who serves as the current president.
The model train has the picture postcard-worthy stuff, tiny cabooses chugging around tree-covered mountains, but also incorporates work-a-day railyards and the backs of buildings, just like the views you see from an actual train.
The railway is an ongoing art, engineering and history project, and visitors will hear occasional drilling and sawing, and glimpse the odd pot of glue or paint lying about. The club has been at its current location for more than eight years, and with much of the track now in place, is focusing on scenery, which includes everything from overpasses to water towers and parking lots.

Trains have a nostalgic appeal, but the Providence Northern does not live entirely in the past. A computer controls the signaling system — which can also be operated manually — and at the rear of the tightly packed room are two adjacent monitors showing the trains moving through the rail network just like a real train's centralized traffic control system. Of course, it's much more fun to get up close and hear the trains' clickety-clack as they whizz past.
Open to the public most Saturdays from noon–4 p.m. Warwick Grange, 1175 West Shore Rd., Warwick, providencenorthern.com.