Al Fresco Dining in Rhode Island
The sun is out that means just one thing: It's time to dine out… outside, that is!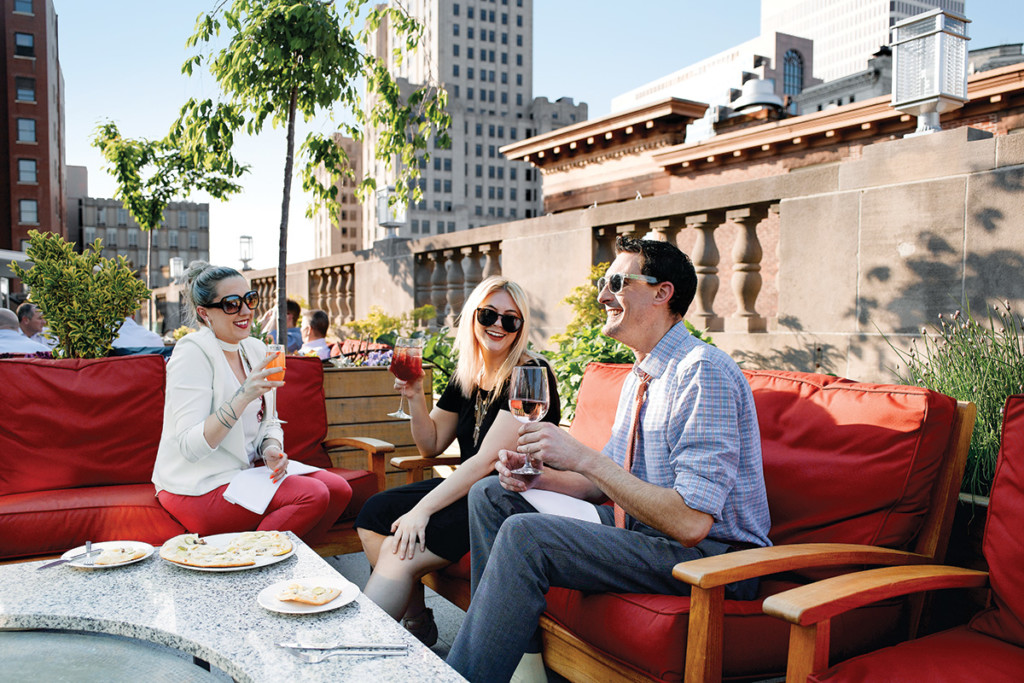 Rooftop
Rooftop at the Providence G
Providence's only rooftop bar and lounge features a retractable glass roof, fire pits and private lounges. Soak up the views of the Providence cityscape and star-filled nights while tasting local wine, munching on tasty apps and catching up with your crew. There is even live entertainment nightly with everything from soothing acoustic performers to masterful piano players to energetic DJs. Providence.
The Roof Deck at Grace Vanderbilt
One of Newport's best-kept secrets, the Roof Deck has breathtaking views of both the beautiful bay and the City by the Sea's famous mansions. Enjoy signature cocktails or pop off some Champagne while overlooking the sunset and unwind after a full day of vacation shenanigans. Newport.
Top of Newport at the Hotel Viking
Sip on fun, signature cocktails and enjoy food options like salad, sandwiches, lobster rolls and a fresh raw bar selection while you take in all that the Newport skyline has to offer. Top of Newport also has local live performances playing Wednesday through Saturday so you can happily dance the night (and the calories) away. Newport.
Coast Guard House
The panoramic views of waves crashing on to Narragansett Town Beach are a can't-miss on this rooftop deck. With indoor and outdoor seating, there is a spot for any and all preferences. Enjoy signature cocktails, local brews, sangria and a vast wine selection. Food options include a fresh raw bar, sandwiches, skirt steak and much more. Narragansett.
Patio
Cafe Nuovo
If you're looking for a cozy place to enjoy a meal while overlooking the canals of Providence, look no further. Cafe Nuovo is located on the Gondola landing of the capital city's river walk, meaning the restaurant's outdoor piazza has views of the city skyline and WaterFire. Enjoy the diverse menu of dinner options like charred octopus, local oysters, short rib ravioli, swordfish, turtle cheesecake for dessert and an extensive list of wine pairings. Providence.
CAV
CAV's renowned weekend brunch has been pleasing regulars for many years, in part because of the food (which includes award-winning Foie Gras and Vichyssoise), but also because of the restaurant's ambiance. While the exposed-brick interior filled with worldly treasures and antiques procured by CAV founder Sylvia Moubayed is something of a marvel in itself, the eatery's secluded outdoor patio creates a cozy atmosphere where patrons can feel the creative capital's energy humming through the fresh air. Providence.
Treehouse Tavern and Bistro
Eclectic-but-cozy decor along with expertly prepared victuals makes the Tree House a great spot for date night. Originally a florist shop, the Tree House has expanded into a thriving restaurant with secluded backyard-like seating. For those just looking to grab a drink, there are also a number of specialty cocktails and regional beers available. Warwick.
Luxe Burger
Trivia night and a build-your-own burger — what could be better? All that plus the option of open-air seating in downtown Providence, that's what. Whether you spiff up your burger with mounds of queso, onions and BBQ sauce or go old school with mayo, tomato and lettuce, Luxe Burger is a prime choice for casual city dining. Providence.
Waterview
Waterman Grille
Housed in a former bridge gatehouse circa 1871 right on the serene Seekonk River, Waterman Grille features an idyllic character with a complementary relaxed atmosphere both inside and out. It also promises a vibrant culinary experience, with menu items like pan-roasted monkfish, braised short rib, wood-grilled sirloin steak, roasted mushroom risotto and more, ensuring that all visitors' tastes are well spoken for. Providence.
Blu on the Water
This local hotspot brings the flavor and heat of Miami to Little Rhody. Admire the beautiful views of Greenwich Bay while enjoying a yummy meal (order from the raw bar or try the savory ahi tuna steak) and bop along to live music on their expansive wraparound porch. The outside seating area also has glass fire pits and tornado lanterns which add even more charm to the eatery and bar's lively environment. East Greenwich.
Castle Hill Inn
Castle Hill Inn is fine waterfront dining at its best. Its four world-class dining rooms and expansive lawn feature postcard-perfect views of Narragansett Bay's East Passage. Pair that with a menu filled with seasonal, locally sourced ingredients, a well-crafted cocktail list and unmatched service, and you have yourself the recipe for a perfect Sunday outing. Newport.
River Falls
Hailed as one of the state's best steak and seafood restaurants around, River Falls sits on the historic, scenic banks of the Blackstone River. Come for the rural atmosphere and stay for its legendary "Grand Slam" clam plate. Or, if you're lucky, you may even catch one of their midweek dinner specials (how could you possibly pass up something like Ten Buck Tuesday's Burger and Brew-Haha?). Woonsocket.
Ocean House
The Verandah Raw Bar sweeps across the south façade of the Ocean House, Rhode Island's exemplary five-star hotel in Westerly. Its outdoor terrace, bequeathed with oversized chairs and low tables, not only overlooks the property's croquet court, but also the surrounding waters of the Atlantic Ocean and Little Narragansett Bay. And, of course, the raw bar has fresh, locally grown and harvested shellfish — oysters, clams and crab claws, oh my! — that are shucked to order. Westerly.
Chair 5
Summertime seems to spark a need in all of us for ocean views, and why resist when you can venture to Chair 5 to get your seaside fix served with a side of premium breakfast, lunch and dinner options? Menu items include classic morning cocktails like mimosas and Bloody Marys, locally sourced appetizers such as New England clam chowder and an assortment of savory entrees, sandwiches, sides and desserts, all perfectly placed in an atmosphere of nautical elegance. Narragansett.