22 Restaurants Will Support AIDS Care Ocean State
For Paint the Town Red on April 27, participating Rhode Island restaurants will dedicate a portion of proceeds to help raise money for HIV/AIDS prevention and education services.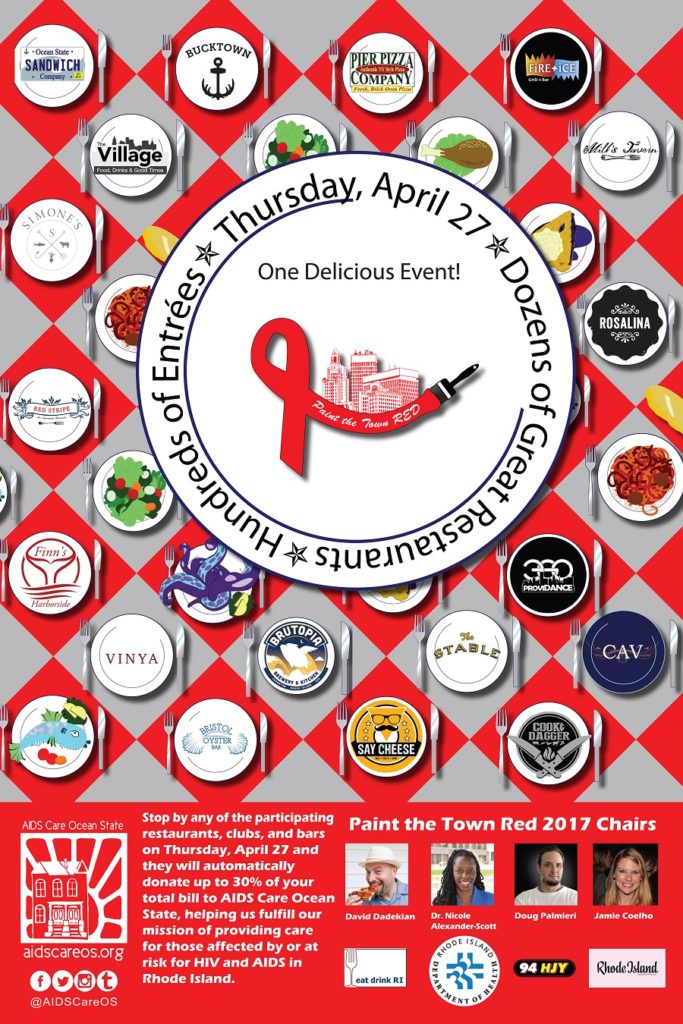 AIDS Care Ocean State is organizing local restaurants to join the fight against AIDS and HIV by participating in the Paint the Town Red program. On Thursday, April 27, restaurants will give 15, 20 or 30 percent of their total sales to help provide HIV/AIDS prevention and education services, as well as assistance for people living with HIV/AIDS.
Most of us dine out once a week anyway. By choosing to dine out on April 27 at one of these locations, you will not only help support Rhode Island's terrific restaurants, but you'll also feel good about some of the proceeds going to a great cause and helping others who really need it. The list of supporters is growing, but AIDS Care Ocean State is hoping to add more local eateries.
Participating Providence restaurants and events include the Eat Drink RI Festival's Dinner by Dames, Bucktown, CAV Restaurant, EGO Providence, FiRE+iCE, Mill's Tavern, Ocean State Sandwich Company, Red Stripe, Rosalina, Say Cheese, the Stable, the Village and Vinya. In Bristol/Warren, participating restaurants include Bristol Oyster Bar and Simone's. In Cranston, there's Brutopia, and in East Greenwich, Finn's Harborside and Red Stripe are pitching in. Out in Greenville, you can visit Cook and Dagger, and in Johnston, there's Ocean State Sandwich Company. Also, all three Pier Pizza Company locations in North Kingstown, Wakefield and Warwick will dedicate a portion of proceeds to the cause.
Restaurants, bars and clubs that would like to participate should contact AIDS Care Ocean State's director of development, George Evans Marley, at 401-521-3603 or georgem@AIDSCareOS.org. "ACOS is thrilled to be kicking off this event with so many amazing businesses across the state," says Evans Marley. "It's easier than ever before for the public to learn how to get tested for HIV and make a meaningful contribution to the work we do just by going out to eat."
I am proud to represent Rhode Island Monthly magazine as a co-chair for Paint the Town Red along with Eat Drink RI's founder and president David Dadekian, Doug Palmieri from 94 HJY and Coast 93.3 and Dr. Nicole Alexander-Scott, director of the Rhode Island Department of Health. We encourage restaurants to join the cause, and urge diners to go out to participating Paint The Town Red restaurants on April 27.
Dadekian is launching the Eat Drink RI Festival that same week, and Thursday's event, Dinner by Dames at the brand new Skyline at Waterplace Park, will dedicate a portion of proceeds to ACOS.
The funds raised on that day will be used to support AIDS Care Ocean State's mission of providing quality housing, case management, medical and nursing care, and prevention to adults, families, adolescents and children who are affected by or at risk for HIV infection. "Organizations like AIDS Care Ocean State are an essential part of Rhode Island's work to bring down our HIV infection rates and achieve our 90-90-90 goals by 2020," says Alexander-Scott, "having 90 percent of all HIV-infected Rhode Islanders aware of their HIV status, having 90 percent of all HIV-infected Rhode Islanders in care and receiving treatment, and having 90 percent of all HIV-infected Rhode Islanders with suppressed viral loads."