Aging in Place in Rhode Island
Are we offering the right serices to our independent-minded elders?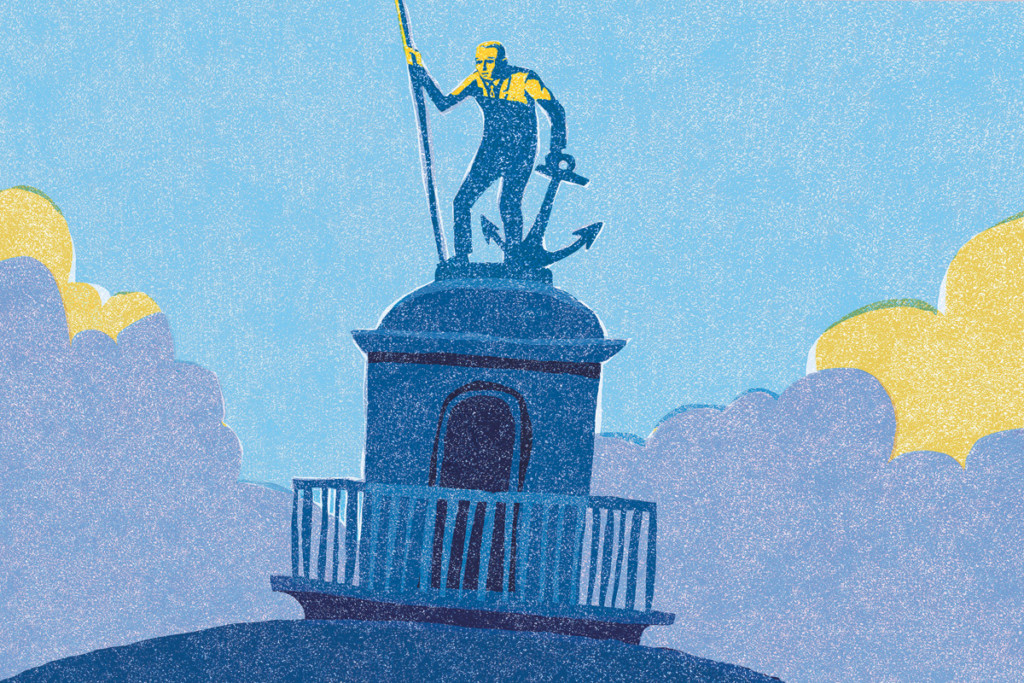 Maria "Nana" King reclines like a queen on her taupe leather sofa, content in a loose cocoon of quilts. At ninety-six, Maria suffers from dementia and arthritis, but she doesn't see how life could get any better. She lives with her family, surrounded by a retinue of dogs and great grandchildren, and lovingly attended by her thirty-seven-year-old granddaughter, Elizabeth.
"She's a second mother to me," Maria says softly. "I'm lucky. I have it all."
King's luck is of the self-made variety. She spent her younger years forging an iron bond with Elizabeth — driving her to her Kmart job in high school and whisking her away when tempers flared at home.
"She was my safe haven," Elizabeth says. "When I was thirteen, I promised her: When the time comes, I will take care of you."
And yet, luck would not be enough to keep Maria healthy and stable, nor would it help her granddaughter cope with the challenges that have accompanied Nana in advanced old age. For that, Elizabeth had the Seven Hills Rhode Island RIte @ Home program. The nonprofit pays the qualified caregiver of a senior an annual tax-free stipend and an allotment for respite care totaling as much as $20,000, plus nursing visits and social service supports.
"They are a blessing," Elizabeth says. "I could do it on my own, but it would be much more stressful."
In July 2015, there were nearly forty-eight million people age sixty-five and older in the United States. And every day, another 10,000 Americans turn sixty-five, says Sharon Guzman of the American Association of Retired Persons. By 2060, the Census Bureau projects that there will be more than ninety-eight million seniors, comprising nearly one in four United States residents.
"Generally speaking, we are not prepared," says Bob Blancato, board chairman of the American Society on Aging. "When President Franklin D. Roosevelt signed the Social Security law, the ratio of younger workers to older beneficiaries was five to one; now it's less than three to one. We've not taken steps to ensure its solvency. The very fact that we don't have a national long-term care policy is another glaring omission. We have elements of it here and there, but more innovations are going on at the state level."
In Rhode Island, this shift is on steroids. We currently have the highest proportion of adults age eighty-five years or older in the United States. In 2010, there were 151,881 Rhode Islanders older than sixty-five. By 2040, that figure is expected to increase by 75 percent to 264,238 — a quarter of the population. And the subset of older seniors — those between seventy-four and eighty-four — will double over that time period, according to "Aging in Community," a 2016 report mandated by the 2014 Aging in Community Act. This building gray wave will touch every aspect of life in the Ocean State, from the Medicaid budget to housing to food security to transportation to the labor force.
"We need to do things now to plan for that instead of waiting for a crisis to develop," says Charles Fogarty, the state's director of the Division of Elderly Affairs. "We are not on the cutting edge, and we've got to start recognizing this increasing demographic in terms of budget, programs and services."
The state has made some investments. A 2006 long-term care state law requires that any Medicaid system savings attained by reducing the number of nursing home days be reallocated the following budget year to promote and strengthen community-based alternatives, either by paying for such services — like adult day care or assisted living for Medicaid-eligible seniors, or by educating the public about the existence of such programs.
At any given time, the state's eighty-nine nursing homes are caring for more than 8,000 frail elderly and other disabled adults. (In fiscal 2016, the state spent $155.8 million in fee-for-service Medicaid dollars on long-term care, with about 80 percent spent on nursing homes.)
Between the 2015 and 2017 fiscal years, the state plowed $700,000 in nursing home savings back into community alternatives. And, nearly three years ago, Governor Gina Raimondo launched an effort to accelerate the search for Medicaid savings, with the aim of shifting its long-term care dollars so that only 50 percent would be spent on nursing homes by 2020.