Aging Behind Bars in Rhode Island
Facing growing medical costs, policymakers are considering alternatives.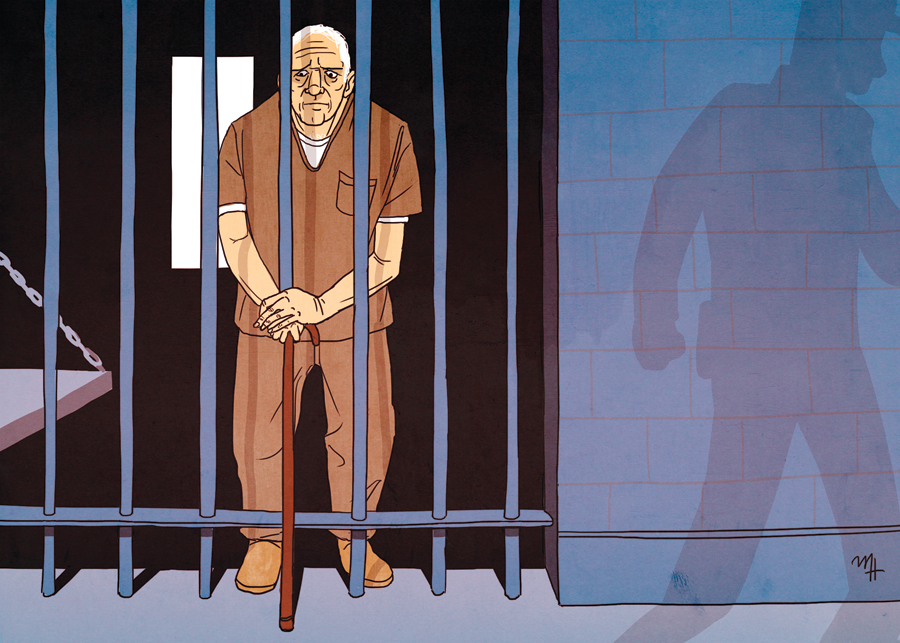 At seventy-two, William Pelletier's face is barely marked by time.
"Prison doesn't age you," he says. "It's regulated living."
Pelletier sits placidly in a small room off the visiting area of the John J. Moran Medium Security Prison in Cranston. He reckons that his life has been regulated for about half of his adult years, in and out of various lockups from Florida to New Hampshire.
But prison didn't separate him from a forty-year, pack-a-day, no-filter-cigarette smoking habit. And now, he can do little more than sit in his wheelchair, more thoroughly confined by chronic obstructive pulmonary disease than by bars. Thin clear tubes route oxygen from the portable tank padlocked to his wheelchair through his nostrils to his respiratory system. Pelletier takes six pills with his morning coffee to treat his diabetes, osteoporosis, enlarged prostate and high blood pressure. Visits to the infirmary for his insulin injections divide his days.
His current sentence began in 2008, when he was sixty-five years old.
"When you come into prison as an old man, everyone thinks you are a child molester, and you have to live with that until they get to know you," he says. "Getting old in prison is no fun."
It is also expensive. Dr. Fred Vohr, medical program director of the Adult Correctional Institutions (ACI), says that estimates of the medical costs for older prisoners range from 100 to several hundred percent higher than their younger counterparts. Many elderly inmates are the byproducts of Draconian drug and truth-in-sentencing laws passed with great gusto in the 1980s and 1990s. And for at least a decade, human rights and inmate advocates have been warning that their mushrooming presence will strain prison budgets to the point of compromising their care, in contradiction to their threat to public safety and the demands of justice.
"Politicians don't get points pressing for people to get out of prison; parole boards still worry that something could happen after release, and we still have a punitive culture," says Jamie Fellner, senior adviser for Human Rights Watch's United States program.
Contrary to Pelletier's observation that regular meals and bedtimes minus alcohol and drugs arrest one's physical decline, experts say that prison is no anti-aging prescription.
"An inmate's physical age is ten years above their biological age," says Barry Weiner, assistant director for rehabilitative services at the Rhode Island Department of Corrections. "A lot of folks had poor health care or a lack of health care, and they come to us with greater medical challenges than another person of that age — chronic diabetes, heart disease, osteoporosis, dementia, cancers."
The ranks of older prisoners have been growing on a steep trajectory since the mid-1990s. According to figures compiled by Human Rights Watch, the number of state and federal prisoners aged fifty-five and older has more than tripled from 41,070 in 1997 to 144,104 in 2013.
In Rhode Island, the growth in the fifty-plus population is steady and significant. From 1997 to 2015, the number of older prisoners increased by 58 percent, from 253 to 400. On one March day, the ACI housed thirty-two inmates older than seventy and four age eighty or older. At the current rate, officials forecast roughly 477 inmates older than fifty by 2018.
Elderly inmates make up about 12 percent of the population and, so far, says DOC Director A.T. Wall II, the medical staff is doing "an excellent job" meeting their needs.
"We have an ironclad policy that we can never say no," Wall says. "We must accept every inmate in whatever condition we find them. Our goal is to balance the quality of care and, at the same time, recognize that there is a structural deficit in the state."
Inmates' care is entirely borne by the state. The DOC's medical budget has crept from $19.7 million in the 2012 fiscal year to $20.7 in 2016, but it can't be neatly correlated to increases in older prisoners.
Nonetheless, prison is a more difficult environment for the elderly, who may have trouble getting in and out of bunks, or seeing, hearing or minding correctional officers. The most physically fragile inmates are housed together in one unit, close to the prison infirmary.
But, sometimes, their medical needs conflict with the institutional mission for security and control. In his first few years, Pelletier was mostly confined to his cell by his stationary oxygen tank, until an ACI doctor prescribed a portable oxygen tank for another inmate. Due to the potential for combustion, a portable tank couldn't be used until the security staff designed an enclosed case to make it safe to be carried in prison.
"The correctional side and the medical side are not always entirely happy with each other, but the correctional side is well aware that a healthier inmate is far better to deal with," says Dr. Vohr.
Vohr would like to establish a six-bed chronic care unit on the ACI grounds. And the ACI is working with Rhode Island College on a research project to better identify and meet the needs of elderly inmates. On a larger scale, Governor Gina Raimondo recently established a Justice Reinvestment Working Group to improve the system, addressing racial disparities and reducing cost.
"We are working with partner agencies and the governor's office about ways, at the policy level, the system can do a better job at preventing inappropriate incarceration," Wall says.
For now, inmates who are terminally ill, severely ill or permanently physically incapacitated can exit with a medical parole. Since the law's inception in 1991, approximately sixty-six applications were forwarded to the parole board for consideration, thirty-eight were granted and nineteen were denied. (The remaining nine did not go forward for a variety of reasons.)
The bar is high. The parole board must determine that paroling an inmate for medical reasons will not endanger the community or diminish the seriousness of the crime. A severely ill inmate is only considered for release if the cost of medical treatment is too "exorbitant" for the state to bear. No inmate can be considered for a medical parole without a place to go — a nursing home, hospice or assisted living facility — and a way to pay for it.
"The inmate's only released if they don't pose a threat," says Laura Pisaturo, board chairperson. "We see a lower rate of recidivism for medical parolees."
Despite the low risk, the careful vetting and infrequent rate of release, medical discharge planner Susan Corkran says navigating income issues, paperwork and societal attitudes make frail parolees difficult to place. They may be old enough to qualify for Medicare, but to pay for full-time skilled care, most also need a supplement from Medicaid. And few have an adequate external source of income — most have spotty employment histories and small monthly Social Security allotments. In more than two years, Corkran has only placed three medical parolees.
"It is frustrating. The person I'm working on right now is confined to a wheelchair or his bed. He has done his own self-care, and he has met the level of care for Medicaid. I sent out thirty-two applications and got no response or extremely angry calls saying 'these people' don't belong in nursing homes. These things happen so slowly, often they just die [in prison] while the wheels are turning."
In the last five years, thirty-one inmates have died in custody; twenty — nearly two-thirds — were older than fifty. Most succumbed to diseases such as cancer, strokes and cardiac complications. Several years ago, Pelletier was nearly among their numbers. He had begun serving his fifteen-year sentence in the maximum security facility and although his cell was only steps away from the infirmary, he once almost lost the struggle to reach the door.
"I got to the point where I couldn't move. I thought I had had it," he recalls.
But his meds improved, and his oxygen became portable. Pelletier will have to celebrate his eighty-second birthday to make it to his good-time release date.
"It ain't gonna happen. I don't think it will," he says. "But I don't think about it. It wouldn't do me any good if I did."
Ellen Liberman is an award-winning journalist who has commented on politics and reported on government affairs for more than two decades.