Advertising as Art With Providence Painted Signs
Catch their work at the Dean Hotel, Trinity Rep and other local companies.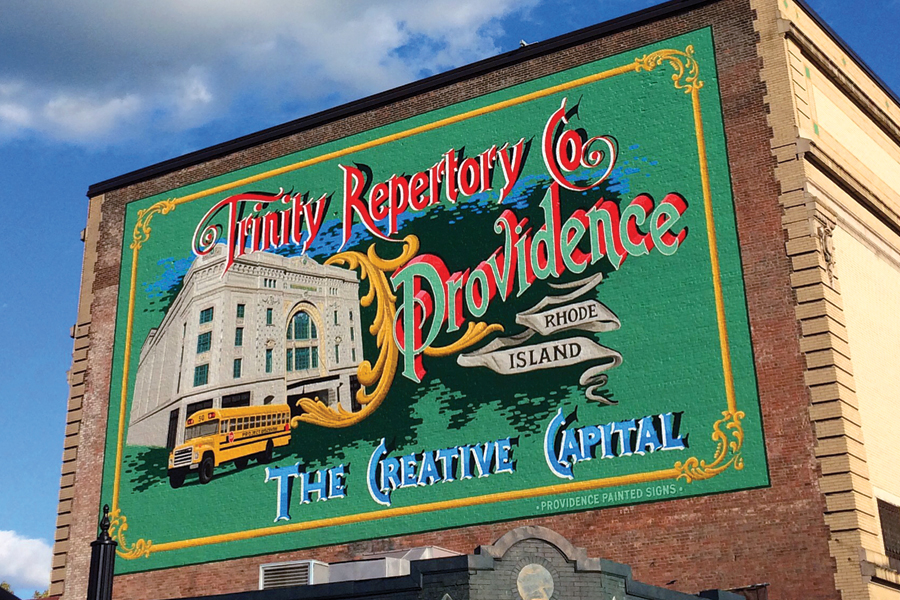 Shawn Gilheeney, Buck Hastings and Greg Pennisten are making their mark on Rhode Island — one brush stroke at a time. Through their business, Providence Painted Signs, the trio has created custom calling cards for more than 200 local brands in Rhode Island and beyond.
Their stylish lettering can be found everywhere from the outside of the Dean Hotel and the Cable Car Cinema to Lang's Bowlarama in Cranston. They've also done artistic wall art for Providence restaurant Rosalina and created the brand identity for Charlestown-based Walrus and Carpenter Oysters. In early fall, they finished their largest commission yet, a seventy-by-forty-foot mural for Providence's Trinity Repertory Company.
With hand-drawing, charcoal stenciling and intricate brushwork, the process harkens back to the old days before the craft was mostly obliterated by newer technology. "We learned by looking because there wasn't anybody left to apprentice us," says Gilheeney, who founded the business in 2012 and brought in Hastings and Pennisten later as work picked up.
While all three owners have backgrounds in fine art, they insist their hand-painted work is purely commercial. "Practicality is the main thing you have to keep in mind about painting a sign," says Hastings. "It has a purpose, a function in the world."
And as a bonus, many local storefronts are now a lot easier on the eyes.
Providence Painted Signs offers custom work within a three-hour drive of Providence. 5 Marvin St., Providence, 206-6608, providencepaintedsigns.com
The Dean Hotel, Providence.

Central Truck, Cranston.

Walrus and Carpenter Oysters, Narragansett.

Lotuff Leather, Providence.

Founders League, Providence.
Savoy Bookstore, Westerly.

Dave's Coffee, Providence