Acting the Part
Hollywood acting coach Howard Fine gives back to Rhode Island College.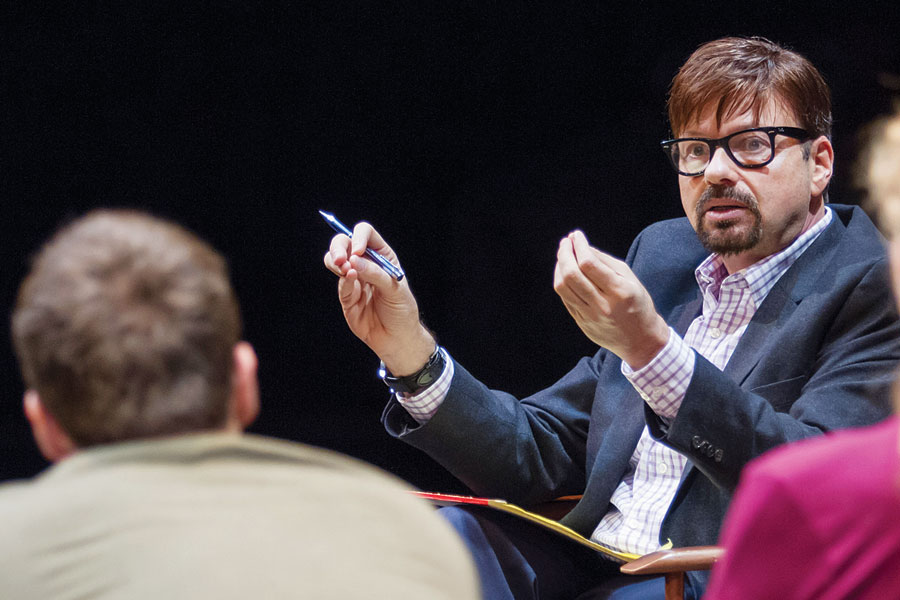 A young couple is fighting. As with most confrontations, nuggets of truth throb in their angry words. For the audience watching in the Forman Theatre at Rhode Island College where these drama students act out the fight, it's painful to see the raw emotion.
But not for Howard Fine, observing intently and scribbling notes with a metallic pen on a yellow pad. Fine, fifty-six, a famous Hollywood acting coach, has taught big-name students like Oscar winners Jared Leto and Jennifer Connelly. But he is also RIC class of '81, and here now to conduct a free master acting class, giving back to the school that gave him his lifelong love for the craft of acting.
"My favorite people were teachers," Fine says, including Dr. Marjorie H. Eubank who he says taught him how to teach at RIC, a school that also graduated double Oscar nominee Viola Davis in 1988.
Fine grew up in Cranston, attended RIC where he later taught, learning early on he was a better director than actor. He headed west in 1985, and has coached the likes of Brad Pitt, Bradley Cooper, Will Smith and hundreds more.
But on this day, his heart is back at RIC. The students hang on his every word, and redo the scene more honestly. Fine smiles, as much at home here as in Hollywood, saying later of RIC, "it gave me confidence and validation," both of which he hopes to give his students. ric.edu/mtd/theatreprogram.php