Abyssinia
Bold flavors and simple preparations push diners into new culinary territory that's both exotic and comfortably familiar.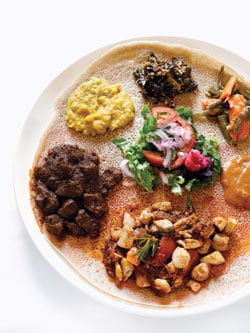 Abyssinia
333 Wickenden St., Providence, 454-1412,
abyssinia-restaurant.com
.
Hours
Open for lunch and dinner seven days a week. Wheelchair accessibility is a challenge. Street parking.
Cuisine
Ethopian.
Capacity
About fifty between two floors.
Vibe
Like someone designed a pop-up restaurant in your nineteenth-century home.
Prices
Appetizers $4.95–$8.95, entrees $6.95–$18.95, gulp — no dessert.
Karen's picks
All variations of wot (spicy chicken, beef, lamb or lentils), ye'sega alcha (beef stew), every vegetarian dish
Key
Fair
Good
Very Good
Excellent
Half-star
When will Africa get its due? In the last century, we've proven that we can identify a foreign cuisine about every decade and absorb it into American mainstream culture. Julia Child brought French fare to our attention in the '50s and, in the latter half of the twentieth century, Spanish, Chinese, Mexican, Japanese, Thai and Vietnamese food became culinary staples. So why do we persistently ignore Africa?
It's impossible to discount politics altogether. The continent may be distant but it's our lack of daily interaction with African countries (less than 15 percent of the population has Internet access) and oversimplified perceptions of Africa's pervasive poverty and civilian unrest that may be responsible for such an expansive divide. However, misperceptions and current conditions don't speak to the breadth of culinary culture that permeates all areas of Africa, from the Ivory Coast to the northern countries — notably Morocco and Egypt — to the Eritrean traditions of Somalia and Ethiopia.
Fortunately, what the majority ignores, the collegiate crowd readily embraces. Maybe it's Abyssinia's affordability or the myriad vegetarian options. But whatever the reason, the eighteen-to-twenty-five year-old crowd has declared its affection for this small Ethiopian haunt.
Housed in a small two-story former residence on Wickenden (once occupied by Angkor), Abyssinia feels decidedly like home — particularly if you're used to communal living. The influx of red booths, twig-lined walls, international artwork and personal tchotchkes are all building blocks to international domesticity. The communal efforts, however, are in more than the aesthetics. Slips of paper under the tabletops announce the arrival of new refugee employees and bid farewell to those moving on. Table placards identify the products — eggs, fruit, herbs — sourced from nearby farms. Only the unsentimental can get through a meal without feeling, in some way, like a member of an extended family.
To that end, the dishes are rustic and simple. Stews are the mainstay in this region — the Horn of Africa — and the flavors are bold in spice or bright with acid. There's certainly nothing fancy here, or pretentious. The most popular dishes are sampler plates — meats, veggies and legumes — that are easily passed around the compact tables and which, in their own way, make camaraderie a requisite. Most meats are braised and, no surprise, the slow burn that scents the air and breaks down the collagen also permeates patrons with a sense of ancestral familiarity. That's the essential paradox: This far-flung cuisine feels comfortingly close to the meals that mark childhoods and informal gatherings.
Of course there's still an interpretive dance of sorts. Root vegetables are the dominant crop and form the foundation of most salads. Beets, potatoes and yams may not seem light, but tossed in lemon vinaigrette (ye'dinich salata, $5.95) or deep fried with a hit of hot pepper (sikwar dinich tibs, $5.95), they still whet the appetite rather than sate it. Those looking for a dish that values beauty over sustenance, however, are at the wrong place. There is nothing vain about Abyssinia. It proudly represents a culture of, yes, practicality and provision.
One of the more intriguing elements of African cuisine is its ability to use ingredients common to the American palate with entirely different effects. And while Indian cooking serves as a bridge between the two continents — clarified butter, lentils and curry make frequent appearances — there are marked differences.
As most Ethiopians are Orthodox Christians or Muslim, there is no pork on the menu but plenty of beef and lamb. But, with fewer than ten meat-based entrees, there is still a vast spectrum of flavor. Ye-sega alcha, a traditional beef stew with carrots and potatoes ($12.95) is on the subtle side, cooked in butter and mild spices to form what is not so different from an American beef stew. But the signature Ethiopian sauce is berbere, a spicy, woodsy paste of herbs that infuses chicken, beef and lamb ($13.95–$18.95) with distilled potency. Garnishes cut the heat — hardboiled eggs or Ethiopian cottage cheese — but it's the injera, a regional bread, that balances flavor. Somewhere between a tortilla and the tangiest sourdough ever fermented, injera is served with everything and in copious quantities.
The real draw, though, are the vegan dishes, which feature everything from lentils and chickpeas to collard greens, carrots and cabbage ($7.95–$8.95). There are a host of religious reasons for the vegetarian options, but the bottom line is that these are not flowery dishes; they're deeply flavored and dense. Even the mild tikle gomen (cabbage in curry), which uses rosemary, is revelatory in the way it highlights the herb's earthiness without any of the floral overtones that European and North American cooking emphasize.
Of course there are a few dishes that are tough to characterize, even in comparison to other cultures. Kitfo leb leb (which sounds more like a mantra than a meal) is ostensibly a raw beef dish though it contains a fiery blend of spices as well as warm butter ($17.95). It bears some relationship to tartar and some technical similarities to ceviche but it's really neither in that it's one of the rare preparations that has no discernible acid. It's also shockingly large and, even for a raw beef enthusiast, a softball size portion may be insurmountable.
There's no dessert at Abyssinia, but teas and coffees abound and all are presented with an appreciation for their herbal and fruit flavors. To boot, both mark Abyssinia's primary purpose: to sit longer, talk more, appreciate the easygoing air. The service doesn't always work at lightning speed; that would be counterintuitive. But in everything that this little restaurant presents, there is an earnest desire to broaden perspectives and to remind diners that the world is more sprawling and much smaller than you think.