About Face – The Quick Cosmetic Fix
Smoother skin, brighter smile, no more bags — looking younger is easier than ever thanks to subtle, high-tech cosmetic procedures that take less time than doing lunch.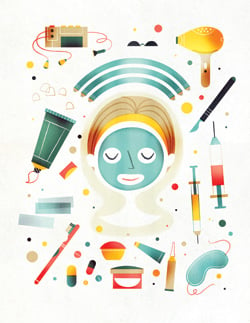 Rhode Island might seem to be a place populated by down-to-earth people, but according to a recent tally in Men's Health magazine, Providence ranks tenth on a list of the vainest cities in the United States, just below Tampa and San Francisco. That assessment is based on a set of somewhat random factors such as sales of Botox, teeth whiteners and shapewear, as well as per-capita rates of plastic surgeons and tanning salons.
However, our Rhode Island-style vanity is of a discriminating sort, more low-key and less showy than you might see elsewhere, according to Dr. Patrick Sullivan, a plastic surgeon with a busy practice near Rhode Island Hospital. "People in New England want a really natural look," he says. They don't want that stretched, artificial look, or big, puffy lips. They want to go back to work the next day and have people notice that they look great, but not suspect that they've had work done. "That natural look isn't easy to achieve," Sullivan adds. "You need to have an artistic sense, as well as technique, skills and knowledge."
Dr. Lori Polacek, a plastic surgeon based in Johnston, agrees that slow and subtle changes are the Rhode Island style. "It's common for patients to say, 'What can you do for me in the office, I don't want surgery,' " she says. "That trend has continued to grow in the fifteen years since I started my practice."
Encouraging that trend are improvements in the results that patients can expect from quick and easy office procedures. "It's really changed the facelift market, because for a minimum amount of downtime, you can get changes that could only be achieved with a facelift before," says Dr. Richard Zienowicz, a plastic surgeon in Providence. "I think it's very positive. We're all constantly aging, and to have something done that within a few days looks like you've had ten years taken off, with essentially no downtime, it's dramatic."
Any number of motivations can drive men and women from their thirties into their eighties, from all walks of life, into these doctors' offices. Many cite professional concerns, and the need to compete with younger people in the workplace. Others may be re-entering the dating scene at mid-life and hope to make a good first impression. For others, it's just something positive they can do for themselves, like getting a facial or a manicure. Despite the economic crunch of the last few years, demand has continued to grow.
To read more of this story please visit your nearest newsstand or click the link below.