A Sweet Job
At the state's largest apiary, tucked away on Block Island, bees make honey that tastes of their all-wildflower diet. Sue and Chris Littlefield do nothing to get in the way.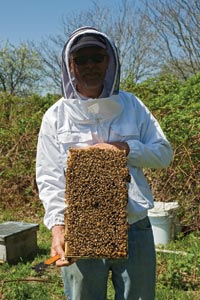 In a green spring meadow thick with bees, Chris Littlefield is distracted. But not by what's distracting me (did I mention the bees?). "Look!" he says, and stoops to pick a solitary spear of wild asparagus. He hands it to his wife, Sue, who takes a bite and hands it back.
Standing in the flight path of thousands of purposeful barbed insects, it didn't seem like the time to appreciate the green things around us, let alone have a snack. But the bees, says Chris, have deepened his connection to nature, giving him an appreciation for its yearly cycles and unexpected gifts. For instance, he believes the thousands of bee stings he sustained in the first few years of beekeeping cleared up the arthritis in his wrists (and some studies appear to show that bee venom reduces inflammation associated with rheumatoid arthritis). Working barehanded so as not to accidentally kill any bees, he still gets stung most days; he doesn't mind, although sometimes it makes him a little sleepy.
Of course, there are more obvious gifts from the Western honey bee, or Apis mellifera, the honey bearer. Lightly filtered, unpasteurized and scented by wildflowers, honey is the main crop here at twenty-four-year-old Littlefield Bee Farm on Block Island.
While that may sound like a given, it's actually kind of archaic. Humans have been robbing hives for as long as they've been painting on cave walls, but it's the honey bee's usefulness to other forms of agriculture that defines modern bee farming. Most large-scale commercial beekeepers derive the majority of their income from pollination fees, trucking thousands of hives from the California almond harvest to Washington apples, from Florida citrus to Maine blueberries. Their migratory colonies are a crucial element in United States agribusiness, but rarely visit Rhode Island save a yearly trip to Coventry's cranberry bogs.
On a much smaller scale are hobbyist beekeepers, who usually keep between one and twenty hives. Their numbers look to be swelling; beekeeping classes tripled in enrollment over the past five years, says Betty Mencucci of Betty's Bee Farm in Glendale, who teaches a five-week class every spring for the Rhode Island Beekeepers Association. The state Department of Environmental Management estimates there are currently 300 apiaries in the state. Of those, thirty or so are listed with Farm Fresh Rhode Island for honey sales, and most also grow fruits, vegetables or cut flowers, integrating the bees into a small farm.
Littlefield Bee Farm is one of a handful that exists only for honey—well, for honey and its correlative, beeswax, from which the Littlefields make candles. It's also the largest apiary in Rhode Island, with sixty hives this summer and an average yield of 4,000 pounds of honey, all sold on Block Island or through the family's catalog and website.
With no large-scale agriculture on the island, only wild crops benefit from the bees' pollination skills. There's also a big benefit for honey eaters: few pesticides, which some people believe can harm bees and contaminate honey.
That sits well with the Littlefields, who both have an environmental bent. Chris, director of special projects for the Rhode Island chapter of The Nature Conservancy, studied zoology in college. A former harbormaster, he can still be found counting baby scallops in the island's Great Salt Pond or attending water quality workshops. Sue, an environmental studies major, was the beekeeper of the two at first, buying six hives from the pastor who kept bees on the island in 1984 when her first child was nine months old. She gave it up when expecting her second but still oversees the marketing. She helped found the Block Island Farmers' Market in 1986, and now teaches yoga and maintains a holistic counseling practice. They live in a historic Cape up Corn Neck Road with several outbuildings and an air of pleasant abandon. Their two kids, brought up on bee lore and bee stings, do things like capture huge snakes in the Florida Everglades and teach snorkeling to underprivileged kids on Catalina Island.
Everyone on Block Island knows Sue and Chris, and in this resort community, their honey is a way for visitors to hold on to the golden light of summer. Hence the hectic pace of "catalog season" each fall, after Sue puts out the farm's yearly mail-order booklet. Full of sepia-tinged photographs, it is also a family record and paean to the island, the bees and blossoms, and a mindful way of life.
The farm produces two crops a year. In July, Chris and Sue harvest their blackberry blossom honey, a light gold, slightly fruity honey made with nectar from several blackberry varieties. In late September, they'll pull the frames from the hives for a second, larger crop from fall flowers like goldenrod and asters. Thick and intensely floral, this cream-style honey sets into a solid mass (commercial honey doesn't, Sue says, because heat processing changes its crystalline structure).
"It's unique in that it's not heated, and it's made only with wildflowers," says Sue. "The fragrances are volatile, so when the honey is heated, they go. We keep them."
The phone starts ringing for Christmas orders in November, and the family calls in helpers to handle all the packaging, marketing and mailing. "I love the catalog season, when we ship all around the country and the phone is ringing off the hook with people wanting to talk to us and connect with the island," says Sue.
During the winter, Chris babies the largely dormant hives close to the house. If honey stores run short, he gives the bees honey from the previous harvest, which he says they prefer to the sugar syrup most beekeepers use. He loses at least a quarter of them each year, an average rate for hobbyist farmers since the introduction of Asian mites twenty years ago. (Migratory commercial beekeepers, whose hives have in recent years been ravaged by the enigmatic Colony Collapse Disorder, often lose far more.)
The family used to sell honey off their front porch, open every day all summer to anyone who stopped by the big yellow house. They gave tours of the hives in their meadow. "It was crazy," Sue recalls now. But it had its upsides, such as giving the kids good people skills and an early familiarity with entrepreneurship.
After ten years, they moved to a quieter space up the road on fourteen acres, twelve of them protected by conservation easement. One bee yard is here, in a meadow out back, with a stand of trees that hosts a Cooper's hawk beyond it. The other bee yard is in the southern part of the island, on a friend's land.
It's not particularly financially rewarding; profits are a supplement to the couple's income, but neither is giving up their day jobs. And despite its pastoral image, it isn't easy work. Each hive, made up of a bigger brood box on the bottom and what are known as honey supers on top, can weigh eighty pounds when full. "I actually have to lift weights to stay in shape for beekeeping, otherwise I'd hurt myself," says Chris. But, he adds, it's nowhere near as tough as the commercial clamming and lobstering he used to do.
But it does meet the same need for solitude in nature. "He's very independent, he runs it all alone," says Sue. "Out with the hives, it's just him and the bees."
As he's checking the gray wooden Lang-stroth hives on that spring day in the meadow, Chris comments happily on one colony's growth. He pulls up a frame that contains the hive's queen, much smaller than I expected, rather ordinary looking in fact. The mother of thousands of daughters and the odd son, she works her way across the comb, methodically pumping eggs into little open hexagons. Spring is the time when bees increase their numbers in preparation for the first big summer bloom. At night, they fan the nectar in the combs to drive out moisture, sweetly scenting the air.
"Bees are a part of life," Chris says. "And I just think there's something really special about the honey here, and somebody should be producing it." He pauses. "At some point, I hope somebody will take it over." We watch the foraging sisters in the air around us, and he points out a yellow-rumped warbler in the sycamore maple nearby. Whatever he says, I'm guessing he's not giving this up any time soon.
Littlefield Bee Farm honey is available at the Block Island Farmers Market, Star Department Store, Glass Onion, Scarlett Begonia, Block Island Depot and Boat Basin Store and is used by the Atlantic Inn kitchen, all on Block Island; and blockislandhoney.com.