A Saucy Venture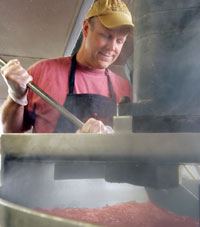 A Saucy Venture
Two guys from Bristol turn a popular Rhode Island catch phrase into a "wicked good" condiment company.
MY PHONE RINGS at 7:45 p.m. "I'm just getting into my car to head home now," Bart Ferris reports at the end of an impossibly long day bottling a new batch of caramel mustard. And in an excited voice that shows no hint of the nearly twelve hours he's spent on his feet, he adds, "You've got to see it — the color is perfect. This is the best batch yet!"
The "color" he refers to is the light brown of sugar when it's perfectly caramelized, as it was that day, a few gallons at a time, stirred slowly with a long-handled paddle by Jens Retlev, the master chef behind Wicked Good all-natural gourmet condiments: mustard-dill and yogurt-dill sauces, Sicilian caponata, black bean and pineapple salsa, their best-selling caramel mustard — and the ketchup that started it all.
IF BART FERRIS AND JENS RETLEV had met on Match.com, they couldn't be more ideal business partners. Both live in Bristol. Both are of Swedish heritage. Both married Irish-American women. Both love the ocean and Stanley Burgers.
Both want to spend more time with their families after years of working long days and odd hours. (Did nobody warn them that starting a specialty foods company would require eighty-hour weeks, including sampling their products in market after market on weekends to get the word out?)
Bart loves sales and strategic planning, information gathering and problem solving. Jens, who still works full-time as executive chef for a national restaurant chain, loves to cook and create. Bart doesn't cook, but he loves to eat.
A perfect match, indeed, but they didn't find each other online. They were introduced by a mutual friend, like an old-fashioned fix-up, in the spring of 2006.
The two men met, talked and hit it off. "I was thinking about opening another restaurant," recalls Jens, the original owner of Redlefsen's in Bristol and seven other Rhode Island eateries, "and I needed to find an investor. A friend knew that Bart had recently left his job and was looking for something to do." They discovered they had a lot in common, but agreed that a restaurant wasn't the right business venture.
It would be several months before their next conversation. Bart and his family decamped to their summer home on Prince Edward Island for three months. While there, he met an entrepreneur who made juice in pouches. "I talked to him a lot about the packaged food business, and one day I called Jens and said, 'I think we should do your ketchup!' He agreed, we formed the company in September, and two months later we had bottled our first two products."
On the day of that first bottling, they started small; two forty-gallon batches allowed for tasting and adjusting to achieve the ideal flavor and texture. "It was exciting, and totally nerve wracking!" both partners agree. Seven months later, bottling days are still filled with nervous anticipation, and creating the products is still hands-on and labor-intensive — and costly, because some of the natural ingredients are more expensive to purchase and store.
Cooking is an art, but specialty food production is most definitely math and physics. Taking something that tastes good in a saucepan on your kitchen stove and translating it into a forty- or 300-gallon batch of shelf-stable condiment — and how many of us have dreamed of doing that? — requires more than simple arithmetic. Nobody knows this better than Jens, who as corporate chef for a large chain restaurant (and former owner of Cooks and Butler, a soup company he sold to Blount Seafood) creates recipes that need to be replicable on a large scale.
Jens' entire professional life has involved food. In Sweden, after college where he majored in business, and graduate school in New York City for hotel management, he began working his way up the traditional restaurant apprentice system. In 1972, after several cooking jobs, Jens traveled to Newport, where he signed on as cook on a sailboat racing from Newport to Bermuda to Spain. In Newport he met his wife, Marie (the two now co-own Café Choklad in Providence).
Meanwhile, Bart, born in Missouri, graduated from college with a journalism degree and served six years in the Navy, including two deployments to the Persian Gulf. When he left the military, he joined a consulting firm and then moved into senior management at a company that created web-based security software. After five years the company was sold, and he decided it was time to find something to do that would be fun and "allow me the time to walk my son to school in the morning."
Even with their combined food service and business experience, the Wicked Good guys needed help to translate Jens' recipes to quantity production, and that help has come in large part from Porino's Gourmet Foods, a Central Falls-based specialty foods company that provides its facility and expertise to companies ranging in size from giant Trader Joe's to Mayor's Own Marinara Sauce (Buddy Cianci's fundraising project for public school children), as well as producing their own line of Italian gourmet foods.
Michael Dressler, president of Porino's since 1999, contributes many years of experience in food production. "These are nice guys who make a good product," Mike says, when asked why he took on Wicked Good. "They really care about what they do. They're here all the time, and we are able to help them solve problems. Plus, I really like to work with local companies."
Bart and Jens feel the same way about their selection of Porino's as a manufacturing partner. "Mike's a hands-on guy who has helped us every step of the way," Bart says. "We wanted to work with a local bottler, but most of the companies we spoke with at the beginning tried to talk us out of using all-natural ingredients because it costs more and is trickier to process. Not Mike. He just said, 'Sure, we can make it work.' He lets us come in to do our own cooking for some of our products, like roasting the eggplant for the caponata, or caramelizing the sugar, so we know everything will come out just the way we want it. Everyone on his team has been great, and I think they are all proud of the product we put out."

SOME DAYS, PUTTING OUT that product takes longer than expected.
By 9 a.m., when I arrive at the plant, the first of the dry ingredients for Wicked Good Caramel Mustard are being added into a 300-gallon kettle. Nearby, Jens begins to stir eight gallons of sugar in a pot — way too large for my kitchen stove, but miniscule next to the industrial vat — balanced on a propane-fired burner.
"The temperature in the kettle only goes to 180°F," he explains to me, "but for the sugar to caramelize properly, which is of course the key to the unique flavor of this sauce, it must reach 350°F. We're testing a few different ways to handle the sugar in order to get the correct depth of caramelization. When the caramel is right, we pour it into the rest of the ingredients in the kettle. It makes a fantastic sizzle!"
"The key," Bart adds, "is getting the correct pH and temperature. When we hit that, we go to a hot fill. Then, as the jars cool, they self-seal, and you hear the pop-pop-pop-pop going down the line as the vacuum forms in the jars, just like when you're canning at home."
I'm excited to see all of this, to see the labeled jars coming off the line and hear the popping of the seals. And so we wait while Jens stirs the pot, the steam evaporating off the sugar intense enough to melt all but the even-tempered chef who's spent a lifetime working in hot kitchens. And we wait, and we wait. It's the first time they're trying this method of caramelizing the sugar — the idea is that it will give them more control over the process than melting it in the oven — and it's going slowly.
Jens will have to make three more batches of caramel to add to the rest of the mustard ingredients before any actual bottling begins. I do the math, three batches times an hour-plus for each batch of sugar. At 12:45, with the first batch of the sugar still not quite "there," I head for home, leaving Jens stirring, Mike Dressler advising, and Bart standing by, taste buds at the ready. I ask him to call me when they finish the run, and he does — seven hours later, elated with the results of the day's bottling.
Though they've worked through the initial hurdles, the Wicked Good guys still face many challenges in order to succeed in the tricky world of specialty foods. They've had an enthusiastic response to their products in local markets like Whole Foods, Eastside Marketplace, Clement's Market, Wickford Gourmet and Sandy's Fine Food Emporium, but in order to grow beyond driving distance from Bristol (their current means of distribution is Bart's car), they need to find a broker and a distributor. To convince a distributor to carry their products, they need at least a dozen products. And though they hope to introduce a new item every six to eight weeks, it seems that national expansion may be many months away.
Jens and Bart plan to stick with what they know — delicious, unusual, full-of-flavor products made the all-natural way. Next up: for people, Swedish-inspired sauces and dips that marry jams with chocolate; for dogs, Wicked Natural gourmet granola bars, made with oats, puffed rice, chunky peanut butter and honey — great for pets and their owners.
Oooh, that sounds wicked good to me.

Wicked Good Company, 636-1517. Check www.wickedgoodcompany.com for retail locations or order online. To contact Lydia Walshin, email lydia@ninecooks.com.