A Romance With Ann Hood, Projecting a Lifeline
Rhode Island Monthly readers weigh in.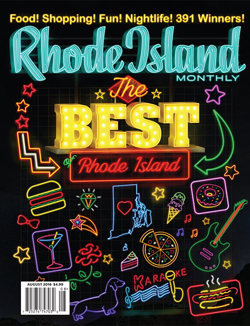 I'm always glad to see an Ann Hood piece in the magazine. Her tales of growing up in Rhode Island always ring true, even when they are about derailed romances.
More. Ann. Hood.
Mark Thompson
Kensington, Maryland
I have been a big fan of Ann Hood for a long time, and I thoroughly enjoy her novels.
Her "Once Upon a Romance" article conjured up many memories, good or bad, but mostly enjoyable.
I remember lying on Scarborough Beach, smoking, drinking and listening to Chicago, singing "Twenty-Five or Six to Four." We were pretty cool.
I was infatuated with a lifeguard; we were inseparable.
However, I fell in love with another man, forty-two years ago, and I am assured I made the right choice. But the memories are easily retrievable.
Mary Ellen Lukasiewicz
Cumberland

As a member of the George Wiley Center, I was thrilled to see Jen McCaffery's in-depth and informative piece about the collaboration of the Wiley Center and the Center for Justice, called the Lifeline Project, with support from the Rhode Island Foundation.
It is important to note that people dependent upon electricity to power oxygen equipment or refrigerate insulin often end up in the hospital following termination of their utilities.
And hospital stays cost the state much more money, while National Grid merely writes off the loss.
The people you profiled are unique. Unfortunately, their stories are all too common in Rhode Island.
Betsy Florin
Board Chair
The George Wiley Center, Pawtucket