A Providence Arcade Bar is Happening
Owner Mike Maven is shooting for a midwinter grand opening.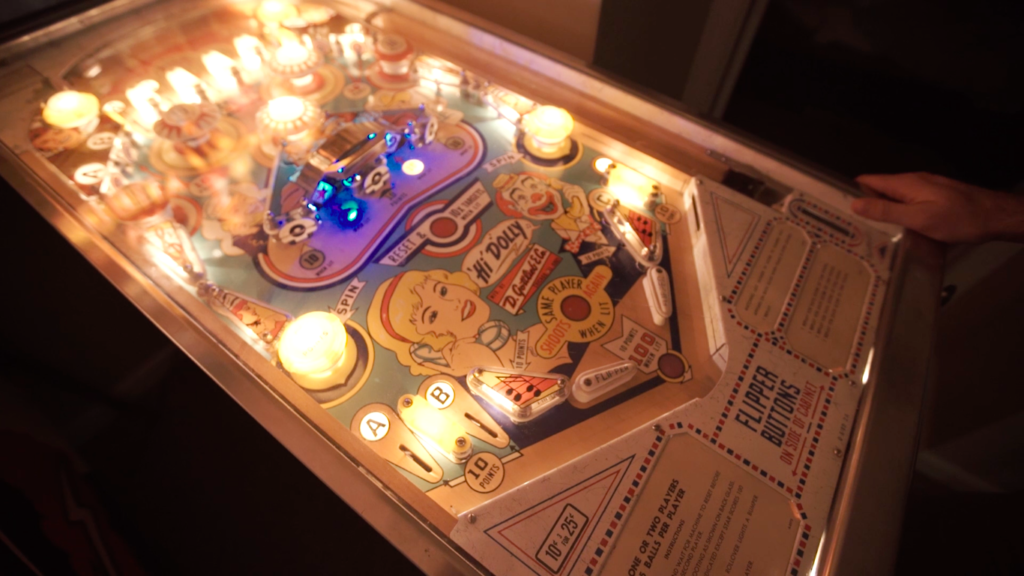 Pinball and craft beer: These are two of Mike Maven's favorite things.
The musician and real estate agent, who toured for a decade with the Rhode Island-based band, Young Pandas, is a gamer at heart. He's a fan of console games, but he also buys old pinball machines and fixes them up for fun.
"When I was spending more time on the road, I was away from my games," he says. "I would go out to bars but I didn't really know anybody. Then I noticed that these arcade bars started popping up in cool, up-and-coming cities that reminded me of home, like Memphis and New Orleans and Portland, Oregon."
Maven found a home at arcade bars, where gamers could gather, drink beer and crush each other in Donkey Kong. These indie bars were different from the corporate adult arcades that flooded the U.S. in the late '90s and early 2000s. They helped to build community in cities filled with young strangers who were used to playing solo.
"I bemoaned that Providence didn't have an arcade bar. Someone said to me, 'Why don't you do that?' and I realized I probably could," Maven says. "I knew that people in Providence could gather around that. If people were given the spaces to gather around common interests, they would. I feel like gaming does that. You come together to play games and it can open up new friendships."
So Maven reached out to Dave Aceto, co-owner of the Arcadia National Bar in Portland, Maine, for tips. "He was a total stranger to me, but he showed me his books, he showed me his entire business plan and how he made it happen," Maven says. "Without his knowledge and help, I would have struggled for a lot longer. The other people I've met who own arcade bars, they are gaming fanatics. They appeal to the heart of the gaming community in their city, and they want that for other cities, too."
Maven secured a partnership with a bar that's currently operating in Providence's Jewelry District, and Shelter Arcade Bar — inspired by the Fallout series — became a reality. Maven confirmed the Jewelry District location, but he requested that it remain off-the-record until the current lease expires on December 31. "We're planning a January 29th grand opening," he says.
Shelter Arcade Bar's games will run on twenty-five-cent tokens, one for arcade games — think: Pac Man, Donkey Kong, Super Mario Bros, Street Fighter 2, the Simpsons and other favorites from the '80s and '90s — and two tokens for pinball machines. Token dispensers will accept both cash and credit cards.
"One of the reasons arcades died out was that 25 cents and 50 cents per game couldn't turn a profit," Maven says. "It's just a function of capitalism. The brilliant thing about the arcade bar is that the bar builds the business. Now we're able to bring the arcade back."
Maven says Shelter Arcade Bar will host free play nights on weekdays, as well as themed decades nights where games from the '80s or '90s are free to guests. "We really want to encourage board gaming and card gaming as well," he says.
The bar will also boast a back room, which people can rent for private parties. Maven says he's deliberating a food option, but is wary about the combination of greasy food and retro machines. "I'd like to do something that people can munch on, but we're still working out the details," he says.
Maven also launched a Kickstarter campaign earlier this month. Contributors have donated more than $5,000 to date, but if the campaign doesn't hit its $25,000 goal in the next ten days, all funds raised will be returned to donors. "If people don't get fully behind the Kickstarter, that's okay," Maven says. "The place will open anyway. It's been a great way to get the word out about it."
After so much pinball and Pac Man talk, it's easy to forget the place is a bar, after all. Maven says his focus is on local craft beer and cocktails. "Narragansett, Bucket, Revival, and I'm trying to talk with Sons of Liberty about custom arcade themed cocktails," he says. "We want to add to the local economy as much as possible."
Details for the grand opening will be announced on Shelter Arcade Bar's Facebook page.