A Not So Simple Plan
Rhode Island ought to be the perfect incubator for testing universal health insurance. So what's stopping us?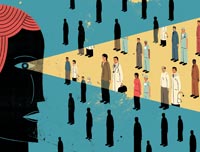 Eddy Perez is a very, very good diabetic. Every month, he visits the Blackstone Valley Community Health Center to have his blood sugar level checked. He swapped the chicharon—fried pork skins—he loved for low-cholesterol eggs and vegetables. And Perez takes his insulin religiously. His blood sugar levels are now so steadily in the normal range that he may be able to forego his medicine altogether.
Perez, fifty-four, was diagnosed two years ago, after he broke his knee while working as a maintenance man. His first reaction to the news was fear; he recalls, "I am thinking: 'Alright, this is dangerous,' when I started to know about the problems. I didn't know nothing about it."
Perez is among the estimated 90,000 diabetics in Rhode Island. One third are undiagnosed; another 90,000 are at risk of developing it within ten years. Diabetes is a complex, common and costly disease. The American Diabetes Association estimates that in 2007, its total economic impact was $174 billion. Long term, diabetes can lead to stroke, heart disease, kidney failure, amputation and blindness. These complications are not inevitable, but preventing them requires a dedication to a healthy lifestyle, keeping tabs on blood sugar levels and seeking regular medical care—and many diabetics can't manage it without support and regular intervention.
The staff at Blackstone Valley Community Health Center calmed his fears and taught him how to manage his diabetes. Perez remains grateful and determined to share his experience.
"A lot of Spanish people don't know about this problem," he says. "I want to tell them: They don't need to be scared; there is a good treatment and good people to help you."
Nearly thirty years ago, the state established a diabetes control and prevention program that has become a national model. It integrates the efforts of doctors, community health centers, health insurers, nonprofits and the state Department of Health into a system of best practices in diabetes care. Clinical teams work with patients to help them understand their condition and track their care through a registry.
Although the state has not calculated the program's savings, the Centers for Disease Control and others have documented the cost effectiveness of focusing diabetes treatment on the daily management that forestalls permanent disabilities. None-theless, this program could not survive if it had to depend on payments from health insurers.
"The current reimbursement rate for primary care is too low—although we're working on it," says Dona Goldman, of the state Department of Health, and program director for the Diabetes Prevention and Control Program. "All of this is hard work and takes extra time from the provider and team compared to the old way of doing chronic care. But the clinical outcomes speak for themselves on improvement of diabetes care."
Were it not for a CDC grant and other subsidies, three decades of practice would no doubt suffer the fate of three similarly styled diabetes management programs based in New York City hospitals, which were shuttered in 2006 after hemorrhaging millions.
"What," Lieutenant Governor Elizabeth Roberts asks, "is wrong with that picture?"
Roberts' picture of health care would—among other things—refigure the strange math of health insurance reimbursements, which place their faith in expensive but concrete procedures, such as amputations, and regard as suspicious the mundane doctor visits that might keep a diabetic from ever needing one. In February, and in one of the most hostile budget climates in recent memory, Roberts unveiled a package of eight health care reform bills aimed at an elusive target: universal and affordable health care coverage.
As the prospect of a federal solution to the forty-seven million uninsured Americans remains distant, more states are wading in. According to the Kaiser Family Foundation, thirteen have expanded access proposals on the boards. Three—Maine, Vermont and Massachusetts—are in the first years of their plans. But the track record for state-generated universal health care isn't altogether encouraging. In the mid-1990s, expanded access plans in Ten- nessee, Washington, Hawaii and Oregon petered out after a few years. Maine, which launched Dirigo Choice in 2003, has found itself far short of its goal to cover 130,000 uninsured while controlling costs. Only 18,800 had signed up by April 2007, and premiums had climbed, pricing some out of the plan. Massachusetts' Commonwealth Care, which requires everyone to have health insurance, suffers the opposite problem. It is staring at an unanticipated doubling of the government subsidy and membership roll in three years.
Some question whether states have the financial wherewithal to sustain a universal system—especially in economic downturns.
"The idea that we can significantly expand coverage without a significant public investment flies in the face of mountains of research that shows there is no such thing as a free lunch," says Alwyn Cassil, of the Center for Studying Health System Change. "It's going to take money and reorganizing the way we deliver care."
Bending down the cost curve of health care is a centerpiece of Roberts' plan. While expanding access to young adults and low-income residents, her initiatives call for establishing a state strategic plan for health care, a health insurance hub to connect residents with affordable plans, and a health care database that allows policymakers to evaluate the quality and cost of care. For a year, Roberts had been studying other state systems and meeting with various health care constituencies to write legislation that would attack costs and access simultaneously, and avoid the pitfalls of previous efforts.
"Several of these bills talk about aligning payments to the services that keep us healthy so that we get the care in the most appropriate setting," Roberts says. "That means paying more than lip service to primary care. The challenge will be redirecting resources and to build capacity in primary care."
State Health Insurance Commissioner Christopher F. Koller identifies fragmented financing as the single biggest barrier to meaningful reform. Half of all health care costs are paid through private insurers, and half are funded publicly through Medicare and Medicaid, under varied reimbursement schemes.
"You have all these different payers who pay at all these different rates, and they have every incentive to cut costs and shift their costs on to someone else," he says. "A level playing field with a consistent set of rules would make it much easier."
Then again, there is nothing easy about health care reform. There's the argument of how to do it and the one about when to do it. Koller says that now is not the time to launch universal health care. (Indeed, Governor Carcieri's budget proposal would trim 10,000 low-income adults and children from Rite Care, the state-funded health insurance plan.)
But Linda Lulli, of the Rhode Island Business Group on Health, says the need for reform is urgent.
"This has to be a budget priority, des-pite the deficit," she says. "We can't ignore this any longer. There is no disagreement with the business community that this has to be part of the agenda this year in the
legislature."
Roberts has set a tight two-year time-table for implementing her bills. And to make her deadlines, she will have to bring on board major players like Blue Cross and Blue Shield of Rhode Island, which by March, had yet to weigh in. "We are still reviewing it," says spokesperson Kim Keough.
Nonetheless, Roberts remains upbeat about eventual success with "hard work and lots of communication."
Perhaps a touch of Pollyanna is the ticket. Neva Kaye of the National Academy of State Health Policy says that every state that has expanded its access to health care —by any measure—has done it incrementally: "Health reform is not a sprint. It's a marathon."
Ellen Liberman is an award-winning journalist who has reported on politics and government affairs for television, public radio, newspapers and magazines.