A Night at the Dean
An hour-by-hour account of an evening spent bouncing among the hotel's three different bars.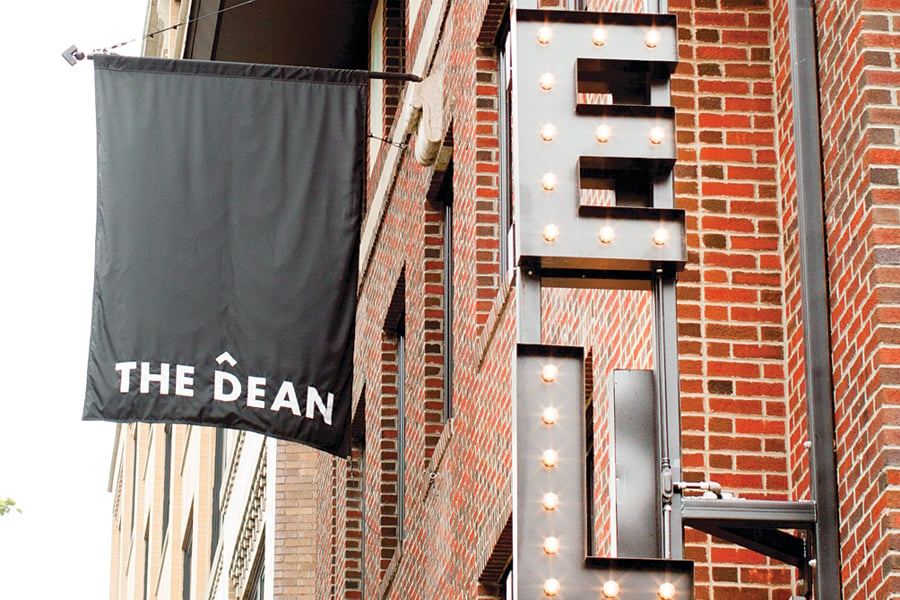 Plan a nightlife staycation at the swanky Dean Hotel, where you can hop around from a karaoke bar to a speakeasy and finish the night off with some schnitzel in a German beer hall. No need to grab a cab (sorry, we meant Uber). Head right upstairs to bed. Rooms start at $99 per night or you can book the Heights with a group (bachelor and bachelorette parties, say what?). The top-floor penthouse boasts four connected rooms including two king suites and two queen rooms. We spent an evening exploring the scene and here's what we saw, sipped and savored:

6:30 p.m.
We arrive for Friday night Trivioke — a blend of trivia and karaoke — in the Boombox (occurs one Friday every month at 7 p.m.; email info@singboombox.com to sign up). Six teams of four sit around a flat-screen playing music videos with scrolling song lyrics. Dressed in costumes, such as matching denim for the Jean Jackets and black berets and sunglasses for a French- inspired theme, teams are ready to test their lyrical knowledge of R. Kelly, R.E.M. and Elton John hits. We appropriately order Madonna cocktails made with sake, passion fruit juice and prosecco in case we're required to belt out some tunes.

7 p.m.
The teams warm up with two rounds of pop culture trivia and then the real Trivioke begins. Each competitor is given a list of famously misunderstood songs lyrics, except certain words are altered; for example, "Rock the cat box," instead of the obvious. Teams stake their claim to specific songs, then they must take the mic and sing the answers. After another round of regular trivia, the optional karaoke bonus round begins.

8 p.m.
Teams choose from ten different performance challenges worth varying amounts of points: ten points for singing any song in the style of Pearl Jam's Eddie Vedder to twenty points for one person singing both parts of a duet such as "Summer Nights" with John Travolta and Olivia Newton–John. The challenges change every time, and the evening finishes up with a final round of regular trivia.

9 p.m.
We wander behind the velvet curtain into the somewhat secretive Magdalenae Room. The bar is quiet, which allows us the full attention of bartender Mary. I glance at the cocktail list but opt to go off-menu. I like drinks on the sweeter side, made with gin and herbal notes. Mary stirs up a classic cocktail called the Bijou, equal parts green chartreuse, gin and sweet vermouth with a dash of orange bitters. As its name suggests, it's a jewel of a drink.

10 p.m.
The Magdalenae Room fills up. We pay our tab and move our party of four to a table so we can hear each other talk over the crowd. We settle into a cozy corner, and before long, a couple of deep-sea fishermen from Newport join us. They're in town for the boat show, and we pick their brains about long days and nights out on the water in all seasons. Lesson learned (for my single friends): Fishermen might be tough to date because they are out to sea, like, forever.

11 p.m.
We're looking for a bite to eat. There aren't many late-night food options in Providence, but the kitchen's still open at Faust, the German beer hall inside the hotel. We soak up what could have been tomorrow's hangover with a huge plate of schnitzel, pierogies, baguettes and beer cheese dip. Plus, several tall glasses of water.

12 a.m.
It's time to head home, but it's nice to know there are rooms right upstairs. The valet brings the car right to the door — an added plus!