A Mother's Momentum
By channeling parental panic, a Providence-based doctor forced her son's rare, fatal disease under a microscope and out into the light.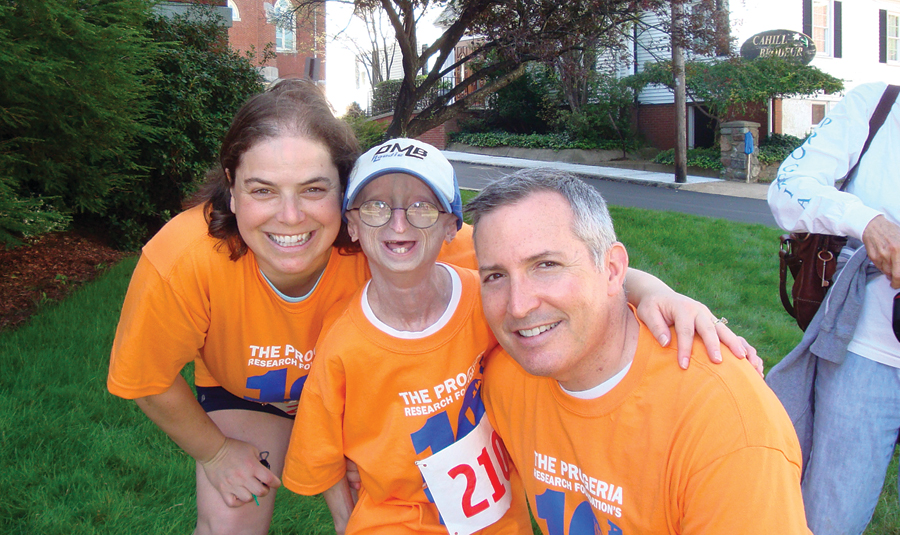 Dr. Leslie Gordon is late.
It's a rainy Wednesday morning, and any number of reasons could've sent her schedule off-track: bad traffic, no on-street parking, a last-minute hunt for her umbrella. But when Gordon arrives, breathless, at Brown University's Center for Gerontology and Healthcare Research in Providence, she's equipped with a nobler excuse.
"Once in a while, if there's something happening at home with a child, it's sort of an absolute priority," Gordon says apologetically while shrugging off her raincoat. "This wasn't a stroke or a heart attack or anything like that, but I needed to make sure there's nothing we need to do for them."
Gordon's patient has Hutchinson-Gilford progeria syndrome, an extremely rare genetic disease with no known cure that affects an estimated 250 children in the world at a time. Children with progeria are born looking completely normal. But after a year or so, they appear to age rapidly and succumb to fatal heart attacks or strokes, on average, by age thirteen.
For nearly fifteen years, Gordon has devoted her life to the study, treatment and awareness of a disease most people have never heard of. Her tenacity is rarer than the disease itself: She spends two or three days a week at research facilities in Providence and two or three days a week at clinical trials in Boston, plus house calls and restless nights and working weekends. Her momentum grows stronger by the day.
Gordon co-founded the Progeria Research Foundation (PRF) in 1999, the first and only worldwide organization devoted to the disease. In less than a decade, the PRF enabled the discovery of the progeria gene and funded a drug trial — also the first of its kind — that revealed the only effective treatment for progeria. In a field where medical mysteries go unsolved for centuries, her accomplishments are the stuff of scientific legend. What's more, Gordon's hands are in every part of it, from the placement of a slideshow on the PRF website to examining cell samples to treating children plagued by the fatal disease.
Despite her incredible accomplishments — which will be recognized this month with a prestigious Early Achievement Award from Brown University's Alumni Association — Gordon says there's still more work to do. "When you're so focused, you think very intensely about what you should be doing with your time," Gordon says. "It all comes back to what might help the children."
And while the 100 known cases of progeria would keep any doctor motivated to find a cure, just one inspired her irrefutable air of urgency: Gordon's only child, Sam, now sixteen, was diagnosed with progeria at one year, nine months old.
"I was always on-call during the most…." The forty-eight-year-old doctor trails off. It was 1998, and Gordon was on-call overnight for her pediatric residency at Hasbro Children's Hospital when her husband, Dr. Scott Berns, paged her over the intercom.
Their son, Sam, wasn't growing at a normal rate, but a slew of pediatricians didn't see a problem. "They would say, 'Well, you're a little small, he's a little small; it's nothing,' " she says. "But I'm his mother. One of the premier rules of pediatrics is if the parents think there's something going on, there probably is."
Berns, the youngest board-certified pediatrician in Rhode Island at the time, talked with their mutual friend from medical school, Dr. Monica Kleinman, about Sam's condition; she suggested they look into progeria. During that fateful overnight shift, Berns brought his wife case studies on progeria from the 1970s by the late pediatrician and researcher, Franklin L. DeBusk. His studies included pictures of patients who, by all means, looked like elderly children: bony, slight frame, translucent skin, shriveled face, completely bald. "But the DeBusk article has much older kids and they didn't still have their hair and they weren't one-and-a-half years old," she says. "It was really hard for me to tell."
Gordon was skeptical, as any parent might be at the suggestion of a terminal disease. She took care of her patients at Hasbro, then retired to the residents' room to scour textbooks for any shred of information on progeria, which she herself had never heard of before that night. After several frantic, sleepless hours, Gordon still wasn't sure, so she followed up with Sam's pediatrician.
"I remember this so vividly because it was that moment, you know that 'aha moment'? It was a horrible aha moment," she says. The pediatrician put up an X-ray of Sam's collarbone alongside that of a healthy child. "It was so different, it was just so different. And so we asked if it could be anything else. I was expecting, I don't know what I was thinking, maybe that he could list three, four, five things that it could be. But I guess for Sam's age, that was it.
"So then I had to go back to work. And be on-call. It was just, it was incredible. It was actually incredible."
Gordon and Berns embarked on a fact-finding mission and discovered a void, a complete deficit of information on a disease that was first described more than 125 years ago. No official research entity, no treatment, no nearby support group, no viable way to keep their son alive past his thirteenth birthday. The couple took Sam to Staten Island to see the leading progeria expert of the time, Dr. Ted Brown, and had the diagnosis confirmed. The parents took a moment to grieve, then gathered up their fury and thrust it onto the disease itself. "We started forming the Progeria Research Foundation in 1999, and a lot of that was my husband, Scott," Gordon says.
Berns has a master's of public health and helped develop the Rhode Island Buckle Up Hotline and the Rhode Island Safe Community Partnership; he was prepared to build the PRF for his young son's sake. "I think that we both had the mindset that we were each going to do whatever we could and not just sit around and let things happen to our son," says Berns, who chairs the PRF's volunteer board of directors and is the senior vice president of chapter programs for March of Dimes. "We wanted to make sure he lived the fullest life he could live."
The couple tapped Gordon's sister, Audrey, a lawyer, for the executive director's seat. "We had the first board meeting in my living room," Gordon says. "And Audrey worked after hours because we didn't have any money to pay her. It's a very typical story of a grassroots foundation, I think."
After some furious grant writing and fundraising efforts, the PRF was able to fund a genetics consortium that, in 2002, successfully isolated the gene that causes progeria. The gene, known as LMNA, makes a protein necessary for holding the nucleus of a cell together. Researchers believe the protein mutation, called progerin, makes cells unstable, and this leads to the appearance of premature aging in children with progeria.
Later studies revealed that we all make a little bit of progerin, which builds up over time and can cause end-of-life heart attacks or strokes. But children with progeria make much more, and sooner. The medical community lauded this discovery. If scientists could find a way to cure progeria, they could change the way the general population ages forever.
Simultaneously, the PRF began seeking out children with progeria, and found patients in the United States, the Brazilian Amazon, Japan and dozens of countries in between. The PRF then developed the Cell and Tissue Bank, which holds progeria cell samples to facilitate research, and the International Medical and Research Database, which collects the medical records of known children with progeria. To this day, the two Providence-based programs play a starring role in the future of progeria research.
Before Sam's diagnosis, Gordon was on the fast-track to pediatric ophthalmology at Boston's Eye and Ear Infirmary. But with master's, medical and doctorate degrees from Brown University in her pocket, Gordon's path was clear: She would drop everything and devote herself to progeria research, and eventually become the medical director of the PRF.
"I went to my department head, Dr. [William] Oh, and told him that I was going to stop my residency because we just had to do something," she says. "I didn't know what was going to happen, but he immediately said, 'Well, let me try to put you on faculty here so you can have an academic position and do research.'
"That's what he did for me, which is so huge," Gordon says. "If I didn't have an academic position, I wouldn't be able to move through what I needed to get the research programs — which are absolutely essential to understanding progeria."
Dr. Oh, now retired, wasn't Gordon's only advocate. Dr. Richard Besdine, director of the Center for Gerontology and Healthcare Research at Brown and chief of geriatrics at Lifespan, first met Gordon in the early 2000s. Besdine was serving as the interim dean of Brown's medical school, and he was struck by the rare disease. "These children, untreated, live rarely beyond early- to mid-teens and, at the outset, are of high intelligence," he says. "Part of the tragedy of the condition is they remain cognitively robust and growing in the face of their dying bodies."
Besdine says "there was no chance in the world" Brown wouldn't support Gordon's progeria research programs, which are externally funded by the Progeria Research Foundation. But he took the support one step further: Besdine collaborates with the PRF on the Medical and Research Database, and Gordon works closely with two researchers down the hall from Besdine in Brown's gerontology suite. "Progeria has at least a thematic and emotional relationship with aging, even if the genetics aren't aging genetics," he says.
And while he's astounded by the swift discoveries made by progeria researchers and clinicians, Besdine says he's more impressed with the woman who set them all in motion. "There's nothing worse than fearing for the well-being of your child from something you have no control over — that powerlessness in the face of harm to your child," he says. "And to be able to channel that into accomplishments in the field, to even begin the journey to do that science, is astounding."
Three well-coiffed, accessorized women are seated side-by-side at a table. One is glancing over a meeting agenda, another is digging in her yellow leather handbag for a sounding cell phone, the other is snacking on salted pretzels. The well-educated, likable women stand firm in a field that's changing the fate of once-doomed children.
Gordon and her researchers, Susan Campbell and Joan Brazier, are meeting to discuss an extension of the current clinical trial taking place at Boston Children's Hospital, in which Gordon and an expert team of investigators led by Dr. Mark Kieran test the effectiveness of three drugs. The first, Lonafarnib, was originally developed for cancer patients and was announced in 2012 as the first-ever treatment for progeria. Though Gordon says it's too soon to predict if the drug will affect lifespan, every patient who took oral Lonafarnib from 2007 to 2009 showed improvements in bone structure, hearing, weight gain or the cardiovascular system. The two additional drugs are traditionally used to strengthen bones and reduce cholesterol, respectively, and researchers predict they could boost the effectiveness of Lonafarnib when taken together.
Gordon, Campbell and Brazier have thirty-six young patients, ranging from two to teenaged and from all over the world, to take into consideration. Brazier raises an eyebrow at Gordon, anticipating a stack of new files to pore over. "Yes," Gordon says, flashing a mischievous girl-next-door smile, "you're going to be working very hard." Gordon's not concerned about her ability to get it done. After the meeting, she admits she loves how over-qualified Brazier is for her job.
Campbell, who has worked as Gordon's right-hand researcher since 2002, expresses some doubt about getting every single patient. "If the doctor can't find them and they're in another country…. We're dealing with third-world communications here," Campbell says.
Gordon later explains that luring interested families to Boston Children's Hospital for the next trial isn't a major concern. "It's more of providing them with a choice," she says. "We get the word out to all the families and they can make their decisions. It's not pivotal for analysis or statistics."
Clinical trials are a necessary element of their ultimate goal: to find a cure for progeria. The PRF funds the families' transportation to and from Boston, as well as housing during their stay. "It's a different world here for a lot of people," Gordon says. "It's a huge, courageous step to take to come here every four months for two years when they're coming from Japan or India."
The families have access to at least one off-FDA drug that has shown to be effective and, over the course of two years, the hospital starts to feel a little like home. "I'm not saying it's fun to get an IV, but they are very much at home when they see us," Gordon says. "And it's just so much fun seeing them come down the hall. It's incredibly energizing. So if you're having a bad week, that's all you really need."
The kids get something out of it, too. Feeding into their penchant for prizes, each child goes home with a token reminder of their good work in Boston. "This is important for a kid!" Gordon says. "The first time they come, they get a little alabaster heart just so they know everybody here cares about them. And they get a ribbon. At the one-year mark, halfway through, they get a medal, and when they finish the trial, they get a statue with their name on it. They all collect them. It matters so much! They deserve to feel accomplished, and they do. Because they are accomplished."
Gordon's son, Sam, has a couple of trophies of his own. He's participated in both drug trials at Boston Children's Hospital and has gone on to become a pseudo-spokesman for his disease. Last May, clad in pressed khaki pants, a striped collared shirt and spectacles, Sam took to the TEDMED conference stage to discuss the progeria clinical trials, his setbacks and his outlook on life with Francis Collins, director of the National Institutes of Health.
Sam's four-and-a-half-foot frame is striking in the shadow of the six-foot-three Collins, but he's so incredibly confident, stretching out a thin arm to greet his interviewer, that you almost instantly forget about his condition. How he looks isn't the unbelievable part — it's how he conducts himself as a fifteen-year-old boy on a national stage.
Sam explains to the crowd that he doesn't let progeria get in the way of his favorite activities: marching band and umpiring at his high school in Foxborough, Massachusetts. "We always find a way to do it. That just shows that progeria isn't in control of my life," he says. "Going into the hospitals for clinical trials is rigorous at times, sometimes painful like IVs and stuff, but I really remind myself when I'm there that I'm helping researchers to get more information about my disease and I'm helping them develop treatments for myself and other kids with progeria. That really drives me along and it's a great experience."
He doesn't miss a beat, and his parents, seated in the front row, take notice. "When he was asked to speak at the conference, he said, 'Absolutely, it will look great on my college resume,' " Berns says with a laugh. "I just couldn't be more proud. He's so eloquent and mature and he's just so giving. He sees the bigger picture. It's not just him alone; it's about all the other kids. He really, he's just a very motivating, inspirational kid. Progeria doesn't define him; he defines who he is."
Sam's big break came this January, when an HBO documentary titled Life According to Sam premiered at the Sundance Film Festival. Filmmakers Andrea and Sean Fine, who took home an Oscar this year for their short film, Inocente, followed Sam, Gordon and Berns around for three years. They captured the family's efforts to find a treatment as well as Sam's aplomb in the face of progeria, a trait that's a decade-and-a-half in the making thanks to two resolute parents.
"When Sam was diagnosed, you might think the first thing we thought about was health concerns — his heart, strokes, oh my gosh," Gordon says. "But actually something that takes on a larger emotional priority at that time is the emotional needs of the child. Is he going to be happy? Are people going to be mean to him? The emotional well-being of your child, at least for us, was paramount, even to the health issues."
To prepare for the tough years ahead, Gordon and Berns reached out to a couple they'd never met who had a child with progeria. "They said, 'Be within your community.' Your community is like a family. And it doesn't matter if he can't necessarily go places outside of his community — he might get stared at — but within his community that's where the meaning lies for him in his daily happiness."
And, for Sam, that really has been true. He's grown up in a place where everybody knows his name and he isn't characterized by his disease. "Has he ever been stared at? Yes. Going to Disney World, the mall," Gordon says. "But the things that have meaning, the things that can really hurt you, are things that come from your family and your community. And he hasn't had to endure any of that."
Gordon's straight-A tenth-grader is thriving, seemingly more so than his healthier peers. Sam keeps busy with Eagle Scouts, goofing around with his buddies and playing the kettledrums in Foxborough High School's marching band. "He's been drumming since he was two," Gordon says. "He's actually really good."
Sam and his dad bond over a love of music, though Berns admits he can't keep up. "I used to play piano and clarinet. Sam might tolerate me, but I'm not good enough to jam with him."
The sixteen-year-old is also preparing for the next stage in life by taking the PSATs and weighing his options. "We get piles and piles of mail from colleges, and I help him sort it all out into smaller piles of places he's actually interested in," Berns says. "Originally he was saying MIT, but now he wants to go to Brown and study genetics."
Like her son, Gordon won't allow her connection to the disease stunt her progress. She wards off questions about Sam's conditional future with passionate, calculated talk about Lonafarnib, the bone system and ten-year trials. Nevertheless, it's clear she's set her sights on saving Sam's life. "But it isn't just about her son, which is her prime motivator. It's about all the kids and all the families," Berns says. "Her drive is really infectious. She just keeps pushing and pushing and pushing to move things forward. She dropped everything, no question about it, but it was because of a deep love for her child and, ultimately, all children with progeria."
Perhaps there's no better person to tackle such work than a mother, who will press on despite endless mysteries, setbacks and heartache over small, sweet kids who just want a shot at a future. Though Sam is three years past progeria's average life expectancy, Gordon refuses to wave the white flag for him, or the 100 other children with ambiguous fates. "I've got to think about the next year, the next five years, the next ten years because I want to get somewhere," she says. "And getting there isn't a small task; it's a huge task…. So I think about that all the time. I don't know what the end is going to be, but I feel like we've started."