A Mighty Wind
Special interests want to do them in, but wind farms could save us big money. Let's ponder that as gas approaches $4.50 a gallon.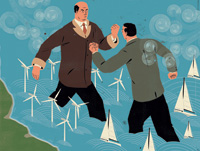 The Portsmouth Abbey wind turbine is not among the tourist attractions on the Newport County Convention and Visitors Bureau website, but perhaps it should be. Instead of turning left off Cory's Lane toward the historic Brayton estate and its famed animal topiary gardens, many now bear right into the Abbey parking lot, in search of a different sort of green sculpture.
"People are drawn to it," says Brother Joseph Byron, a Benedictine monk who headed the project. "It's very visible from the highway and it's so beautiful and so unusual. They've heard of wind turbines, but they've never seen one. Here's a chance to come over and check it out."
On a warm summer evening, as he waits in the shadow of the 164-foot tower for a scheduled tour group, he shows off the turbine's inner workings to a couple out for a motorcycle ride up-island. Before them are two fourth-grade teachers from Massachusetts. The turbine is planted at the crest of a shaved hill, spinning too lazily in the light wind to provide any power for the residential high school and the order that runs it. But in the stiffer gales of fall, winter and spring, the three massive blades clock more than twenty-eight revolutions per minute. In its first year of operation, the turbine generated 40 percent of the school's electricity and $222,710 in revenues.
Brother Joseph has served as wind power's unofficial state ambassador since 2004, when he went door-to-door along Cory's Lane, taking the pulse of the neighborhood. Four years later, his enthusiasm for the turbine is earnest and infectious. His neatly trimmed salt-and-pepper beard, black cassock and sandals seem to assure that high-tech modernity can be reconciled with centuries-old traditions. And from inception to installation in March 2006, permitting moved smoothly.
"The real heroes are the neighbors and the town," he says.
Anyone can love a wind turbine. But the prospect of 130 of them whirling en masse off the coast does not garner the same affection. In May, the U.S. Department of Energy released a report analyzing the economic, political and technological conditions necessary to achieve 20 percent of our national energy needs from wind power by 2030. Under the DOE scenario, offshore wind would contribute a third of the 300-gigawatt goal. But the United States has yet to site one offshore wind project. Currently, six are proposed in Rhode Island, Massachusetts, Texas, New York, Delaware and New Jersey. Construction costs killed two more in Long Island Sound and Savannah.
And then there's Cape Wind—to date, a seven-year saga pitting the lords of Nantucket Sound against a scrappy energy entrepreneur from Boston's West End, with enough twists and turns to fill a book. The battle has moved from the front page of the Cape Cod Times and small town auditoriums to the halls of Congress, back to the state courts, and still rages on. In the meantime, the cost of constructing the 130-turbine facility has doubled to $1.5 billion and the permitting is not yet complete.
The thought of sparking a similarly titanic battle here lurks in the minds of offshore wind advocates in Rhode Island.
"We are very focused on how, as a state, can we avoid that snafu?" says Omay Elphick, deputy director of People's Power and Light, a nonprofit that advocates for clean and affordable energy. "We, as supporters of renewable energy, have to be more aggressive in educating the population, highlighting successful projects and preaching the benefits of wind power."
Rhode Island aims to host a wind farm capable of producing 1.3 million megawatt hours per year, enough to meet 15 percent of the state's electricity needs. A June 2007 report ranked ten sites capable of meeting the goals, and identified two locations, each about thirteen miles off the coast of Block Island, as the most viable. Last fall, the state invited representatives of local governments, state and federal agencies, the fishing industry, environmental groups, academics and National Grid to evaluate the report. In April, the Rhode Island Office of Energy Resources invited bidders to submit proposals. Seven responded and over the summer, a second evaluation team weighed the bids while the Coastal Resources Management Council began drawing an ocean zoning map, called a Special Area Management Plan.
The state has been able to move expeditiously, says Andy Dyskewicz, the state's energy commissioner, "because of all the outreach we've been doing. It was very, very effective to call all those folks in a room, and the stakeholders will continue to be represented through the SAMP process. We've wanted to keep the world in the loop from day one and I think we've done a pretty good job."
But there are other stakeholders out there who were not at the table, and they are gearing up to fight the plan. Anthony Spiratos, a Newport developer who heads a group called the Rhode Island Alliance for Clean Energy, says that it favors small rooftop turbines and other forms of clean energy—but not a large-scale, offshore wind farm.
"Every single site has a flaw," Spiratos says. "We feel it will affect tourists, the international yachting community and the lobstermen. Would you put solar panels on Mount Rushmore? Of course you wouldn't. The government tries to save the environment by destroying it, which doesn't make any sense. We will launch a medial campaign because a lot of people are unaware of what's going on."
Wendy Williams, a Cape Cod-based science writer who co-authored a book on Cape Wind, would be the first to agree that the citizenry should inform itself. What began as a conflict between the rich and powerful residents of the Cape's southern shore, with Ted Kennedy leading the charge, and Cape Codders who supported clean energy has devolved into a scrap between the fossil fuel industry—primarily coal—and anti-coal groups.
"The first thing to do is to pay close attention to who is speaking and where their money is coming from," Williams says. "The pro- and anti-groups have a lot to say, but they don't say who's paying their salary. If Rhode Island wanted to protect itself, it would insist that all the groups reveal where their money's coming from. Public discussion, almost entirely dominated by small, wealthy and secretive groups—that's damaging to our democracy."
Erich Stephens, Rhode Island project director of BlueWater Wind, a bidder and a subsidiary of wind developer Babcock and Brown, dismisses the prospect of Cape Wind redux.
"Cape Wind was the perfect storm of a perfect site for a wind farm that just happened to be within the faintest seeing distance from people who were vehemently opposed and had the resources to fight it tooth and nail," Stephens says. "I don't see that happening anywhere else because there isn't that alignment of those same factors."
Brother Joseph isn't so sure.
"We were blessed," he says. "But all it would have taken would have been for the neighbors to unite and hire a lawyer. Then the whole process slows down until it's a burden."
Spiratos indeed predicts that the Rhode Island project, for all of its outreach, will end up in court. But the NIMBYs are hardly the only obstacle. The entire wind industry has been plagued by an on-again, off-again federal production tax credit that has stifled long-term investment and created a boom-and-bust cycle, says Laurie Jodziewicz of the American Association of Wind Energy. And in late June, Governor Carcieri, the state's wind champion, vetoed a bill that would have stimulated green energy investment by requiring National Grid to buy renewable energy in ten-year blocks.
While the governor and the General Assembly squabble over the details of the alternative energy bill, as Spiratos prepares his anti-wind-farm campaign, and the federal production tax credit languishes in Congress without an extension beyond December, we in the Northeast brace for something else: record-high home heating oil prices this winter.