A Midlife Crisis Like No Other
The first production of the season at 2nd Story Theatre is a tragedy at its heart.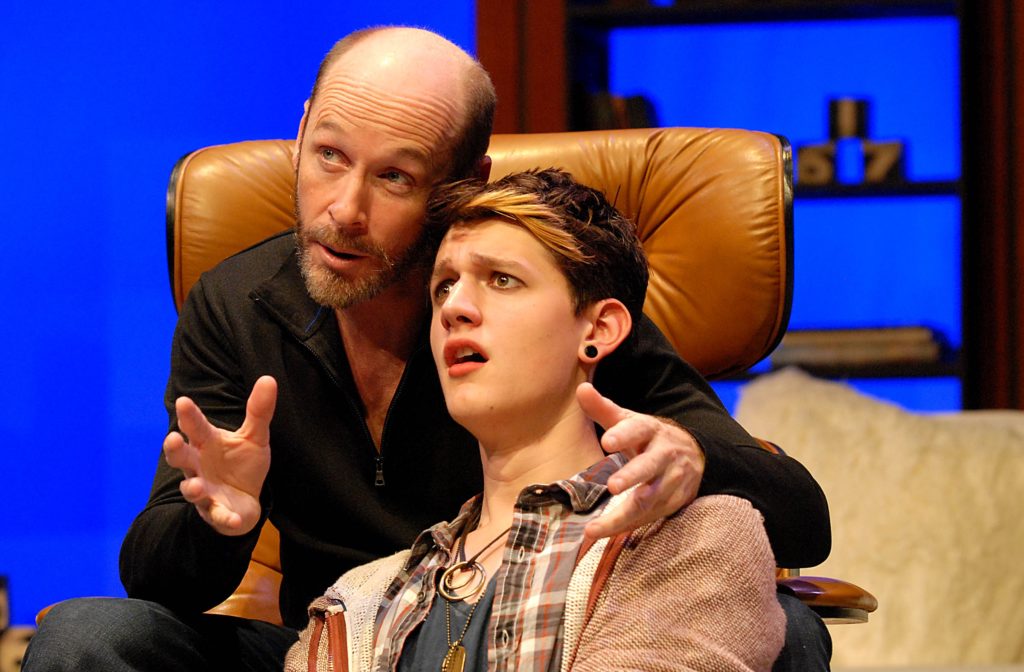 Martin was having a very good week. He was turning fifty, had been commissioned to design a city of the future and was the youngest architect ever to be awarded with the prestigious Pritzker Prize. And after many years of marriage, he was still in love with his wife.
But as Edward Albee's play The Goat, or Who Is Sylvia? opens at 2nd Story Theatre, Martin is in a fog. In a production that careens between hilarity and rage, we soon learn that he's experiencing a most unusual midlife crisis. The play, which opens the season for the theater, won the Tony award for Best New Play in 2002.
The kinetic Martin, played by Ed Shea, is visited at his home by his oldest friend Ross (Mike Zola). In one example of the trenchant dialogue throughout the play, Ross asks him what it feels like to be at the pinnacle of success. "You mean it's all downhill from here?" Martin replies.
When Martin reveals he has fallen in love, Ross is all ears. In one of the most funny but raw scenes in the play, Martin tells his oldest friend how a trip to the country to look for a farmhouse led him to fall in love with a beautiful vision named Sylvia. But Ross is horrified when Martin shows him a photo and he realizes Sylvia is a goat.
Ross informs Martin's wife, Stevie, in a letter. Martin had actually mentioned it offhandedly to her before, but she didn't believe it. In their well-appointed, modernist living room, Stevie, played by Sharon Carpentier, intersperses her fury with cutting wit as she tries to understand how the husband she has shared a happy marriage with for more than twenty years has been having an affair with a goat. And Martin, far from being ashamed, is torn between his long love for Stevie and his unexpected love for Sylvia, which he describes as an "epiphany."
"I love you and I love her, and there it is," Martin says.
"You've broken something and it can't be fixed," Stevie later tells him.
Their excellent performances are complemented by that of their son, Billy, played by Ben Church, a teenager who struggles to understand what his father has done to his mother but still loves him.
Though absurd in premise, The Goat is a tragedy, according to an analysis written by Eileen Warburton. She quotes Albee as saying that "the play is not about bestiality. I want everybody to be able to think about what they can't imagine and what they have buried deep, as being intolerable and insufferable, I want them to think freshly and newly about it."
The Goat or Who is Sylvia? runs at 2nd Story Theatre, 28 Market St. in Warren, through October 21. For more information, call 247-4200 or go to 2ndstorytheatre.com.