A Matter of Time
Reporter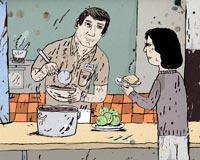 In community service circles, the starfish story is a popular parable that counsels faith, even when the odds are stacked against you. It has a few variations, but it essentially goes like this: A man happens upon a little girl tossing beached starfish into the ocean before they die in the morning sun. The man considers the thousands of starfish washed upon the shore and asks, "What's the point? There are so many, you couldn't possibly make a difference." The girl picks up another starfish and pitches it into the surf. "I made a difference to that one," she says.
For five months, City Year volunteer Meaghan Quinn, twenty, searched the classrooms of the Oliver Perry Hazard Middle School for that sense of purpose. Standing in her way was a bored eighth grader who approached his lessons with the same enthusiasm Quinn herself once showed as a Johnston Senior High School student — which is to say, none.
"He was very disconnected," she says. "He didn't want help, and every day I struggled until I felt that I wanted to give up. Then, one day he called me over to help because he wanted to solve his math problem. It made such a huge difference in my year."
In July, the Corporation for National and Community Service released its annual reports ranking the rate of volunteerism in American cities and states. The snapshots, based on census data, captured a disconnection at the other end. Although Americans are volunteering at historically high levels, their ranks are thinning. In 2005, 65.4 million adults volunteered; in 2006, 61.2 million adults volunteered.
Nationally, the challenge is to plug "the leaky bucket," says Bob Grimm, the corporation's director of research and public policy. "For the first time in this decade, volunteering dipped. One out of three dropped out in 2006, and we are really looking to see how volunteers can continue to be engaged year after year."
In Rhode Island, the goal is to fill the bucket. The state's volunteer rate was fortieth in the nation; Providence ranked forty-second in the cities survey. The news follows the 2006 release of another study, the Generosity Index, a state-by-state measure of giving tallied by the Catalogue for Philanthropy. Rhode Island was forty-eighth, according to a multiyear analysis of income tax returns.
Are Rhode Islanders really as grudging with their time as they are with their money?
"I don't know what it is about modern life, but we are just tapped out a lot of the time," says Pricilla Young, executive director of Big Sisters of Rhode Island. The agency, which can't exist without a corps of volunteer mentors, has downgraded its requirements from an eighteen-month contract of once-a-week visits between Big and Little Sisters to a one-year commitment of "regular" get-togethers. Still, Big Sisters has to work hard to persuade enough women — particularly blacks and Latinas — to sign up.
Others attribute the low numbers to a surfeit of sprawling close-knit families who turn to each other for help, or blame demographics. Volunteer rates are typically linked to socio-economics: the higher the income and level of education the more likely an individual is to volunteer. Providence's 29 percent poverty rate is among the highest in the nation; only a quarter of state residents have graduated college. Religious people tend to volunteer more, and Utah, with a large Mormon population, tops the list.
At the same time, the state is battling a decline in federal support for service programs, says Nancy Chace, co-director of the Rhode Island Service Alliance, which accepts federal funds and manages the state Americorps program. Two years ago, budget cuts almost shuttered City Year. Today, it places fewer than half the number of volunteers it once did.
Still, Lynne Harper of the Volunteer Center of Rhode Island, sees hope in the current trend. The Volunteer Center has been matching the civically inclined to volunteer jobs for forty years. It now works with more than 500 nonprofits.
"There's probably more need than there are active volunteers," Harper says. "But that isn't to say there isn't a substantial volunteer workforce. Rhode Island has actually moved up in the rankings. We were forty-five last year. We also have a high percentage of Latinos volunteering compared to the rest of New England, and we are second in college volunteering."
And the state's nonprofit leaders are eager to capitalize on the uptick. Some, for example, are laying plans to harness the retiring Baby Boomers, who prefer using their professional skills in volunteer settings to stuffing envelopes. There is a conference in the works for next spring that would gather all of the state's non-profit organizations to talk about how to share donor bases, and best practices to manage, retain and recruit volunteers. Many nonprofits need them more than ever, says Harper, because tight budgets have forced them to cut paid staff.
And yet, organizations that rely on volunteers must invest in them, says Amanda Moore McBride, director of the Gephardt Institute for Public Service at Washington University in St. Louis.
"There's quite a bit of research that shows: people volunteer when asked," she says. "It could be that many agencies are strapped and they are cutting their recruitment efforts, so there may not be someone there to create those roles."
In the meantime, the nonprofit community is starting with research. This fall, the Alliance, with the aid of a $17,750 Rhode Island Foundation grant, will conduct its own study of volunteering in Rhode Island. The report will take a more detailed and accurate picture of volunteers and the agencies that use them.
It will also examine how agencies can improve the bureaucracies that support volunteers and streamline the process for people interested in donating their time to and skills.
"While I do not want to be dismissive of the national data, I do believe it warrants further research. Part of our report will set benchmarks for the state," says Chace. "It could be a rallying point."
After all, Americans have been rallying to volunteer causes since America's inception, says Claire Gaudiani, a philanthropy scholar at New York University.
"In making an important place for others in our lives — others who can't give or do anything for us and others with whom we don't have a lot in common — we see our common humanity, and we nurture that common humanity. That is a deeply American impulse," she says. More than 160 years ago, she adds, French politician and historian Alexis de Tocqueville observed this tendency in the young de-mocracy toward "self-interest, rightly understood," which means: when we help others, we help ourselves.
And that is the moral of Meaghan Quinn's story. She is now a freshman at Dawson Community College in Glendive, Montana, pursuing a teaching degree. City Year whet-ted her appetite for higher education — and education in general.
"Working with middle schoolers has changed what I want to do with my life," she says.
"Now I want to be a middle school teacher. I love the age group. I had wanted to be a teacher before, but I procrastinated because I didn't like to put forth effort."
Perhaps our most enormous problems are no weightier than a starfish. Perhaps futility can be cast off with a simple gesture. We won't know until more people start pitching.