A Matter of Degrees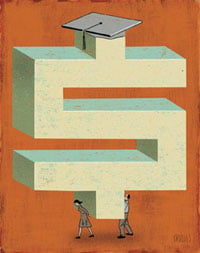 Last year, Kim Stafford, a pharmacist from Wakefield, took a second job. She knew that seeing her eldest off to college would be an emotional wrench, but she wasn't prepared for the all-consuming task that choosing a college turned out to be. Her daughter, Amanda, an honor student and a competitive swimmer, toured fifteen campuses from Massachusetts to Virginia.
"I knew it was going to be quite a journey," Stafford says. "But for sixteen months, that's all you do."
And now in the lull, as Amanda awaits the judgment of the fat and thin envelopes, Stafford can catch her breath and get ready for the next job: paying for college. The annual tuitions of Amanda's target schools range from $22,000 to $45,000. And while Stafford expects her daughter's record of accomplishments will blunt the impact of the full sticker price, she still worries about the bill.
"For a long time, I was a single mother," she says. "So, while her father will contribute and we've saved some, it won't even cover the cost of the first year."
In late October, the College Board released its latest Trends in College Pricing report, and the figures suggest that many other families feel her pain. Although their explosive growth slowed, college tuitions again outpaced the rate of inflation. The average cost of tu- ition, fees, and room and board at a four-year public institution rose to $12,796, a 5.6 percent increase from the year before. Private four-year colleges now average $30,367, a 5.7 percent increase. The College Board says last year's figures represent a 35 percent jump in inflation-adjusted average tuition and fees for in-state students at four-year public colleges since the 2000–2001 school year. That's the biggest jump for any five-year period in the more than thirty years the College Board has conducted the annual survey.
Last year, the Rhode Island Board of Governors for Higher Education approved an 8.7 percent tuition hike for community college and 6 percent tuition and fee increases for University of Rhode Island and Rhode Island College for this academic year. The board had intended more modest raises, but state cuts to the higher education allocation forced the board to cover a $3.4 million shortfall.
Robert L. Carothers, president of the University of Rhode Island, has long decried the erosion of state support for higher education.
"The fundamental fact is this: across the country, states are disinvesting in higher education and moving the cost to students and their families," he says. "In Rhode Island, for the last three years, the state's appropriation to URI has gone up six-tenths of 1 percent, while the costs have gone up about 20 percent, largely driven by increases in health care and utility costs."
Public and private institutions all over the U.S. can and do make similar arguments in defending their tuition hikes. And in the 1960s, the notion that universities' costs will run ahead of inflation got a name. The Baumol Effect, coined after one of its discoverers, economist William J. Baumol, posits that such labor-intensive enterprises by their nature resist growths in productivity. In other words, it takes the same amount of time for a professor to grade a paper today as did fifty years ago.
Ohio University economist Richard Vedder, the author of Going Broke by De-gree: Why College Costs Too Much, doesn't buy it. He argues that tuition increases have been driven by classic market forces. For one, the growing demand for higher education and the explosion of federal grants and loans to pay for six-figure baccalaureates have made consumers less sensitive to price. Second is widespread price discrimination. One of the first things parents learn in College Finance 101 is that students with anything to offer their graduating class get a better financial aid package. The rest pay what the market will bear.
At the same time, colleges and universities have done little to increase their output or even connect the product — a degree — to the price tag in any meaningful way. Faculty salaries have risen; the ratio of non-teaching professionals to students has doubled in the last decade; teaching loads for full professors have fallen; and the percentage of each dollar spent on instruction is shrinking. Even the price of food and shelter is higher on campus. Why not just send students to restaurants and motels? Vedder asks.
Vedder argues that in the nonprofit world of higher education, there has been no adherence to the bottom line and that most colleges and universities neither account for what students actually learn nor what the staff produces. "We like what we are doing. Why change?" Vedder asks. "We have no incentives to cut costs. We have no incentives to be efficient. Third parties are paying the bill."
Frank Caprio, chairman of the Board of Governors for Higher Education, insists that despite the sharp declines in state support, Rhode Island's public institutions deliver a quality education in a fiscally responsible manner. Community College of Rhode Island, for example, has frozen 130 staff positions and has sent a budget resources committee in search of new savings. In-state tuitions still beat those at comparable New England schools, and nationwide, he says.
"I don't think it's enough to say that we're the lowest or near the bottom," Caprio says. "Our real goal is to get as many youngsters into the system as we can."
But that goal seems to be getting more distant all of the time. The National Center for Public Policy and Higher Education, an independent, nonpartisan organization, reports that Rhode Island schools have steadily become less affordable for its citizens. For students in the poorest 40 percent of the population, net community college costs (tuition, room and board) represent 45 percent of family income. Families in the middle of the pack don't fare much better. They would have to spend 53 percent of family income to send one child to one of the state's private four-year colleges.
This kind of math has pumped tuition loans into a $153-billion business and saddled today's graduates with significant debt. According to the College Board, in the 2003–2004 academic year, the median debt level of bachelor degree recipients was $19,500. Over the last decade, the number of undergraduate student borrowers has risen by 159 percent.
This year, for the first time, the Rhode Island Children's Crusade for Higher Ed-ucation stopped determining their scholarship awards based on the tuitions of CCRI and URI. The Crusade, which provides academic and financial support to 5,000 of the state's poorest college-bound third through twelfth graders, has been struggling in the wake of seventeen years of level funding from its biggest investor, the state.
"We have not been able to grow the level of support, but the level of costs keeps growing," says Mary Harrison, the Crusade's president and CEO. "We aren't benchmarking our awards to those two tuitions because we can't keep up with them anymore. And I worry about it a lot. One of the main reasons students like ours don't complete college is the finances, and we are only dealing with the poorest of the poor."
There is one more basic economic ten-et in the mix, says Vedder. The cost of a college education can't gallop ahead of incomes indefinitely. He says that eventually parents will revolt.
]
In the meantime, Stafford's bracing for a siege to the family finances. She has a six-year-old son, and she's already started his college fund.
"If you don't start saving now," she says, "there's no way."