A Jaunt Through Pretty, Patriotic Bristol
This bayside town boasts movie star looks and a colorful history.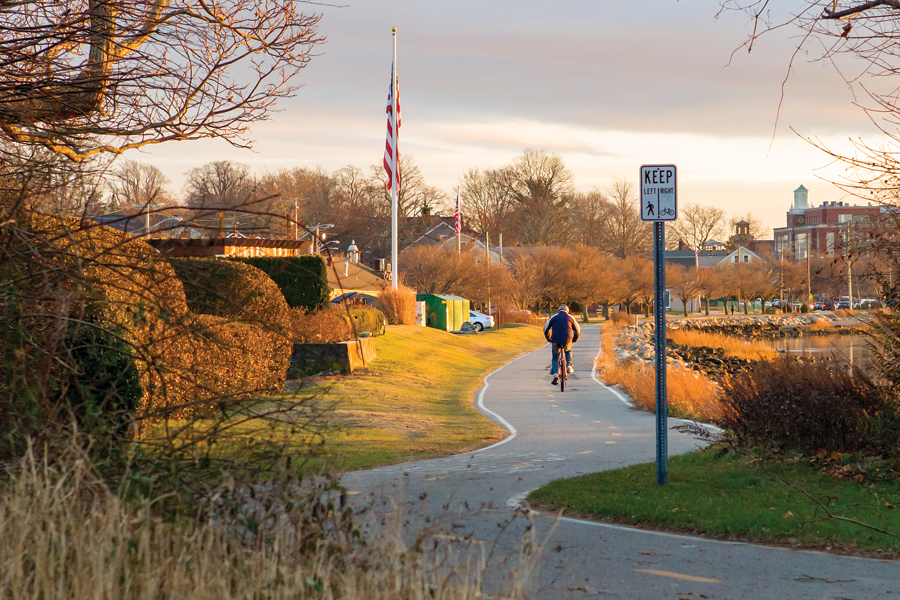 I f you're like me, when you think of Bristol, Rhode Island (not to be confused with Bristol County, Massachusetts, or Bristol, England), you conjure up visions of Fourth of July festivities. And guess what? You're pretty spot on.

But Bristol is multifaceted, and just as there's much more to a model than looks, this compact place has deeper roots. Its illustrious history has ties to the American Revolution, King Phillip's War and the seldom-talked-about Battle of Rhode Island. It has academics and prosperity, thanks, in part, to its longstanding occupant, the expansive university named after our state founder, Roger Williams. And it's also a seaport town known for its soothing salty air, sailboats and safe harbor.
But, yes, Bristol's looks are pretty stunning, too.
The film major in me has always likened the experience of driving over the Mount Hope Bridge to establishing the shot of a scene. The audience is presented with a sprawling glimpse of foliage and antiquated Victorian homes on the water's edge, framing and preserving a town of quaint trimmings and pleasant, longtime locals.
Bristol's natural beauty has attracted many over the years, including its director of community development, Diane Williamson, who has worked in town for more than twenty years. She's always amazed to hear that some residents have decided to move in on a whim after passing through one day. But then again, maybe she shouldn't be, since she's example number one.
"I was interested in municipal planning, so I came here for a job interview in 1995. Back then the Mount Hope Bridge still had toll booths and it was the sweetest little white building with beautiful geraniums out front. You could buy something like ten tokens for a dollar," she recalls. "The first day I was here, I didn't have any tokens, so I put money in the basket and the toll booth guy said, 'You know you can save a lot of money with the tokens!' He was so friendly. I said, 'If I get this job I'll definitely get myself a roll!' "
And it was in that moment, that simple exchange, that Williamson knew she had stumbled onto something special: a tight-knit, welcoming and supportive community. She's been there ever since.
"I love my job. We have a very strong spirit of volunteerism. People here are so engaged in their community and they want to be involved," she says. "They step up to the plate, whether it's with Save Bristol Harbor working on water quality or the Bristol Merchants Association to help with the promotion of the stores and shops."
And she's been able to work with a number of other community activists. The Guiteras School is one.
"Some parents that were into landscape design brought us an idea they had for creating outdoor experiences for local children. We worked with DEM to get a grant and we were able to create a discovery garden," she says. "But more than that, we did a whole water quality project, which also created an educational piece for the students. It was great to see the collaboration with all these different groups: the town, the school department, the teachers, the parents. Again, it all comes down to that volunteer enthusiasm for making good things happen."
Bristol's biggest claim to fame, of course, is being home to the longest continuously run Independence Day parade, not just in the state, but in the whole country (take that, Massachusetts and Washington D.C., with your hyped-up historical sites and showy monuments).
The Independence Day celebration on this charming peninsula began in 1785, but the actual parade through downtown Bristol is said to have stepped off sometime in the early 1800s.
Nowadays, celebrations kick off almost a month prior to our nation's birthday with Flag Day on June 14th. Bristol then hosts a series of holiday-related events, including a concert series at Independence Park and a grand ball.
It all culminates with the Bristol Independence Day Parade, also known as the Military, Civic and Firemen's Parade, on July 4th. The town's population multiplies and many parade goers, made up of residents and out-of-towners alike, set up shop along the route (marked with an iconic red, white and blue highway divider) at the crack of dawn.
Yet they're not the only early birds around these parts. On the day of the parade, people are already planning for the next year.
For most Bristolians, and not just those who plan the festivities, the sentiment behind the Fourth of July is a year-round deal. No matter the season, almost every Victorian porch in sight sports an American flag and newly redesigned street signs reflect the vintage aesthetic of the Star-Spangled Banner's past. In a post-election era when the rest of the country seems staunched in eternal turmoil, the sights around this small town are comforting. It's reassuring to see a community that's proud of our nation all year long, not just on a day off from work that's filled with pyrotechnics, picnics and hot dogs with mustard.
So next time you hear someone talk about Bristol and relate it to the Fourth of July, go ahead and agree. Praise the town for its patriotism. Talk about that time you found the perfect spot on the parade route and witnessed the whole spectacle up close. And then tell them about all of the other wonderful bits, whether it's the beach scene, the gorgeous landscape or the community's unwavering volunteerism. I know I'll be doing the same.

Clockwise from top left: A quiet Bristol street; boats docked at the waterfront; a visit to Blithewold Mansion, a thirty-three-acre estate; Mount Hope Bridge spans Bristol and Portsmouth, which were once connected by ferry; a Bristol street; Bristol's working waterfront.

---
Great places for foodies
Bristol
Angelina's
Nowadays, it seems there's a chain coffee shop around every corner (America runs on them apparently), so it's refreshing to bump into an independent shop that is thriving. Angelina's carries only the best beans, from Papua New Guinea to Cameroon. Patrons in a rush can grab their coffee to go, but if you're looking to relax a bit, it has a cozy back room stocked with cushy chairs, a library of vinyls and an accompanying record player.
301 Hope St., Bristol, 396-5592
Casual Inn
More than forty-five years ago, Peter and Kathleen Benevides created a modest sandwich shop that eventually bloomed into a full-scale restaurant. Specializing in Portuguese-American dishes — although they have a fair share of Italian entrees too — the restaurant serves up classic dishes like shrimp mozambique and Portuguese-style fish (complete with a fried egg on top).
170 Franklin St., Bristol, 253-0204, thecasualinnrestaurant.com

A Short Drive Away
Bywater
Opening in 2015, Bywater may be one of the newer kids on the block, but it's serving up some seriously gourmet eats. Smoked trout, steak tartare and duck tacos sound good to me. Typically the fare is a New England twist on European classics, but Bywater keeps the menu flexible. With cuisines that change daily, you'll always have a chance to try some new culinary delight.
54 State St., Warren, 694-0727, bywaterrestaurant.com

---
Great places to shop
Bristol
Magick Mirror Gift Shop
Described by its patrons as having a "positive energy," this magical emporium is stocked with every spiritual or metaphysical goody you could need. Whether or not you're a believer, the staff can explain the intricacies of the New Age wave and they've got a great supply of literature if you're looking to learn more. Feeling under the weather? There's an impressive selection of healing crystals. Besides merchandise, they offer tarot reading services and classes.
17 State St., Bristol, 245-2200, facebook.com/magickmirror
Olde China Trader
There are plenty of antique shops in the state, but this one stands apart. It has everything from Ming-style tables to Beijing jade jewelry. The founders of the shop lived in China for many years where they developed a passion for Asian art and antiques. If you're looking to add some Asian antiquities to your collection, call ahead to view the warehouse.
244 Metacom Ave., Bristol, 378-8483, oldechinatrader.com

A Short Drive Away
In Your Ear Records
Get in touch with your inner hipster and head to a good old-fashioned record shop. In business for thirty-five years, the In Your Ear owners know their stuff. The shop has a selection that could satisfy any audiophile, from gospel albums to pop singles. Don't have a record player? No problem. They also sell CDs, cassettes and even eight-tracks.
462 Main St., Warren, 245-9840, iye.com

---
Fun things to do
Bristol
Coggeshall Farm
Nestled in the farmlands of Poppasquash Neck, this working farm offers visitors a chance to see (and even participate in) eighteenth century farm life. Visitors can pull weeds, watch soap-making and feed livestock all in the name of history. The farm hosts workshops and events where you can learn the skills that any historic homesteader would have, like basket-weaving.
1 Colt Dr., Bristol, 253-9062, coggeshallfarm.org
Herreshoff Marine Museum
As the Ocean State, Rhode Island has its fair share of ships, one case in point being the Herreshoff Museum with its array of boats, from the tiny eight-and-a-half-foot dingy, Nathaniel, to the seventy-five-foot Defiant. Visitors can go aboard some vessels and experience them directly. Besides its collection of vessels, the museum has hundreds of model ships, nautical memorabilia and artifacts.
1 Burnside St., Bristol, 235-5000, herreshoff.org

A Short Drive Away
2nd Story Theatre
We don't think of Warren as a hot spot in the theater world, but 2nd Story Theatre is proving us wrong. You're not going to be watching amateur renditions of Hamlet or King Lear here. From modern classics like Amadeus or One Flew Over the Cuckoo's Nest to lesser-known masterpieces like Die, Mommie, Die, performances are anything but boring. With a stellar cast and an eclectic but engaging repertoire, the plays are sure to wow.
28 Market St., Warren, 247-4200, 2ndstorytheatre.com
This story has been updated.