A Hawk in the Ring
For sixteen straight years, Chief Sachem Matthew Thomas of the Narragansett Indians has fought for his tribe in the public arena — and he's been roughed up along the way. Is the outspoken leader capable of changing the game?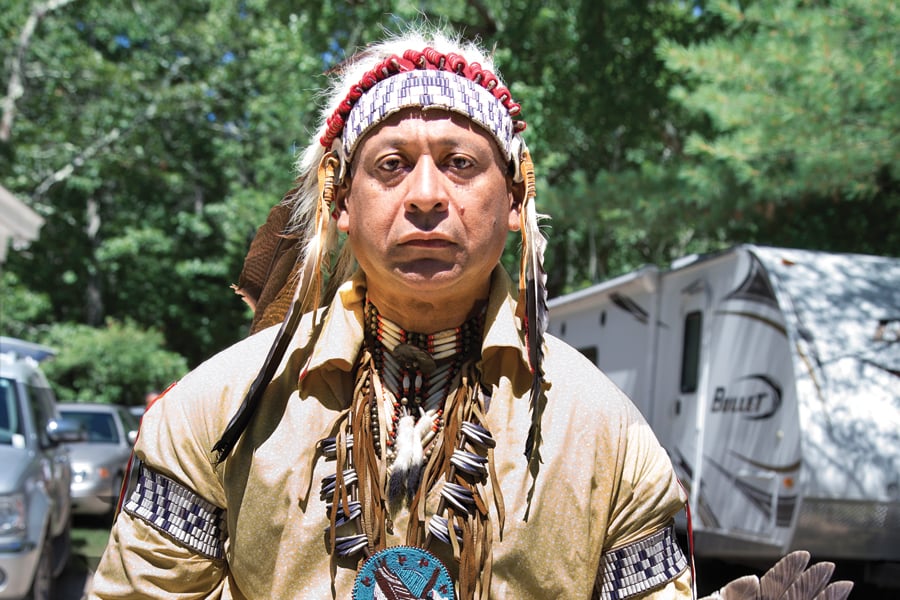 It's been forty years, but Matthew Thomas still remembers. He was sitting in a classroom in a middle school in a town that bears his tribe's name. He recalls the color of the walls and the dingy carpet — the only things in the room darker than his own skin — and the words scrawled in squeaking chalk on a blackboard: Bloodthirsty. Savage. Animals.
His middle school history teacher was giving a lesson on the Narragansett Indians, molding minds on a subject that was so much more than history to young Thomas. It's in his fabric and his spirit.
The thirteen-year-old didn't say a word. At the time, Thomas wanted to get the facts straight before opening his mouth and responding in anger — a risky thing for a young minority in the 1970s, especially one who was already familiar with the principal's office.
These days, Thomas can't keep his mouth shut. The chief sachem of the Narragansett Indian Tribe has abandoned that troubled boy cowering behind a textbook, afraid to go head-to-head with a white man packing chalk. Now he resembles a swanky Philadelphia lawyer and speaks loud and clear on issues related to tribal sovereignty, including the non grata Indian casino and the infamously violent smoke shop raid in the summer of 2003. His unsentimental, outspoken ways have earned him a top spot on Rhode Island's unwritten list of controversial figures.
A fan of Muhammad Ali, the fifty-two-year-old Indian chief compares his tribal role to that of a heavyweight boxer who's been knocked down and beat up but is still standing, strong in spirit and capable of changing the game. And Thomas will enter the ring with just about anyone to fight for his tribe — regardless of how roughed up he gets in the process.
Thomas was elected in October 2012, two-to-one by popular vote, to his fourth consecutive term as chief sachem of the Narragansett Indian Tribe. Sixteen years as chief and more than twenty years in tribal politics have done a number on Thomas's hairline. "I've aged dramatically, I'm losing my hair. I'm going to have to shave my head and have that genie look," he says, though he doesn't seem too worried about it. Despite a little gray by the temples, Thomas is stronger and fitter than ever; his two looks, suited up or golf-course casual, give off the air of a white collar professional more than an Indian chief.
But chief he is, of roughly 2,400 Narragansett Indians scattered all over the world, most in Rhode Island. As their leader, Thomas has spent time in jail for simple assault. He's written press releases, he's met with three consecutive Rhode Island governors and he's broke bread with Donald Trump ("That was an interesting lunch," he says). He's had awkward run-ins with small-town politicians and spends so much time in court he's starting to identify with Perry Mason.
But every moment of every day, Matthew Thomas carries the weight of his tribe's past on his shoulders. He has royal blood streaming through his six-foot-four frame, and has the presence of the imposing, brawny Indian chief his ancestors embodied.
"People will come up to me and say I don't look like the Indians in old westerns," he says. "It's innocent ignorance. You're not going to look like someone who was here 350 years ago, either. We don't need to walk around in feathered headdresses to know that about ourselves."
The great Ninigret, a sachem during the 1600s and a friend of Rhode Island founder Roger Williams, is Thomas's seventh great-grandfather; his second great-grandfather, Ben Thomas, sat on the tribal council — the governing entity that works closely with the chief on tribal issues — in the late 1800s when the Narragansett tribe was stripped of all but three acres of land.
Like his ancestors, Thomas lives and breathes tribal politics; but he wasn't raised that way. His father, a brick mason, and mother, a housewife, maintained Narragansett traditions in their own household but weren't politically involved. They focused their attention on scraping by in South Kingstown and raising their own clan; Thomas is the youngest of eleven children. "My father was a World War II veteran, and he was the law," Thomas says. "If he said to be home at five for dinner, you better be there or you didn't eat. And if we got out of line, we got thumped."
His parents separated when he was six. When Thomas was twelve, his father died. "He might have been a strict man, but we loved him dearly," he says tenderly.
As they grew up, Thomas and his older brothers spent more time on the then-three acres of reservation land in Charlestown, the best sort of playground for teenage boys. "One of my brothers took me to visit my family burial grounds and I didn't even know it was there," Thomas says.
He remembers climbing up to the Cup and Saucer, a rock formation on the reservation that was used to alert tribal members of a possible attack and to send messages to the heavens. Another place that stuck with him was Baby Crying Rocks, a formation that's more than 500 years old. Narragansett parents would bring deformed infants to the rocks and slaughter them there. "It sounds brutal, but if the baby was going to be a burden they didn't really have a choice," Thomas says. "Legend has it, you can still hear the babies crying there at night."
What Thomas remembers most about visiting the reservation is the peace of mind it offered him. "If you're down there and you're quiet enough, you can see deer and wild turkey, owls, even hawks," he says.
Thomas identified with the hawk, a majestic, territorial bird. When it was time to choose his tribal name, Thomas and his brothers decided on e nada wushawunun, or Seventh Hawk, an ode to the powerful bird of prey and to his own historical legacy as his father's seventh son and Ninigret's seventh great grandson.
Name-calling, fights and trips to the principal's office punctuated Thomas's high school career, but he remembers several teachers who gave him a chance — and one in particular, Mrs. Pitocchi, who groomed him to succeed.
Patricia Pitocchi was an English teacher at Narragansett High School who taught public speaking during the mid-1970s. "Matthew was a fine student: reliable, hard-working, cooperative," she says. "Like most students, public speaking was not his favorite subject, but he improved so much and never gave in."
Pitocchi says she saw something in Thomas — something he didn't see in himself until several years later. "I always told my students that you never know where life will take you, and he was always one of my prime examples of that," she says.
An avid high school athlete, Thomas graduated from Narragansett and went on to study and play baseball at the Community College of Rhode Island."We were first in New England and fourteenth in the nation," he says. "That helped me out in life. You can't do anything unless you're dedicated to it."
Thomas's teammates knew he was a member of the Narragansett tribe and called him "Chief," sometimes to his face and sometimes behind his back. He didn't like it at first, but eventually Thomas embraced the nickname as a term of endearment.
Eager to make money and marry his girlfriend, Beth Bourne, Thomas left CCRI and the baseball team to work as a second-shift janitor at his old high school. But once the pair started a family of their own — two girls and a boy — Thomas landed a job with Narragansett's Parks and Recreation Department, plowing streets in the winter and maintaining ball fields in the summer. As he mowed the grass and marked the baselines, Thomas often thought back to his winning days on CCRI's team — and his locker room nickname. "I see my teammates now, thirty years later, and I say, 'You guys knew something I didn't know.'"
After he got married, Thomas dove into tribal politics. It was a contentious time for the Narragansett people; they had just won two great victories, both led by Thomas's older siblings. Between the late 1970s and early 1980s, the tribe was awarded 1,800 acres from the state of Rhode Island — land that came with a legal hitch: it would operate under local and state laws — and, after nearly 100 years, they regained federal recognition as a tribe. But as federal dollars began rolling in, a rift developed over the possibility of an Indian gaming facility. Thomas stood with the pro-gaming group. "It was an ugly time for the tribe," Thomas says, "but we eventually came back together for one unified election in 1990."
He was elected to the tribal council that year. But the workload plus a full-time job took a toll on Thomas and he didn't run for reelection in 1996.
During that one fateful year when Thomas wasn't involved in tribal politics, then-United States Senator John Chafee slapped a last-minute rider on a Senate appropriations bill that would force the tribe to seek voter approval for high-stakes gambling on their land. At the time, Rhode Islanders were largely against casino gambling in the state.
Republican Senator John McCain stood in solidarity with the tribe against the rider, stating, "I oppose any effort to deny the Narragansetts or any other individual Indian tribe what is protected for all other Indian tribes — the right to conduct governmental gaming activity on their own lands. It is unseemly to single out one Indian tribe for discriminatory treatment in this way."
But the rider passed with the appropriations bill, making it more difficult for the tribe to take advantage of a federal act that allows indigenous people to open casinos on their own land. The rider marked the start of the tribe's long and fruitless effort to nose into Rhode Island's gaming industry — an effort Thomas led from the very first day he was elected chief in 1997.
A decade and a half later, sitting in his cluttered office in the Narragansetts' graying building on South County Trail — grudgingly called "the Shack" — Thomas says he never intended to run for office. But his fellow Narragansetts asked him to; unlike many of the chiefs before, he was young, aggressive and willing to take on the public at large. "I had just made the age threshold at thirty-five, and was up against all these older people with more experience," he says. "So when I won, I was surprised. Our medicine man, Lloyd Wilcox, and my family helped me out. I was as green as those trees out there but I wanted to bring the issues of our tribe to light and really push it."
And he has, down a long and convoluted road that's resulted in little economic development, few social resources for the tribe and lots of legal bills. The casino never happened, and tribe members had to sit and watch as table games went live at Twin River Casino in Lincoln last spring. Another economic development project, a 2003 smoke shop on tribal land, was raided by thirty state troopers three days after opening its doors for selling tax-free cigarettes on land subject to state and local laws. The scuffle left tribal members bruised, beaten, jailed and convicted of disorderly conduct and simple assault — Thomas included. And an elderly housing project, which started in 1991 with the purchase of thirty-two acres from a private developer, sits in limbo, built up but vacant as a Midwestern ghost town. All of its prospective tenants died waiting for an affordable place to call home.
Thomas speaks with fervor about the casino debate: The biggest issue with me is how they denied us. If we couldn't have gaming because of legitimate reasons, then fine. But to do what you did to the tribe, that's the issue with me.
Something within him turns cold, stony, even defensive, when he discusses the smoke shop raid: You're not dealing with the Hell's Angels; why'd you have so many cops? Do you think we're complete animals? 'Til the day I die, I won't feel like they had the right to be there.
But the failed elderly and affordable housing project just exhausts him. "People wonder why a lot of our folks are angry," he says.
He rubs his brow, then runs his hands down his cheeks and pauses, heavy-headed, to think. "It's a terrible, terrible waste. We built the houses, put in a water tower so it all could be self-contained, but the town fought us on it."
In 1998, the tribe requested that the Department of Interior (DOI) take thirty-two acres of tribe-owned property into trust for an elderly and affordable housing development project. The elderly homes were already constructed, but faced zoning and watershed problems under town regulation; the affordable homes were in the early stages of construction. The DOI agreed to take the land into trust, but the town of Charlestown and then-Rhode Island Governor Donald Carcieri wouldn't allow it, fearing the land wouldn't be used for affordable housing, but instead for an Indian casino.
After ten years in and out of several courtrooms, the case climbed up to the United States Supreme Court in 2009. Thomas and some tribal council members watched as the Court upheld the state, which argued that the trust process could not hold for tribes that received federal recognition after 1934. Since the Narragansett tribe was not federally recognized until 1983, the court ruled that the thirty-two acres could not be put into trust. The historic decision also affects the land trust status of hundreds of tribes across the country.
Legislation known as a "Carcieri Fix," which aims to give all federally recognized tribes the opportunity to put land into trust, has floated through the legislature for several sessions but has not yet made it to a vote.
"We would've been down in a hole and nobody would've been able to see us, so what's the problem?" Thomas says. "Sometimes the kids don't understand why we can't have housing. And it's tough to explain that when the state and the town have deep pockets and they're fighting you, that's just how it is."
Joe Larisa, the former embattled East Providence mayor and Charlestown's legal adviser for all things Indian, says the town gave the tribe the chance to make the housing project a reality in 2011. The Narragansetts had to agree that the parcel of land would operate under state and local laws, just like the other 1,800 acres gained in 1978.
But the tribe wouldn't agree to those terms indefinitely; if a Carcieri Fix ever happened, they wanted to be able to put that land into trust. "Why not get housing for members that desperately need it?" Larisa says. "We just wanted it to insist that it was for housing only."
Thomas, who unabashedly refers to Larisa as "Pansy," sees the town's effort to regulate the parcel as one more attempt to negate the tribe's right to govern its own land. "I've said it on more than one occasion," Thomas says. "That's just not a reality. It would have been filled with Narragansett elders, kids playing kickball. We weren't going to start construction on a casino there."
Three years ago, the tribe received nearly $2 million from the federal government to refurbish the already-standing homes; they had to return it after they couldn't reach an agreement with the town. Without the funds, Thomas says, the tribe will likely have to demolish the standing structures.
The situation worsened when Thomas and the tribal council discovered that a member of the tribe embezzled $100,000 from the housing department. "I saw things, and of course it didn't feel good (to report her), but it's my job to look out for the entire tribe, not one person," Thomas says. "But things like this happen in every society."
Charlestown residents Tom Ferrio and Will Collette, producers of the news and politics blog Progressive Charlestown, see the town's stonewalling as a political maneuver and call the tribe a "very convenient boogieman."
"It's pretty easy to raise fears in people's minds, especially when you're trying to gain leverage in a political campaign," Ferrio says. "A wise and longtime resident says that a lot of people in town have a bad attitude about the tribe based on the 'camel's nose under the tent' that elderly affordable housing will morph into a casino. It tends to be the older population…and as they die off, the younger folks will take their place. I'm a little impatient about having to wait that long."
On the housing issue, reports Collette, "The town says: trade sovereignty for these other things we'll give you. We'll green-light the housing, but you have to accept our dominion. And the chief said he wouldn't give it up so cheaply. It's the essence of who they are as a tribe; Charlestown has a hard time wrapping its head around that, and treats the tribe like it's just another small business in town."
Charlestown Town Council President Thomas Gentz referred all questions to Larisa, but did say, "We have a good working relationship with the tribe, until it gets to these other issues. But I certainly wish the tribe well."
The drumbeat picks up, fast like a fluttering heart. The clanging of bells and shells, war whoops and low, guttural chanting resound as natives descend upon the powwow circle. It's the 338th recorded Annual Meeting, or Green Corn Thanksgiving, for the Narragansett tribe, and Thomas's sixteenth as chief.
The razor-sharp August sun cuts through the trees and catches the white beading in Seventh Hawk's headdress. He leads the Grand Entry, dancing down to the circle and beating his moccasins into the dusty earth: two pulses with the left foot, two pulses with the right.
He's not singing or chanting, but is engaging the crowd, pointing to supporters and flashing broad, toothy grins. Once he hits the ring, however, Thomas's face turns to a familiar sort of solemn. Narragansett tribal council members, dancers, warriors and elders surround their leader in the pit of the powwow, and natives from neighboring tribes trail behind. At the center of it all, with a large hawk on his back, Thomas stands tall.
"I love seeing him in his headdress," Thomas's eldest daughter, Kim Burdick, says. "No matter what, I could be mad at him but when I see him, I'm just proud of him. He's a great-looking chief."
Thirty-two-year-old Burdick was a teenager when her dad entered office. "He was always like Superman to us," she says. "When he was elected chief, nothing really changed. He was the same to us, just more people knew him."
But things eventually did change. Two years ago, Thomas and his wife of nearly three decades divorced and, due to financial constraints, Thomas left Charlestown and moved to a more affordable neighborhood in North Providence. "We were already out of the house when it happened," Burdick says. "It was tough, even as adults, because I looked up to their marriage."
Burdick still lives in Charlestown — less than one mile from the home she was raised in — with her six-year-old son and husband, Tom. "I need trees, I need quiet, it's just how we were raised," Burdick says.
When Burdick was young, her family valued play and outdoor activities. But Thomas was strict when it came to schoolwork. "He always said to us: 'Your only job is to go to school, get good grades and graduate,'" she says. "His form of punishment was writing out of a dictionary or reading a book he already read and making us write a report on it.
"It was torture," she says, laughing.
As an adult, Burdick stays out of tribal politics. She offers her services as treasurer on the Parent Education Committee, which organizes activities for tribal children during school vacations, but otherwise stands at the sidelines in a supporting role for her father.
"It's a tough thing for people to feel like they're fought at every step," she says. "The housing, the smoke shop, oh my goodness. Can they just let up a little and let us have something so we can make do? It is what it is and it seems like it's been that way for a while. And I'm sure my son will be fighting to get things done, too. But at least he's trying. I hope my father runs until he can't run anymore."
Although the smoke shop and casino are off the table for now, Thomas and the tribal council have discussed other sources of economic development, including a new health center on tribal land.
Thomas also mentions a large body of water on the reservation that matches the scope of the reservoir in Scituate and would be of value, economically, to the tribe. The council is researching large-scale solar farms, wind turbines and other money-generating green projects as well, which could help sustain the tribe in the future — his grandchildren included. "The world's changing; we can't rely on fossil fuel forever," he says.
Thomas says it's his top priority to find a way for the tribe to thrive. "Do we have a high unemployment rate? Yes. Do we have our problems with drugs and alcohol? Absolutely we do," he says. "That's why we try to have to have things for people to do. Otherwise they're just going to go drink a beer."
"Man, I gotta stop swearing."
It's a sunny late-summer morning on the deck of a Providence coffee shop, and Thomas is already wound up. He sips a decaf coffee with Equal; anything stronger than Dunkin' gives him the shakes. Wearing a polo and khakis, a wide-brimmed straw hat and aviator sunglasses, Thomas looks like a cop on vacation in South Beach. But the ideas he's expressing, the passionate, soapbox type, could only come from Seventh Hawk's mouth.
"If there's an entity that people have an issue with, they're going to do everything they can to slow you down and beat you into submission," he says. "If Dr. King stopped the first time he was thrown in jail, then nothing would've gotten accomplished. He didn't stop until they killed him. And, no matter how discouraged we get, the tribe is very resilient."
Loren Spears, executive director of the Tomaquag Museum in Exeter, sat with Thomas on the tribal council for four years and sees his role as chief as one that requires a strong sense of duality. She recalls an idiom her grandfather often repeated: You must have one foot in each canoe. Narragansetts, and indigenous people in general, must maintain a connection to their tribe and, at the same time, be an active part of the larger American community.
"The symbolism is: canoes are not something you want to stand up in; you have to have a lot of balance," Spears says. "The chief has to have that same balance to deal with the political arena of the United States as well as care for his own community as the leader. It's not easy being on the chopping block all the time, trying to protect our issues of sovereignty and economic development."
Thomas admits that some tribal members disagree with his political priorities. But he says most recognize that he's invested in the wellbeing of the Narragansett community. "All we have is each other, even if I don't run or get reelected," he says. "We're family."
After he serves this term, Thomas will have held the chief's office for twenty consecutive years. He's unsure about a fifth term in 2017 but, in heavyweight fashion, says he has a few more years of fight left in him. "Are we getting the hell knocked out of us? Yeah. Are we still standing? Yeah," he says. "People ask me how I do it, and I usually say I don't know. But maybe I do it because the people who put me in office support me enough to do that."
He's not going to throw in the towel this late in the match. And if anyone can give 'em hell in the ring, it's Seventh Hawk.