A Growing Trend
Shared urban gardens are an irresistible extension of the locavore trend, offset the soaring cost of living, and grow both food and a sense of community.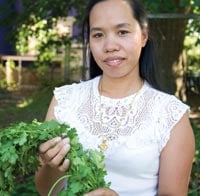 Unlike the rest of the vernal Ocean State, Providence is not a particularly green or leafy place. Its asphalt gardens, spawned by the ban on overnight street parking, support vehicles, patio furniture, heat shimmers and off odors, but not a lot that provides shade or looks good to eat. In some inner-city neighborhoods, the only green around is on street signs.
For people who like to garden, it's not the friendliest city. For people who need to grow food to eat, it's something else again—a place to go hungry.
And there are swelling numbers of those people here.
Fortunately, a surprising number in Rhode Island's capital city manage small-scale, individual farming. That's right, farming—if food production for a family can be described that way. We're talking a micro level here; usually just one person, a few square feet of earth and a water spigot. Oh, and the knowledge and willingness to work the land, no matter how modest a parcel.
It's made possible by community gardens, increasingly popular options for earth-starved city residents. Various nonprofit groups make small garden beds available to lease by the year at $15 to $25. Importantly, they also guarantee that the soil has been tested for contaminants like lead and made safe for the cultivation of edible plants. Anyone in the community can sign up for one. It was easy to get a plot even a year ago, but most gardens in Providence—and there are at least twenty—now have a wait list.
The biggest organization running them is the Southside Community Land Trust, which has been greening blighted city acres since Brown grad Debbie Schimberg moved to South Providence in 1981 and realized that the vacant lots and displaced immigrant farmers that filled the low-income neighborhood could come together to create something better. Now, ten gardens allow more than 200 Southside Providence residents to grow food using intensive, organic methods. Their yields feed family members or are sold at the Broad Street, Downcity, Hope and Parade Street farmers' markets. Market-goers love the fact that the food is grown organically within city limits, organizers say. And the cash is important to growers.
"The median yearly household income around here is $16,500," says Southside Director Katherine Brown, gesturing at the neighborhood around one garden on Somerset Street. It's a hot day. Bright green bitter melon and sweet potato vines are starting to grow up makeshift trellises in the block-wide garden. Many of the surrounding houses look well-cared for, and there's a new city park across the street. It's a different place from the burned out neighborhood of the 1980s—but there are problems. From a house that backs directly onto the green oasis, the sound of kids and adults shouting spills out. "There's a drug problem there," Brown indicates with a nod. "Our gardeners are frightened of them."
Southside staff work with the kids when they can, she says, but the adults "aren't interested. If they were, we'd find them a plot in a second."
No one had to persuade Nhia Lee and Chia Xiong to start growing food after they discovered Southside's gardens. Both are first-generation immigrants from the hilltop farms of Laos. Like other Hmong people here, they fled their country's Communist regime after the Vietnam War.
Older Hmong, like many adult immigrants, find the urban landscape around them puzzling. Gardening is something familiar that allows them to help support their families. They grow exotic strains of cilantro, squash and mustard greens from seeds they brought with them, and rely on younger people like Lee, who was only nine when she left the mountains with her family, to help them negotiate the new culture. Now thirty, a married packaging worker with a direct gaze who takes night classes and is raising four children, she says she grows enough veggies, chilies and lemongrass to buy only meat and rice at the store.
More people call for plots every day, say Lee and Xiong, but there are none available. The wait list is now thirty-five people long. "We need more money, we need more land," Xiong says.
The Trust is trying to expand, says its education director, Leo Pollock, but "there are only so many gardens we can run." That's why he's looking to encourage other groups to start community gardens, too. The city is also showing interest.
Example: Bob McMahon, the new superintendent of the Providence Parks Department. He's been an advocate for community gardens for much of his twenty-two-year Parks career, helping create them on public land at Session Street Park and Fox Point in Providence. A third is planned in Olneyville. He hopes the success of the first two gardens will encourage other neighborhood groups to step forward. "We get the infrastructure in, then turn them over," he says. The biggest wrinkle, he says, is finding space for more gardens, but he estimates half the city's 112 park spaces could potentially support them.
For his department, the emphasis isn't so much on food production as on recreation and community. "It's a good thing for parks—it brings a variety of people to a park who might not otherwise come," he says. "Gardening is for all ages."
The gardens on city land benefit from free water supplies, a huge plus given that water is typically a garden's largest ongoing expense. On a late spring afternoon at Fox Point, a Parks truck brings in a 750-gallon tank because the regular pipe has sprung a leak. Norma Anderson, a local artist who has been involved with the three-year-old garden from its inception, fills trash cans with water so her 100 or so fellow gardeners can save their vegetables and flowers. As others stop by, it's clear they are a more affluent group than their counterparts in South Providence. Two college students arrive on bikes, and office workers with name tags still attached to their clothes drive up.
Garden manager Mike Urso says building community is just as important here as anywhere else. "From my perspective, the coolest thing about this garden is that it brings people together," says Urso, a grad student and substitute high school teacher. "I think people are hungry for that."
Another relatively well-heeled garden is run by Mount Hope Community Gardens under the Mount Hope Neighborhood Association. Cecilia Dottie Ramos has been managing it since it was started on city land in the early 1980s. There are fifteen plots here, growing flowers and even seedling trees, but also familiar crops: celery peppers, collard greens, tomatoes, lettuce, eggplant, leeks, kale, parsley, fennel and onions. Gardener Alec McLeod says it's what drew him to the neighborhood. "I moved here because this garden, the green space, was here," he says. "Other people too."
So here's another delicious fact about community gardens: They don't just improve air quality, provide habitat for wild-life and nutritious food for underserved populations, and allow people the atavistic pleasure of covering their hands with dirt. Studies show they also push up property prices.
But it's the Southside Community Land Trust, helping its underserved population, that's the heart of the community garden story in Providence. In early June, its education program is going strong. Kids will soon come to the trust's City Farm for field trips and summer programs. But staff have also been running two small gardens at inner-city schools all spring. One of them is Bailey Elementary, where the twenty-something Ivy Leaguers and students running the after-school programs are some of the few white faces. Pollock is to lead the kids on an early summer harvest—radishes. "Yuck!" says one eleven-year-old.
But she concedes she's liked many of the other meals; pesto was her favorite.
There are ten in the gardening club, and they form a slightly rowdy line to walk to the garden around the corner. Pollock shows them how to tell when the radishes are ready. When they've pulled some up, they wash and slice them in the cafeteria, make salad dressing and prepare plates.
Only about half of the kids sit down for the salad, but those who do eat with gusto. The snack comes at a good time in a long school day. Not everyone is convinced, however. One boy, on his way to the trash can to spit out a radish, makes his feelings quite clear. "I haven't liked anything we've made," he proclaims, "except for the ice cream."
Ice cream with fresh raspberry sauce. It could be worse.