A Folkin' Good Time at the Sunset Music Series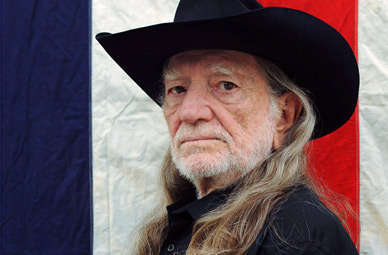 Propped atop the Julians Omnibus in direct line of the late afternoon sunshine, chowing on barbecue tacos and sipping an iced tea lemonade cocktail, I wondered how the day could get any better. Then I remembered the reason I drove down from Providence to Newport that afternoon. Willie Nelson, of course.
The eighty-year-old legend and his band would take to the tented arena around 8, but we arrived close to the 5:30 gate time to experience what the venue had to offer. And it happens to offer a lot.
My friend and I hit the specialty cocktail booth first, then made our way over to the double-decker bus for savory snacks. While some patrons ate their Gouda dip at ground level, we climbed up the rickety bus steps and were the first to dine high.
The sights and sounds you experience one level up are truly memorable. It's safe to say that, despite the great talent I would witness later in the evening, I will think back on the day and remember the warm sunshine, the eager, bandana-wearing Willie fans and the views of the deep blue harbor from my seat in the sky.
After a while, the Omnibus started to fill and we descended to the pavement. By then, the opening act had begun and, luckily, we didn't have to crowd into our seats to hear the musician perform. We strategically scouted for Adirondack chairs — there are plenty around the venue — and soon we were slipping back into summer comfort and watching the crowd, this time, from a little below.
The sun started to dip, making every face glow in a rosy, sunset hue, and Willie took to the stage. The folk hero and his very talented crew of musicians — including his sister on the piano — performed songs to fans that often shouted, "I love you, Willie!" from their seats.
What's nice about the small setup is there's no bad seat in the house — unless you have a particularly tall person in front of you. Willie's nimble solos on his electric acoustic drifted clear from the stage to the standing crowd in the back. Willie cracked jokes between songs, tossed bandanas to front-row fans and gave new songs and old, including the beloved, "You Were Always on My Mind," his absolute all. Here's a clip (better audio than video; you've been warned!) from Saturday night's performance at the Newport Yachting Center:
Visit newportwaterfrontevents.com to learn more about the Sunset Music Series and upcoming shows from Chicago, OneRepublic, the Doobie Brothers and more.