A Few Good Men in Bristol
2nd Story Theatre's production of the Aaron Sorkin play is gripping.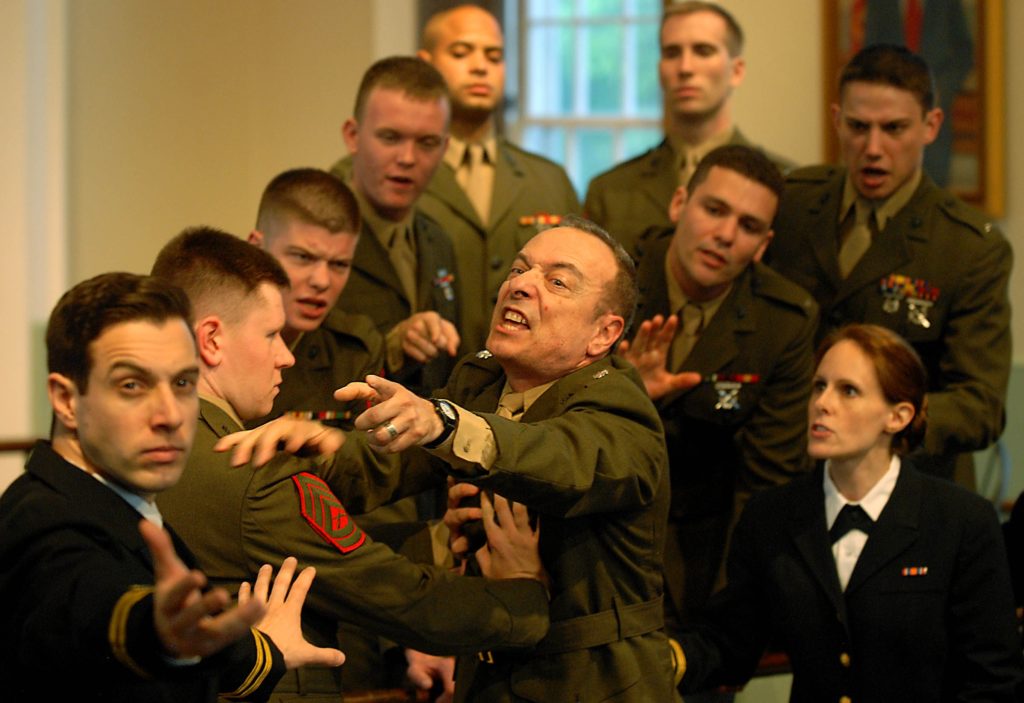 Before The West Wing and The Social Network, there were a few good men.
Aaron Sorkin was a struggling playwright in the 1980s when his sister Deborah, a Judge Advocate General for the Navy, provided him the inspiration for what would go on to become the Broadway play and Oscar-nominated film, A Few Good Men. His sister was headed to Guantanamo Bay to defend two Marines, who faced charges in the injury of a fellow Marine in an attack ordered by a superior officer.
The play is now in production by 2nd Story Theatre, in performances held in the courtroom at the Bristol Statehouse and directed by University of Rhode Island professor Bryna Wortman. With explosive action, quick dialogue and compelling characters, the production feels as relevant today.
The action opens in the summer of 1986 with two Marines, Lance Cpl. Howard Dawson (Miles Boucher) and Pfc. Louden Downey (Jona Cedo) facing charges in the death of their fellow Marine, Pfc. William Santiago (Andrew Iacovelli). After writing a letter of complaint to a senator about poor treatment for falling behind on runs, Santiago was found in his barracks, bound with a rag in his mouth, and dies soon after.
Dawson and Downey's cases are assigned to Navy lawyer Daniel Kaffee (Tim White), who is more concerned with closing cases quickly with plea bargains and making softball games. The situation gets complicated when Lt. Commander Joanne Galloway (Christina Wolfskehl) arrives, insists on the idea that Dawson and Downey may not be guilty of murder, and goads Kaffee into investigating the case and going to trial.
With Galloway's help, Kaffee learns that the attack on Santiago stemmed from what was known as a Code Red–or Marines disciplining others Marines within their unit—that went awry. Some of the most arresting performances are the officers at Guantanamo, who ordered the attack on Santiago, then tried to cover it up. Lt. Jonathan James Kendrick (Kyle Blanchette) is chilling as the officer devoted to the Marine Corps code and God above all. "Private Santiago is dead, and that is a tragedy," he testifies during the trial. "But he is dead because he had no code. He is dead because he had no honor, and God was watching."
And in the role made famous by Jack Nicholson in the 1992 movie, Lt. Col. Nathan Jessup (Vince Petronio) is fascinating as the commander who initially responds to inquiries about the case with: "You want to investigate me, roll the dice and take your chances. I eat breakfast 300 yards from 4,000 Cubans who are trained to kill me, so don't think for one second that you can come down here, flash a badge, and make me nervous."
During the trial, he and Kaffee face off in an explosive exchange. "Santiago's death, while tragic, probably saved lives," he tells the court.
Written in peacetime, some of the questions A Few Good Men raises are more relevant today. It's a production well-worth your time.
A Few Good Men runs through June 24. For ticket information, go to the 2nd Story Theatre Box Office at 28 Market St. in Warren, call 247-4200 or email boxoffice@2ndstorytheatre.com.