A Dollar and a Dream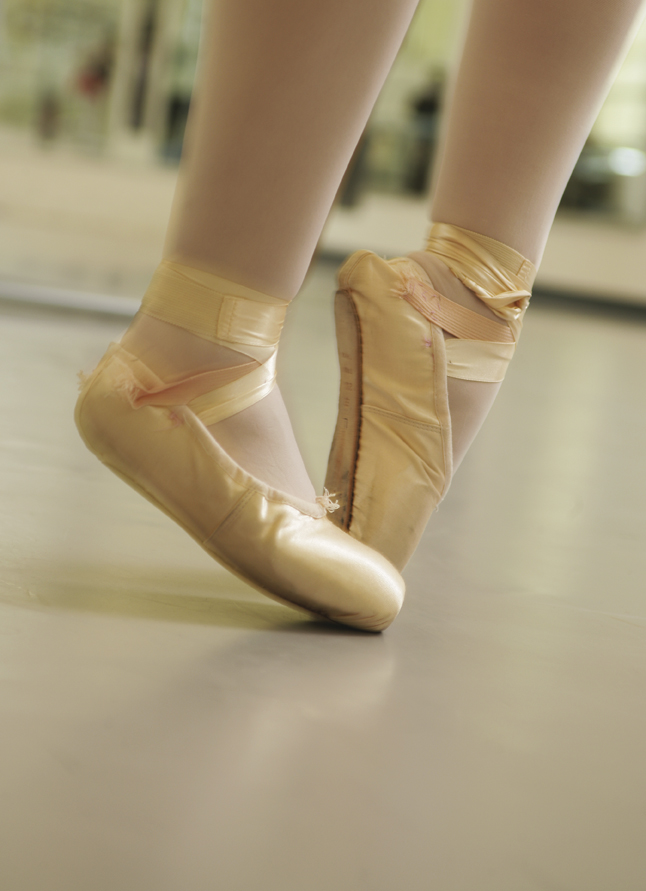 A dollar and a dream
Bruno Barata is pacing. A chubby but compact boy, Barata can't seem to stand still. "If you get nervous," says theater instructor Karen Carpenter, "just take a minute and reconnect with Willie."
Barata, thirteen, is auditioning to be part of the incoming fall 2006 freshman class at Pawtucket's Jacqueline M. Walsh School for the Performing and Visual Arts. For his audition, he has chosen to perform one of Willie Loman's monologues from Arthur Miller's Death of a Salesman. "A pretty mature choice for an eighth grader," says Carpenter.
When he's done, Carpenter hands him a packet of paper. It's a monologue from Tom Griffin's The Boys Next Door. Barata is supposed to do a cold reading of a monologue by Jack Palmer, the caretaker at a home for developmentally disabled men. "This is what we call direct address, so talk directly to the audience and just enjoy it," says Carpenter.
He tries to enjoy it. He really does. But he's just so nervous. So the lines come out sounding not like Jack Palmer, but like a nervous teenager reading them off the page. Carpenter takes a different tack. "Let me ask you a question," she says. And she makes Barata hunt through the monologue for some details, to help him get to know Jack Palmer.
"How long has he been working there?" (Eight months.)
"How many men live there?" (Seventeen.)
"How old are they?" (Adults.)
"When he says 'escapades,' what does he mean?" Barata looks through the script and starts to describe some of the antics of the house's residents. The meaning of the words suddenly sinks in. He giggles. "Yes!" exclaims Carpenter. "Those are the escapades! Enjoy them!"
Aside from playing improvisation games with his cousins, watching the ABC comedy-improvisation show "Whose Line Is It Anyway," and generally making people laugh, Barata has had no training that would bring him closer to his goal of being an actor and comedian. But, he says, "I get a feeling when I do it. It just feels right." He has been meticulous about preparing his audition, calling the school several times to confirm the date and time and to field help in choosing his monologue. That enthusiasm, says Carpenter, "that's the biggest thing."
Equal parts Fame! and Lean on Me, the Pawtucket public school opened last fall with aspirations to be a competitive conservatory-style school that feeds into such prestigious institutions as Berklee and Julliard. Admission is by audition only, and, in addition to their academic classes, students are subject to a rigorous curriculum in their chosen artistic specialty. At the same time, the school is part of an inner-city school system whose two other high schools — Tolman and Shea — face corrective action, with consistently low test scores and dropout rates above 30 percent. The result of these competing atmospheres is that the school is very much like its students: it has talent and commitment, ambition and drive, but few material resources and little formal training.
The Walsh School WAS THE BRAINCHILD of Pawtucket Public Schools superintendent Hans Dellith. The year was 2000. Members of the Gamm Theatre company, having outgrown their quarters in Providence, hatched the idea of turning the empty Pawtucket Armory into a center for the arts, with themselves as lead tenants. Seth Handy, then the president of the Gamm's board, approached Dellith about collaborations between the potential new arts center and the Pawtucket School Department: perhaps the Gamm could stage plays in the schools, or the kids could come over to the Armory to work with the artists? Dellith took it up a notch. Perhaps Pawtucket needed an arts high school. "I'd go to school productions, and I'd see a tremendous amount of talent with the students," says Dellith, who has headed the school department for nine years." I came up with the idea that maybe what we should do is broaden our horizons and start thinking about what we could do for students in terms of training them."
The newly established Pawtucket Armory Association negotiated with the city to buy the hulking castle on Exchange Street for $1 and a promise to perform extensive renovations and reinvent the building as the Arts Exchange. A school for the performing and visual arts was to be one of the building's first tenants.
If Dellith conceived the Walsh School, then its midwife was an affable and energetic Pawtucket native named Donna Jeffrey. Jeffrey, fifty-five, is a classical guitarist and renaissance lute player who began teaching music in the Pawtucket public schools thirty-two years ago. Jeffrey talks about the arts like a physician talks about medicine. When asked why the arts are important, she replies with another question: "Why is breathing important?" Over the years, she followed whatever career path afforded her as much time as possible with students. Early on in her career, for instance, when the budget for her elementary music education program was slashed, "I went from seeing kids twice, three times a week to seeing them every other week," she says. "And what teacher can teach anything once every other week?" She responded by creating after-school musical productions that kids could participate in, singing, dancing and acting in Disney stories and other favorites like Willy Wonka and the Chocolate Factory. That way, she says, she could "see them not only in music class but also get them after school." When a high school job became available, the lure of daily music classes was too strong to pass up. "Imagine what I could do if I saw them every day!" she recalls thinking. And so she left for Shea High School, where she taught for eleven years, during which time she created a steel drum ensemble and taught guitar and chorus classes.
Hans Dellith knew a dedicated arts educator when he saw one, so he tapped into Jeffrey's enthusiasm and experience when the arts high school was in its early stages. She started attending meetings. Then, when a real school began to take shape, she cut her schedule at Shea back to half-time in order to coordinate the nuts and bolts of bringing it into the world: writing curricula, drafting budgets, creating guidelines for hiring, auditions and admissions, and working with architects and construction teams to turn the second and third floors of the armory into classrooms and studios. All along, however, she planned to usher the school into existence and then return to her steel drums. To head the new school, she says, "I wanted a person who was a principal, who had a degree in fine arts, who had experience as an administrator and in the arts. I didn't want the job."
But then came June 2005. The Pawtucket city council had been level-funding the school department for more than a decade, so the city had long relied on the state's yearly increases in contributions. In an economy where costs are always increasing, level-funding is the practical equivalent of slashing funds. When the state announced that it too was level-funding the Pawtucket schools, suddenly the school committee faced $8 million in deficits. The arts school — along with any other expenditure deemed not absolutely necessary — was on the chopping block. In the end, the school eked into existence when Jeffrey, Dellith and others slashed its budget from $1.5 million to $559,000. One of the cuts was the principal's job, to be replaced by a lower-paid school coordinator. Jeffrey recalls thinking to herself, "If they're not going to get someone in here who has more experience and knowledge of this than me, then I will go for the job."
The former deputy superintendent of schools, a much-beloved woman named Jackie Walsh, had died of cancer the previous fall. She had always been an advocate for the arts. Dellith and Jeffrey agreed that naming a new school after her would be a fitting tribute. And so the Jacqueline M. Walsh School for the Performing and Visual Arts opened its doors on August 31, 2005, with Donna Jeffrey at its helm. It had admitted its first freshmen class the previous spring, and the plan was to add a class each year so that the school would have four classes by 2009.
Looking back, it seems to have been the obvious next step for Jeffrey. From every other week, to after school, to every day, she has finally settled in a school where more than three hours a day are dedicated to the arts. "Even in schools that have wonderful music and art programs, kids usually only have one — maybe if they're lucky, two — classes a day in the arts," she says. "These kids are living and breathing it all day long."
And even if they don't ultimately pursue a degree at a conservatory or a career in the arts, Jeffrey is sure that the school's curriculum provides a solid enough foundation for students to follow their hearts, wherever they lead.
"I want to be a dancer," says fifteen-year-old Walsh student Iesha Bemway. She pauses to consider her options. "Or singer. Or actor."
"Yeah," chimes in Keisha Fordham, fourteen, also a student. "Cause you always have to have a backup plan, in case things don't work out."
Tall, slim and muscular, Bemway has an angular jaw and a big, toothy smile. She and her friends are finishing their lunch in a noisy tall-ceilinged makeshift lunchroom before heading back to class. Zuleika Castro is a dance major at Walsh like Bemway, but she has other career plans. "I want to go to business school," she says, noting that what she has learned at the Walsh School will help her when she gets there. "In dance, you got to follow all the rules, and trust me, there's a lot of rules. And you got to take this stuff serious. And if I can take dance serious, I can take that into the business world."
The Walsh School's thirty-one students — nine boys and twenty-two girls — start up the armory's big stone steps around 7:45 a.m., trudging sneakers and boots over the giant anchor mosaic at the top of the landing. Five are music majors, four study theater, ten dance, and twelve focus on visual art. About half receive free or reduced lunch. Those who live outside Pawtucket must pay $15,000 per year tuition; there are only two students who do so, one from Burrillville and one from Central Falls. The school occupies the second and third floors of the armory, and the renovations have lent the space the feeling of both a school and a place with history. The walls are painted in bright yellows and whites. The little bank of lockers is blue. Most classrooms have high ceilings, at least one wall of exposed brick and tall windows.
The students gather in the room on the second floor that serves as classroom, studio and cafeteria for breakfast and the pledge of allegiance. From 8:30 a.m. until 1:45 p.m., they take the usual range of academic subjects. At 2:00 p.m., while giant yellow buses begin pulling up to the curb next door at Tolman High School to take the students home for the day, work at the Walsh School is just beginning. First the students take a crossover class; a music student, for instance, can take a visual art class, or a dancer can take theater. Then they have three hours of class in their chosen major. The three hours are broken up into blocks, which might include theory, exercises and practice.
Nancy Rosenberg, a working composer with the demeanor of a hip mom, is equally comfortable discussing the Hungarian composer Zoltan Kodaly as the hip-hop duo Outkast. Pairing students with working artists was one of the goals of the school, and this is reflected in the teaching staff. Karen Carpenter, the theater teacher, is in the company at the Gamm. Tovah Bodner, the dance teacher, directs her own dance company called the Robin's Egg. And Chris Kane, the visual art teacher, is a sculptor who runs the metals foundry at the Steelyard, an industrial art center in Providence.
When auditions for the school were first planned, sight-reading — performing a piece of music by looking at it, without preparation — was to be one of the requirements for the music majors. But in order to sight-read, students have to know how to read music. Many of the auditioning students sang in their church choirs or with their friends, but few had had formal training. The audition criteria were quickly adapted.
"I don't care if they sight-read," says music teacher Nancy Rosenberg. "I'll teach them to sight-read. I am less interested in what training they've received before they arrive than in raw talent and commitment."
It's a good thing that the students, for the most part, are starting from scratch. It's a good thing, too, that they have the dedication required to stick it out despite tough circumstances. Because a student who is already a musical impresario might find the resources at the Walsh School to be somewhat lacking. For instance, when the class studies music theory, Rosenberg pulls out a giant cardboard keyboard, with Velcro dots marking the notes they're discussing. It's a far cry from the school where she previously taught, the Boston Arts Academy, a public school much like what the Walsh School aspires to be. It has a full recording studio, every imaginable musical instrument and five music faculty. Comparing the two schools is like "apples and oranges," says Rosenberg. The Walsh School, on the other hand, has five synthesizers, a battered upright piano and a lengthy wish list:
Drum set with cymbals: $2,000.
Grand piano for performances: $9,000.
Two baby grand pianos: $7,000 each.
Electric guitar, amplifier and case: $800.
That's only part of the wish list, and that's only for music. Under "general equipment," the list even includes twenty cases of Xerox paper and twenty bottles of Wite-Out. "We've been living on next to nothing," says Jeffrey. Aside from the teachers' salaries and the lease, which the school department pays, "everything has been donated or bought by me," she says. However, "it's more important that we're open than that we have everything we need."
While Bruno Barata is downstairs pacing during his audition, a handful of other eighth graders wait upstairs for their turn. Marc Tiberius has been acting in after-school programs at Slater Middle School. He had planned to go to Shea High School, until he heard about this school. "I was really excited to find out there was a school for acting," he says. His dad is excited, too. "I would have killed to have a school like this," he says.
Jeffrey and Dellith had hoped that each of the admitted classes would have one hundred students, with the number of students topping out at 400 in 2009. However, the numbers have been disappointing so far. Last year, sixty-five auditioned, forty-five were accepted, and thirty-three came (two have since left). This year's auditions have yielded roughly the same results. They blame the low numbers on the fact that the school's fate has been so uncertain. In August of last year, just weeks before the school was scheduled to open, Jeffrey was forced to send a letter to the families of newly admitted students warning that the school might not open after all. And though it did finally happen, the construction wasn't finished in the Armory yet, so the students had to spend the first few weeks in the old Registry Building. Dellith still can't promise that the school will survive past its infancy, though he says he will continue to fight to keep it open. "These parents are the pioneers," acknowledges Jeffrey. "There are a lot of families that would have liked to send their kids here, but they were afraid to take the chance. And I feel sad for them."
The school's small size, however, has had a positive consequence: family atmosphere. "We see this small group of students every day," says biology teacher Julia Goulet. "We get a better idea of what their day is going like, and what might be going on in their lives that might be interfering with their schoolwork. It's a luxury to have the classes be small and manageable."
What's more, that the students are committed to their art contributes to a unique atmosphere. "In many other schools," says Spanish teacher Kayla Campbell, "kids have no interest in school at all. These kids have an interest in being here." Goulet, who taught at Tolman High School for thirty-five years, says the biggest difference she sees is in attendance. Walsh boasts an attendance rate of 96 percent, at least 10 percent higher than attendance at other Pawtucket public schools. "They want to be here," she says. "They are here every day."
Hans Dellith can't dance.
He says that he has not two, but three left feet. But he knows the power of dancing. "What distinguishes us from the animal world are things like art, philosophy, music, dance, theater," he says. "All the things that really make us human, these things are very important." He recalls a day that he visited Tovah Bodner's class; his dedication to art education was redoubled by what he saw there. "I'm watching this student do a dance routine, and I'm watching the intensity of her performance," he says. "I've never seen that type of intensity in a math class, in an English class, in a phys-ed class, or anywhere else."
At a time when budgets are being slashed at public schools around the country, the arts are usually the first to go. Nancy Rosenberg herself used to teach music at Feinstein High School in Providence, until her position was cut. "I became a professional musician studying music in the public schools," she says. "That's almost impossible right now." She likens teaching art in a public school to the 2004 movie Eternal Sunshine of the Spotless Mind, wherein a besieged Jim Carrey must chase after his memories as they are being eliminated. "I feel like I'm running around as the music programs are disappearing underneath me," says Rosenberg. "People don't understand what is at stake when you do that."
Unfortunately, Rosenberg was more correct than she could have known in February. Over the summer, she was laid off from the Walsh School due to cutbacks in the city's school department, and replaced by a music teacher with seniority in the Pawtucket public schools, as per union policy.
Every student, whether or not he possesses natural artistic talent, deserves a chance to study art, "the opportunity to be exposed to a musical way of thinking," in Rosenberg's words. And while the Walsh School offers art education only to those students who are talented and dedicated enough to audition, be accepted and work hard, it marks a resounding commitment to the arts by a beleaguered public school system that could have said "not now."
It's been worth every minute, says Donna Jeffrey, to help the students work toward their goals. "I want them to choose the field they're happy in," she says. "I want them to go off and light the world on fire in whatever area is their love."