A Day in the Life of Top Anesthesiologist Vijay Sudheendra
How one of the busiest doctors in the state gets it done.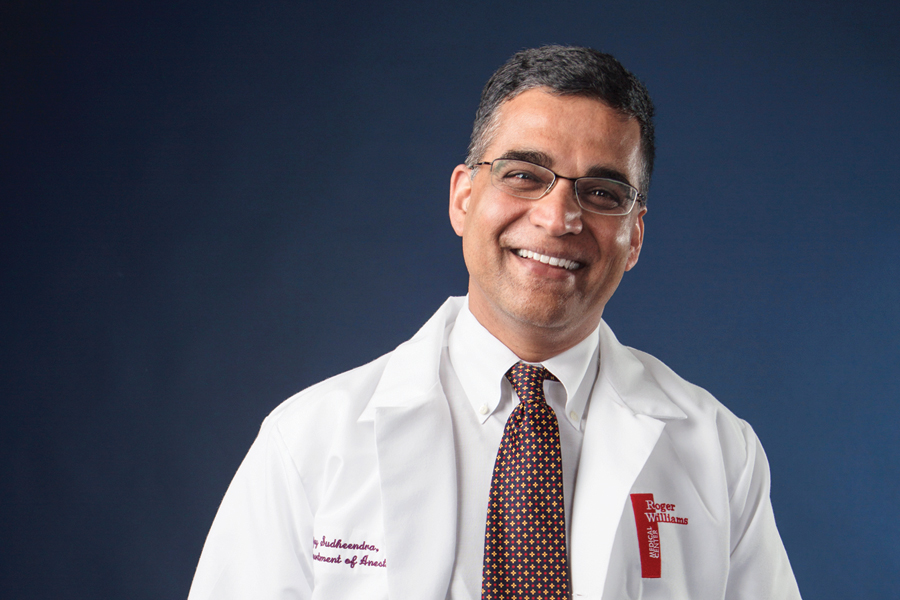 As head of anesthesiology at Roger Williams Medical Center, Our Lady of Fatima Hospital and Kent Hospital and president of Narragansett Bay Anesthesia, Vijay Sudheendra is arguably one of the busiest doctors in the state. So busy, in fact, that he relegates his hobbies — reading up on economics and planning investments; biking; watching comedies and Bollywood movies on Netflix with his teenage daughters — to the weekend. Here's a typical day in Dr. Sudheendra's life:
4:30 a.m. Wake up at home in Cumberland. "My wife is usually up at 4:30 as well, so she gives me an update on the kids, how they're doing in school."
5 a.m. Run for fifteen to twenty minutes through the neighborhood.
6 a.m. Leave for Kent to attend meetings and do some clinical work. Catch up with administrator Michelle Barresi. "She plans my schedule, and I never end up at two hospitals at once. She even checks the traffic. I'm blessed to have an admin like that."
Noon. Head to Roger Williams for more meetings and clinical work; eat a vegetarian lunch. "My wife is a good cook: Indian, Italian, Chinese, everything vegetarian. But if I haven't packed anything, I usually eat fruits and vegetables — cucumbers, pears, apples — and some yogurt."
2:30 p.m. Leave Roger Williams and drive to Fatima. "I spend the afternoon there doing clinical work and attending meetings. I also meet with the site directors. We go over the day-to-day stuff in the operating room, and develop plans and strategies for the next day or week."
5:30 p.m. After clinical work is done, plan meetings with other anesthesiologists or surgeons. "Three out of five days, I have evening meetings. It could be a hospital meeting or a dinner meeting. I like Al Forno or Rasoi."
8 p.m. Head home and catch up with sixteen-year-old twins, Shreya and Shrestha, and wife, Gita Harappanahally, a pediatric neurologist at Hasbro Children's Hospital. "My wife is also equally busy, but she drives the girls to school and does the household work. My success is because of her."
9:30 p.m. Go to bed.