A Conversation with Legendary Set Designer Eugene Lee
The legendary set designer shared some of his adventures during a Design Week RI event.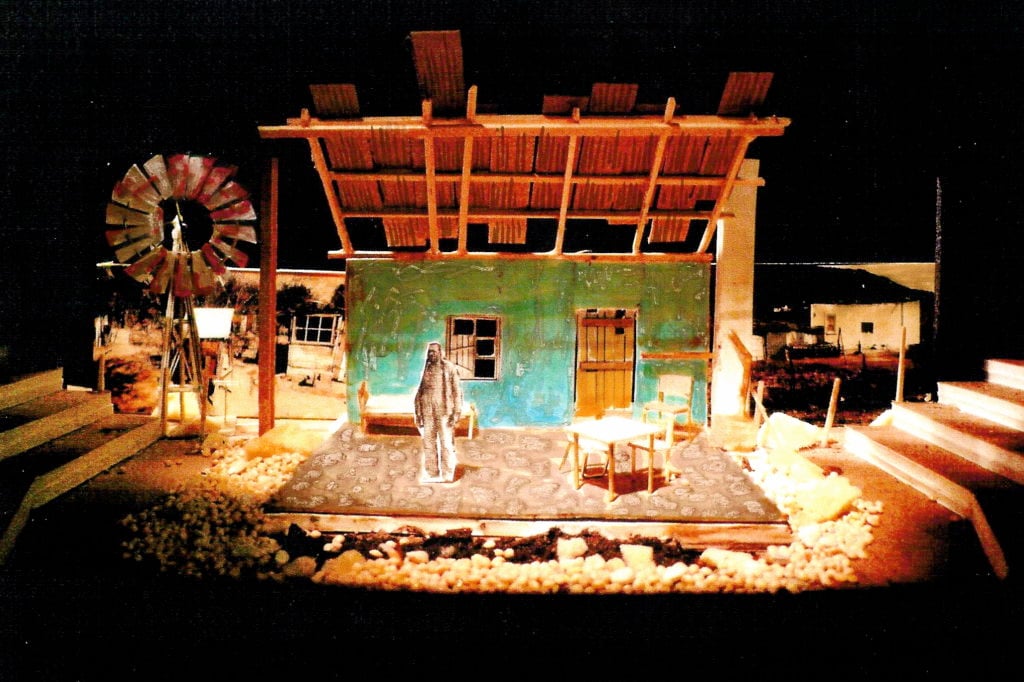 Eugene Lee's phone rings a lot. It might be Brian Singer, the X-Men director. Or Steve Martin. Or Francis Ford Coppola.
The famous set designer's been in great demand for more than forty years. Making the rare public speaking appearance recently as part of Design Week RI, Trinity Rep's longtime set designer and Providence resident talked about some of his current projects, which include working with Chris Van Allsburg on a production of The Nutcracker, a live cinema script with Coppola and "The Tonight Show with Jimmy Fallon." Oh, and "Saturday Night Live" was starting back up.
Here are some highlights from Lee's conversation with Trinity Rep artistic director Curt Columbus:
On his academic experience:
I usually got an F at Yale for my models. It's true. Well, I like them.
On whether design is a component in everything Lee does, or whether he's just been this way since childhood:
I can't answer that. All I can say is this: Years ago, before Curt was here, Adrian Hall was here and we had gone to see a play. My parents had come to town, Macbeth or something like that. It was a nice production and we were walking out of Trinity Rep and my father turned to my mother and said, "and they pay him for this?"
On living in Providence instead of New York:
All I can say about Providence is the chance of a random encounter when you leave your house is great. That's probably the best part. You can't go anywhere without running into someone you know, which I like. Kind of. New York is kind of crowded. I used to keep a boat in the boat basin in New York. I once fell into the Hudson doing a movie, by the way.
On how he started working on "Saturday Night Live":
I had a show playing on Broadway that won a Tony. Never means anything, those awards really. It's a marketing tool. Anyway, it had won and Lorne [Michaels] had come from Canada and he couldn't find a designer in New York that he liked. And he had seen a show we had done on Broadway, we had a show off-Broadway too that he saw. One day someone just called me up and said, this Canadian guy is doing a live comedy variety show and he'd like to meet you if you're interested. I thought, well, why not. Next thing you know, forty years.
On the '70s:
Let's discuss the '70s. First of all, the '70s were great. Sometimes some of us on "Saturday Night" say those were the funny years. Because you could just have the drugs delivered, like pizza. I'm living, so in retrospect, it wasn't so bad. There was a lot of fighting and punching. In fact, the elevator on the seventeenth floor, they would just kind of kick it, because they didn't like that they had to wait for it. It looked pretty bad. It was a very different show, Saturday Night in the '70s. We had a small cast. It's all gotten very corporate now. But that's okay. Things change.
On being called a genius by "Saturday Night Live" producer Lorne Michaels:
I never like it when the producer says genius. He always says that. I tried to resign a few years ago when I was seventy-five. He pointed out that our lighting designer, Phil Hymes, is ninety-three.
On not being able to say no:
I'm really a shy person. People just call me and I always say yes, that's a mistake of mine. And it gets me into a lot of trouble. But sometimes the projects are so good or you like them so much you can't say no.
On working in Canada, where they made the sets for Wicked:
I like building scenery up there. Calgary, Alberta, there's a very nice shop up there. Because I like to have a good time. The choices are not good for building scenery in this country. You have to build it in New York, like in the Bronx, or you can go to Calgary where there's [a lake] and you can paddle around it, it's like a swimming pool. And then you can climb the mountain and up at the top, pretty Canadian girls give you peanut butter and jelly sandwiches. And you're so far away, producers don't come and bother you.
On hiring:
I called my friend Peter for "The Tonight Show," he was the art director on "30 Rock." And that had finished. And I called him and said, I'm doing "The Tonight Show," I need you. And he said I'm supposed to do a movie on Monday. Really? I think I need you right away, like tomorrow. And he said I don't know what I can do. I said look, I'm just an old guy and I know this kid, he has two kids, lives in Brooklyn, nice wife, has to keep doing those movies. There's a movie and then you have to go out and find another movie. And then you have to find a third movie. I said, look, you can work on "The Tonight Show" with me. I can't guarantee you anything, but when you look at the history of it, how does 'forever' sound. Does 'forever' sound good to you? He said, yeah, forever sounds really good. So he found someone else to do his movie.
On the chance for weekly redemption on "Saturday Night Live":
I always walk out there, thinking I've failed. And then you think well, okay, there's always next week. Maybe next week will be better. Maybe we'll be smart and try to figure out what went wrong.
On age:
When you get to be about eighty, you can just say anything. You can just say anything. It doesn't matter.