A Charmed Existence
Carolyn Rafaelian has turned Alex and Ani into an international success story.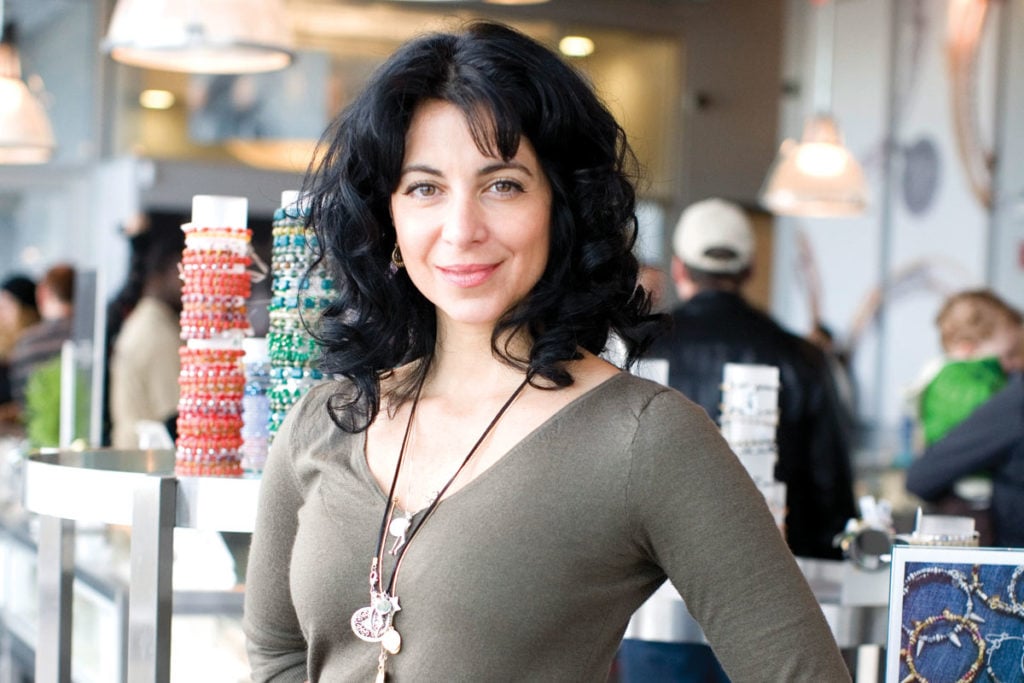 She returned to Rhode Island in 1992 and her first daughter, Alex, was born. Her second daughter, Ani, followed soon after, and her third, Alivia, several years later.
While some children associate their mothers with the smell of baking cookies, Rafaelian's daughters remember trays of bottles and metal all over the kitchen as their mother continued to experiment, bringing projects home from work to finish them.
By the mid-1990s, Rafaelian designed her first collection: a set of five sterling-silver cocktail rings made with materials she salvaged from local factories. She took them to New York City and met a woman with a showroom who loved her designs and appreciated that she came with a factory behind her.
Soon she was selling her work to Nordstrom, Henri Bendel and Fred Segal. In 1996, she started Alex and Ani, designing a separate line for it, but did not incorporate the company until later.
Rafaelian also got to know magazine editors, who featured her products in their pages. "Carolyn's always been really smart about supporting emerging talent and thereby developing a relationship that lasts over time," Kilkenny says.
"All the girls that I met, they were like me, they were starting their careers," Rafaelian says. "We had a great camaraderie, and that's how it happened."
She also started producing collections for Victoria's Secret, Bebe, Arden B, The Limited and Banana Republic. By then, her father had moved Cinerama's operations to Pettaconsett Avenue and Rafaelian's designs were being produced there as well. "I kept that factory humming, no question," Rafaelian says. She drove back and forth to New York several times a week, coming up with some of her best ideas.
"Everything is something I want for myself first," Rafaelian says. "That's how it starts. And that propels me to create it for the company."
It was during one such trip home in 2002 when Rafaelian came up with the idea that would become Alex and Ani's signature: the expandable wire bangle. Stretchy bracelets were popular at the time and Rafaelian already had success with a wire earring she designed. She thought if she made the diameter of the wire larger, looped it over and gave it a special treatment so the wire would form a memory of the loop, it would look like two bangles. And she would incorporate a sliding mechanism that would allow it to fit any wrist.
Rafaelian couldn't wait to get back to try it. She drove straight to the factory in the middle of the night and got her tools out. She added some charms and beads to the bangle and realized the possibilities of her design were endless.
Over the next few years, she managed the entire company while raising three girls and made it into a multimillion dollar operation. "I was the salesperson, I was the designer, I was helping with product placement," Rafaelian says.
She made sure Alex and Ani was represented at New York's Fashion Week, and worked with Kilkenny to host events like Interview's annual masquerade party and a Tribeca Film Festival party to launch Natalie Portman's website.
But she says she never solicited celebrities to wear Alex and Ani designs; they came to her. Cameron Diaz called from a plane looking for bangles after seeing them in Vogue. And when Courteney Cox got a St. Christopher's medal as a gift, her then-husband, David Arquette, liked it so much that Cox contacted the company to get one for him.
One day, Rafaelian looked around the factory her father had established and realized that everyone was working on Alex and Ani products.
"My father always said, 'If you didn't come in and do what you did, I would have closed the doors like everybody else,'" Rafaelian says.
Just like everything else in her life, Rafaelian thinks she and Feroce crossed paths for a reason.
Alex and Ani was doing so well in 2010 that Rafaelian was overwhelmed. She had been approached by Disney in 2008, but didn't have enough in-house support at the time with fewer than twenty employees. In June 2009, Alex and Ani opened its first retail location in Newport. "Things were growing so rapidly," Rafaelian says. "That's when God threw Giovanni my way."
The two met in 2009 at homecoming at the University of Rhode Island. Feroce, whose family had owned Ferocious Eyes Optical Center, now in East Greenwich, thought her brand had huge potential. He came on board the following spring.
Feroce gave employees iPhones and laptops, expanded hours, hired some heavy-hitters from the fashion world and implemented a product tracking system. When he saw the increased output, it gave him the confidence to go into luxury locations in a down economy. In the past year, the company has seen its wholesale orders triple, retail sales increase 1,000 percent and has hired more than 100 people for corporate and retail positions, he says.
Opening stores in places like Wayland Square is a way to go back to a time when people shopped on Main Streets across Rhode Island, Feroce says. "To us, it's just as important as being on Newbury Street."
The technology he's implemented contrasts with the factory itself, where the materials used to make the jewelry are recycled from metal found in refineries and mills located within ten miles of the factory.
From Monday to Saturday — with extra shifts around the holidays — employees piece together orders at work stations dotted with soldering irons, pliers and containers of beads and charms. Each Alex and Ani product is tagged with three things: a charm that says it's infused with positive energy, another which says it's made in America with love and the patent number for the design of the bracelet.
Over the years, Rafaelian has taken legal action to protect her design when other companies imitated the expandable concept. J.C. Penney knocked off the design, the New York Post reported, and after Rafaelian's attorneys contacted the company, they apologized. And in 2008, Juicy Couture also introduced a similar gold charm bangle, but stopped after hearing from Rafaelian's lawyers, she says.
"Okay, where to start?" Rafaelian asks.
It's just after 1 p.m. the day Alex and Ani opened the Chapel View location and employees — most wearing stylish leggings, boots, and of course, lots of Alex and Ani — pull up chairs for a creative meeting at the factory building. Rafaelian sits down on a worn couch with her iPhone and astrological planner.
"Okay, I'll go," says Rachel Rafaelian, the company's director of merchandise control and designer of the Vintage 66 line. She removes one of her necklaces and asks the group whether they think they should do an open or closed clasp.
Rafaelian answers her iPhone. It's her mom. "First sale was by 7…all right, love bug, I'm in the middle of a meeting." She examines the necklace, decides she wants the link to be open, but says that she wants someone to speak to the manufacturer to check what quantities they can get in gold and silver — and how fast.
Marketing director Iris Carlomusto asks the group for input on email blasts for Black Friday, Small Business Saturday and Cyber Monday.
"I really don't want to do blast after blast," Rafaelian says. "That's too much."
They've already decided on a 25 percent discount at Chapel View only, from 8 to 11 a.m. on Black Friday. But Rafaelian wonders if customers will take the Chapel View discount to other stores that day. "I think it should be all day," she says. "I agree, I think it will cause less problems," Rachel Rafaelian says.
After consulting with Feroce, they decide to stick with the 8 to 11 a.m. discount on Black Friday at Chapel View and send out one email blast with the discount information for all three shopping days. Rafaelian also points out that it appears Black Friday will be good for sales this year. "We have a new moon and solar eclipse on Friday the twenty-fifth, which is amazing for business."
Rachel Rafaelian asks if they want to go through the feedback from the stores on what's doing well. "Leather necklaces for men aren't popular," she says.
"Every guy that I know wears one," Rafaelian replies. The friend, hug, live, smile and laugh charms are all doing well, however, as are the feather wraps.
They also consider the then-working design for Zeus, one of the Greek god and goddess charms Alex and Ani is designing for the company's deal with the United States Olympic Committee. Rafaelian points out that Zeus is sitting down in the design, looking tired.
"He should be in mid-throw," Carlomusto says. "Doesn't he throw the lightning?"
"Make him like Tom Brady," Rafaelian replies. "Except make the football a thunderbolt."
They also discuss the lineup of new organizations that are participating in Charity by Design. They've just gotten approval for a Dunkin' Donuts charm from the company's foundation.
"I would never wear a Dunkin' Donuts charm bracelet," Rachel Rafaelian says.
"What if it's a doughnut?" Carlomusto asks.
"I would buy that in a second," another employee says. "I love doughnuts."
"Can you get us more information about their foundation and who they help?" Rafaelian says.
Then Rafaelian brings up a National Geographic Channel special on a lioness that she's making required viewing for employees. Just when you might wonder how that might translate into the jewelry business, Rafaelian says she plans to start a new line under Charity by Design for endangered animals. She wants a list of the top twenty endangered species ASAP.
Later in the meeting, Carlomusto says the company has been approached about partnering with a reality show called "American Gypsies." The daughter in the show wants to be a designer, and they're looking to pair with an established company.
The deal could mean much more exposure for Alex and Ani, but Carlomusto expresses concern about how they might represent the company. After watching the pilot, Rafaelian says, "As much as I think it's good, it's too violent. I'm good with no."
The next day, she and Feroce are in the conference room, listening to a presentation on the pros and cons of expanding into Singapore. Her daughter, Ani, calls from the new SoHo store and Rafaelian puts her on speakerphone.
"I miss you," Ani says. "It smells like you in here." (The Alex and Ani stores are sprayed with Scent 7, a perfume Rafaelian developed and wears every day.)
"I miss you, too," Rafaelian says. "Isn't it beautiful? Did you introduce yourself?"
"No, not yet," Ani replies.
Rafaelian ends the conversation with: "Easy on my credit card. And bring back your receipts!"
Later that afternoon, she checks in on sculptor Alba Corrado, who is creating a bronze portrait of her father for Bryant University, where he graduated from in 1955. Rafaelian has donated $1 million to the school in his name, and the sculpture will honor him.
Rafaelian eyes the clay model, zeroing in on her father's mouth. "He's got these distinctive lips," she says, and pulls up a recent photo of him from her iPhone. Rafaelian's father still comes to the factory each day to work, and she talks about his support for Armenian causes, how he never seeks credit for his work, but how he and her mother have created so much. "People need to know that great people exist," Rafaelian says.
"I hope I captured some of him," Corrado says.
"You certainly did," Rafaelian replies.
It's 7:40 a.m. outside the Chapel View store on Black Friday and about fifty people are already waiting for the store to open. They've come from around Rhode Island and beyond for the jewelry — and the 25 percent off.
Customers regularly write in to Alex and Ani to let the company know what the jewelry means to them. A woman who had long been trying to conceive says she bought the Star of Venus charm — a fertility symbol — and got pregnant within a month. Another woman loves her lobster charm because it helps her feel close to her husband when he's out at sea.
Then there's Carolyn Rafaelian's hairstylist, who is part of a group that just lost one of their friends. In her memory, they each bought a bangle with three charms: a pineapple for friendship, her birthstone and her initial. They buried one with their friend, and the others each wear their own to remember her.
On Black Friday, Erin Shea, who attended the University of Rhode Island and now lives in New York, says on her last birthday, just after she got engaged, "my future mother-in-law gave me the pineapple, which means welcome. I cried when I got it."
Further along the line, Paula Daigneau says she buys Alex and Ani for her daughters and her seventy-six-year-old mother. She explains that her mother's very Irish, so she chose the four-leaf clover, and very Catholic, so she bought her the St. Christopher's medal. "My mother's a very 'bling' kind of lady."
By the time the store opens at 8 a.m., the line twists around the building, as more than 200 people wait to get inside.
This article was first published in the February 2012 issue of Rhode Island Monthly.