A Charmed Existence
Carolyn Rafaelian has turned Alex and Ani into an international success story.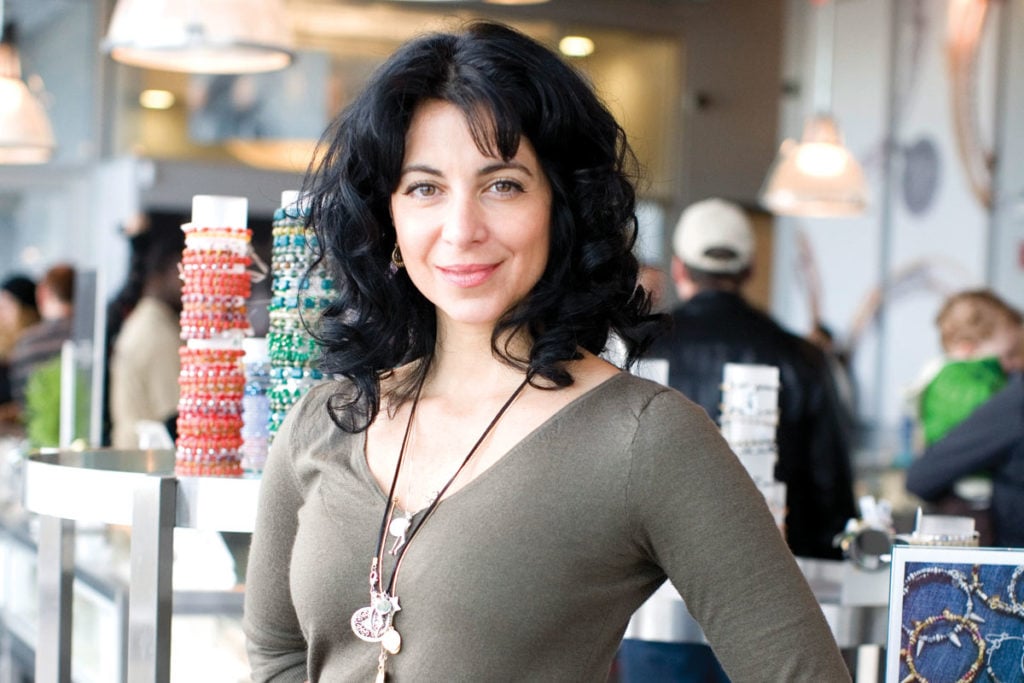 Jewelry manufacturing in Rhode Island has nearly disappeared, but Carolyn Rafaelian has bucked the trend, turning Alex and Ani into an international success story — with a little help from the stars.
Workmen are still drilling at the future world headquarters for Alex and Ani the morning of November 21, but company owner and designer Carolyn Rafaelian, as always, sees the positive.
It was an early day for the Cranston-based jewelry manufacturing company, which opened its ninth retail location at Chapel View that morning. Employees gathered in the twinkling new retail space one floor below at 6:42 a.m. — the birth time Rafaelian picked after consulting a biblical astrologist. At just about 7 a.m., the store made its first sale: a gypsy wrap bracelet in shiny gold from Alex and Ani's Vintage 66 line, which is designed by Rafaelian's niece, Rachel.
Rafaelian spins around the new shop later that morning as a soundtrack composed for Alex and Ani by former "American Idol" contestant Jimmie Allen plays and proclaims, "I love it, I love it, I love it," then calls the manager over to ask how the morning went.
The new location, where they would soon move in, has particular meaning for Rafaelian. Located in prime space next to Garden City Center, the new store and headquarters sit between Cranston's Dean Estates, where Rafaelian grew up and her parents still live, and the Alex and Ani factory on Pettaconsett Avenue, where the jewelry is still made.
"For someone who grew up around the corner, she did all right," says Giovanni Feroce, the company's chief executive officer.
The new space, with its light-filled, expansive open floor plan, is not far in distance, but a far cry from the conference room Rafaelian and Feroce have been sharing as an office at the crowded factory building. It also says a lot about Alex and Ani's success and future ambitions. "This is me all grown up," Rafaelian says.
Well-loved by Rhode Islanders and celebrities like Gwyneth Paltrow, Anne Hathaway and the Kardashians, Alex and Ani's signature expandable wire bangles and necklaces, earrings and charms have propelled the company's revenue from $654,000 in 2006 to a projected $18 million last year.
"Her product was just so unique and accessible that it really started to stick," says Susan Kilkenny, a friend of Rafaelian's who has worked in marketing and sales at Vogue, Interview and Women's Wear Daily.
Rafaelian and Feroce might seem an unusual pair. Rafaelian, in her jeans, hoodie and vest, with black curls tumbling over her shoulders, brings Llewellyn's 2011 Astrological Pocket Planner to meetings and until recently, stayed in shape by flipping cartwheels. Feroce, a former military officer and state senator, talks proudly of implementing an action system at Alex and Ani that he compares to now-retired United States Army General Tommy Franks's decision-making process for invading Iraq in 2003.
But Feroce says that while Rafaelian and the eco-friendly, positive energy lifestyle she incorporated into Alex and Ani have made the brand successful, that's not all she brings to the table. "Carolyn the designer is superseded by Carolyn the businesswoman," Feroce says. "She's not dabbling in business. She's creating things that affect larger populations and that's what makes it a viable business entity."
As Feroce surveys a large room he one day envisions filled with new employees getting trained, he talks about how the company can go from being a jewelry manufacturer to becoming Rhode Island's first lifestyle fashion brand.
"Someday you'll sit on an Alex and Ani chair and you'll feel better," Feroce says. "You'll eat off Alex and Ani plates, and it'll taste better…and we'll create thousands of Rhode Island jobs."
While the jewelry manufacturing business is nothing like what it once was in Rhode Island, it's been a good few years for Alex and Ani.
Last year, Inc. magazine placed the company Rafaelian named after her two oldest daughters in the top 25 percent of fastest-growing privately held companies — the only Rhode Island company on the list. Alex and Ani has partnerships or licensing deals with Disney, the United States Olympic Committee, the Collegiate Licensing Company and Major League Baseball.
Since 2009, Alex and Ani has opened nine retail locations in some of America's premier luxury destinations, including Newport, Martha's Vineyard, Boston, Palm Beach and Manhattan. Last year, the company expanded into Spain and Portugal and is exploring opportunities in Israel, Singapore and other countries.
"We're in that right space," Feroce says. "We're in a luxury world with an unbeatable price point. That's what makes us so attractive." (Bangles start at $24.)
Rafaelian has been smart about taking her time, developing relationships in the fashion world and making sure the store in Providence's Wayland Square was successful, for example, before opening in Manhattan's SoHo, Kilkenny says. "Her growth has been really well-managed."
The company has also implemented a charity arm, working with organizations such as Hasbro Children's Hospital and the Gloria Gemma Breast Cancer Resource Foundation to design cause-specific charms, then donating part of the proceeds to the organization. "Carolyn calls it the heart and soul of Alex and Ani," Feroce says.
The designs that have graced the pages of Vogue, Lucky, InStyle and many other magazines were born not far from where the company is located today.
Rafaelian's father, Ralph, grew up in Rhode Island and her mother, in New York. Their parents had escaped the genocide in Armenia and immigrated to the United States.
After apprenticing with a brother-in-law, Ralph Rafaelian started a jewelry manufacturing company called Cinerama in 1966. (Carolyn Rafaelian was born the same year.) Working as a wholesaler, he designed many patriotic pieces, including state flag pins and an American flag brooch with red, white and blue Swarovski crystals.
He eventually moved operations to Greenwood Street in Cranston. The cement building became a magical place for young Carolyn Rafaelian. She was one of five siblings, and when they acted up, her mother would send them to work at the factory, attaching cards to the jewelry.
But the cellar of the building was a "little secret palace" for Rafaelian. She would hide out, play with beads and stones and feel like an archaeologist discovering hidden treasure. She squished notes into the building's walls that said, "I love this factory. Someday it will be mine."
"I just knew I wanted to leave my mark on the world," Rafaelian says. "I didn't know how I was going to do it, but somehow, people were going to know I was here."
Her spirituality also dates back as far as she can remember. She's always felt guided by an inner voice and surrounded by a divine energy. Rafaelian used to get in trouble in school for daydreaming, but she says she wasn't daydreaming, she was communicating, and that was much more interesting than what she was being taught. To this day, she consults experts ranging from spiritual advisers to physicists to check the authenticity of her designs.
"I really do get my ideas divinely," Rafaelian says. "And then I just play."
And growing up in the 1970s, Rafaelian was influenced by powerful role models like Wonder Woman, Isis and the TV show, "Bewitched." "I really thought that I could outrun a car if I needed to and I could stop bullets with my bracelets," she says.
Rafaelian attended the University of Rhode Island for two years, but she wanted to experience Los Angeles, where her musical idol, Jim Morrison, had lived. (A picture of him she's had since childhood is posted on her bedroom wall at her Jamestown home and another hangs above the coffeemaker in the kitchen of her condo in Providence's College Hill.)
She transferred to the American College of London, where she studied first at its Los Angeles campus and then moved to London. Meanwhile, her sister, Becky, who now heads up manufacturing for Alex and Ani, was working at her father's factory every weekend, Rafaelian says. "I was too busy socializing and learning about life."
After traveling around the world, Rafaelian moved to New York City, where she worked full-time for Mikimoto Pearl while designing her own jewelry on the side. She came up with "crazy, over-the-top pieces," playing with different materials and experimenting with finishes. "I don't like to do what everyone else has done," Rafaelian says. "For me, coming up with a new finish was really cool."