A Broken System: Rhode Island Mental Health Treatment for Children
Children fall through the cracks, but one boy is working hard to defy the odds.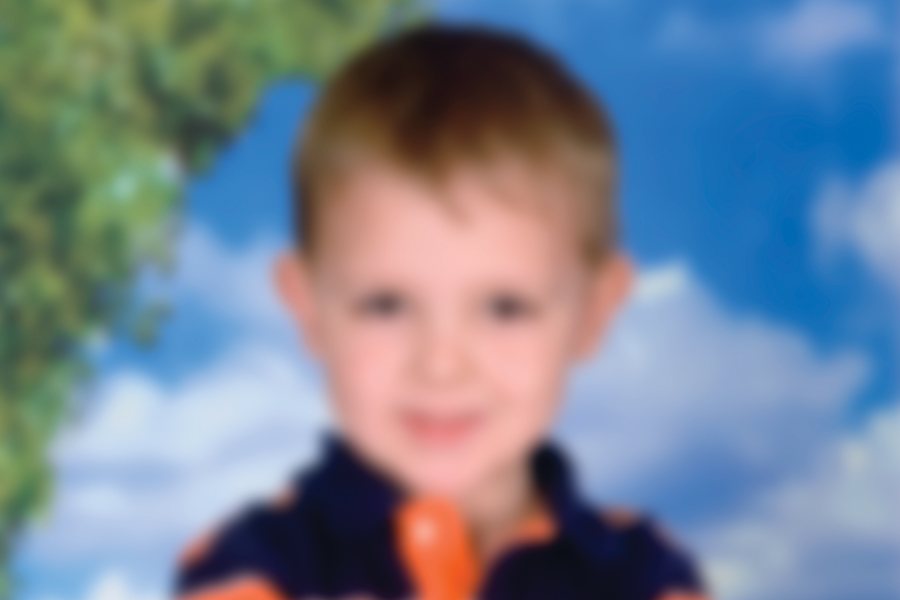 This article originally appeared in our May, 2016 issue. 
Conor has always been destructive when he gets upset.
Until last spring, his fits were mostly contained within his home. A hole in the hallway wall proves it. But one fair day last April, his aggression went public.
Along with his mom and three younger siblings, Conor, then eight, tall for his age with spiky blond hair and a silly personality, was going on a picnic. Before they headed to Meshanticut Park in Cranston, the family stopped at the grocery store to pick up a box of pizza strips.
It could've gone well: They could have left the store intact, headed to the park, laid out a blanket in the grass. The two toddlers, a boy and a girl, might've mussed up their faces with red sauce. Conor might've chased his sister, Kate-Lynn, around the lake's walking path. No harm done.
But a bright yellow box changed the course of the family's life forever.
Conor wanted a Lunchable.
"We're having pizza strips for lunch," his mom told him. A stunning tantrum ensued. Taking Conor by the hand, his mom scuttled the pack towards the exit. They nearly made it. But Conor broke free and threw his weight behind a silver commercial cooler on wheels, shoving it at an oncoming shopper. Then, he ran towards the deli case, stopping only to pull canned goods from the shelves and throw them at strangers in his wake.
Several members of a local rescue squad, shopping for station provisions, witnessed everything. It took the group an hour to restrain a hysterical Conor, carry him from the store and strap him to a stretcher.
Instead of going on a picnic, Conor went to a psychiatric hospital for the first time. He stayed for three days and went home, because that's all his insurance would pay for. He'd go twelve more times through the summer and fall.
Conor wasn't there alone. Between 2003 and 2013, Rhode Island saw a 53 percent increase in hospitalizations of children for mental health-related emergencies. Kids, like Conor, with anxiety disorders, attention deficit hyperactivity disorder (ADHD), bipolar disorder, depression, eating disorders, schizophrenia: They end up in the hospital because they can't access services within their community. They return for the same reason.
According to a damning report by Truven Health Analytics, released last fall, "Children and adolescents in Rhode Island face greater social and familial risks for the development of mental disorders than children in other New England states and the nation."
Rhode Island is home to the country's first psychiatric hospital for children, Bradley Hospital in East Providence. But even with such a progressive, valuable resource in the state — to which families from all over the country flock for treatment — one in five Rhode Island children has a diagnosable mental illness.
The little ones, especially, are at risk. According to the Truven report, nearly half of children ages five to twelve with early-onset symptoms experience "persistent, serious, life-course problems" including crime, violence, drug abuse and unemployment.
The deductibles, specialist copays, out-of-pocket bills for psychiatrists who don't accept insurance, trips to and from the hospital, lost workdays: The price of adequate mental health care is high for families. But when preventative services are rare and crisis-driven care is the norm, the cost is steep for everyone.
When it comes to children's mental illness, we pay the piper down the road.
Since he was little, Conor's pediatrician, his teachers, even a few of his family members insisted he was fine. He's the first son, he's emotionally immature, he needs to be disciplined more, but nothing's really the matter, they said. But his mom, Shana Maher, felt differently. She was with him every day. And every day, he got worse.
"Mentally healthy kids don't try to jump out of windows," she says.
Maher had been seeking answers since Conor was four. He'd met all of his milestones, but she knew something wasn't right. She felt it in her bones that he needed help.
The family's pediatrician didn't agree. Maher requested a referral for a psychiatrist and asked about her options for additional testing, but the pediatrician told her they weren't necessary.
Maher's biggest regret is ignoring her instincts. "Switch doctors if you're not getting what you want," she says. "I listened to the professionals for too long and second-guessed myself and it took years to get Conor the care he needed."
The grocery store incident came on the heels of several traumatic life changes. Conor's grandfather died. His parents split up, and his father is no longer a big part of his life. The family moved from their Pawtuxet Village home to a smaller apartment in a new neighborhood. Conor was hospitalized. Then he spiraled.
"I always thought about taking him to the E.R. but I didn't want to make that call," Maher says. "What parent wants to call 911 and say, 'My son is out of control?' "
Maher, who at the time worked as a nurse's assistant, searched for other options. But for months, she couldn't find an immediate placement for Conor that didn't require a hospital stay. "At the height of everything, I would be on the phone for hours, with my stack of papers, trying to figure out who is going to help me," she says. "I would put the kids to bed and try to get everything in order so I can start making phone calls again in the morning."
Dr. Rajvi Broker-Sen, a child and adolescent psychiatrist at Bradley Hospital, says the demand for psychiatry is massive in Rhode Island.
"Bradley has so many different programs, and all of the programs have waitlists," she says. "A lot of times, just getting access to child psychiatrists is difficult. There's a good two- to three-month, or more, waitlist."
Before Bradley Hospital, Broker-Sen worked for Family Service of Rhode Island's community mental health clinic. Every month, she would travel to Westerly — a part of the state with especially limited mental health resources — to treat roughly fifteen young patients in a single day.
"There was almost no no-show rate, which is unheard of. Everybody showed up," she says. "When I made the decision to switch jobs, it was difficult to find child psychiatrists in the Westerly area and patients needed to be referred to practices in Warwick and Providence. The resources in southern Rhode Island for child psychiatry are minimal to none."
After Broker-Sen left, Family Service of Rhode Island was not able to reboot the children's mental health clinic in Westerly — a casualty of low insurance reimbursement rates, reported a spokesperson for the nonprofit.
Now, two days per week, Broker-Sen operates Bradley Hospital's phone-based Pediatric Referral Consultation (PERC) Clinic, which connects pediatricians in ten practices with a mental health professional — Broker-Sen and, recently, a nurse practitioner helping her — on behalf of their patients. "Pediatricians really are that first point of access for evaluation and also for treatment," she says. "Families always, always feel more comfortable talking to their pediatricians about something that's going on with their kid."
A year ago, Broker-Sen says, her phone consultations with pediatricians looked very different than they do now. "Initially, I would get calls like, 'I have this kid who is depressed; can you see him?' Now it's, 'I tried this medicine, and this is what the response was.' It's definitely helped, in my opinion."
For severe cases, Broker-Sen invites patients to her office for in-depth evaluations. If she sees a patient, she is reimbursed by the insurance company. If she advises a pediatrician over the phone — the goal of the program — she isn't.
"That's something we're talking to the insurance companies about — reimbursement for phone calls," says Broker-Sen, who also operates an outpatient clinic at Bradley Hospital. "It's a work in progress. They want more data from us. I hope it goes somewhere, but it's just too early in the game to say."
In addition to her work at Bradley, Broker-Sen helped develop Rhode Island's Child Psychiatry Access Program (RICPAP), which would, in essence, create a PERC Clinic for the entire state. In 2014, she and a colleague drafted a pitch modeled after a similar program in Massachusetts — the first in the United States and, now, one of twenty-seven across the nation. They applied for funding through the State Innovation Model Grant and, in late February, they heard back: The program would receive $650,000 over three years. The funds will be released as soon as possible, according to a spokesperson for the Rhode Island Department of Health.
Pediatricians can treat symptoms of mental illness, Broker-Sen says. They can administer medications, too. But, like Conor's case, she says, "Do pediatricians always do that? No. Do we want them to do that more? Yes. I think that's where RICPAP comes in. There is a piece of formal mental health training for pediatricians embedded in there. It would encourage them to feel more comfortable starting treatment early on, so they can treat the symptoms and prevent it from becoming chronic and severe."

Conor's siblings Kate-Lynn, Riley and Kaylee-Ana and his mom, Shana Maher, at Meshanticut Park in Cranston.
Conor and his sister, Kate-Lynn, Irish twins, are opposites. Conor's very black and white, while Kate is free-spirited — a little like a butterfly, fluttering around a room. Not long after Conor's first hospital stay, in early summer, the tension between the siblings boiled over.
"She was at the table, and she was reading and dancing," Maher says. "Conor didn't think she should be doing both, so he took her book and ripped it into shreds."
He then turned on Kate, becoming violent. Maher couldn't control him. She called 911. "I fell to the floor and just crumbled," she says. "In my thirty-eight years, it was the worst phone call I've ever made."
Again, Conor was hospitalized. Maher says he received excellent care at Bradley. He was stabilized and, again, he was sent home after a few days. In the beginning, he was never there long enough for his symptoms to flare.
Then, in July, Maher was in a car accident and broke her arm. "He knew I couldn't do much, so that's when it really got bad," she says through tears.
Conor would rip blinds and curtains from the windows. Once, he kicked his brother, Riley, in the legs, sweeping the toddler off his feet. The meltdowns would happen quicker than Maher could anticipate. One minute, he'd be chasing and tickling his younger siblings, who call him Conie. The next, he'd fly into a fit of rage.
The family developed a plan: If Conor became upset, Kate, then seven, would take the two toddlers to the neighbor's apartment. "I don't know how I would've made it through the summer, if it weren't for Kate-Lynn," Maher says. "Looking back, I honestly don't know how we made it."
At the end of July, Conor moved into a therapeutic group home temporarily. That's where he received a primary diagnosis of aggression, with secondary diagnoses of anxiety, disruptive mood dysregulation disorder and ADHD. He was also placed on the autism spectrum.
From there, Conor moved to a five-day inpatient program. He graduated from the program, went home and within days he was taken by ambulance back to the hospital. The same happened after a seven-day inpatient program and a forty-five-day partial hospitalization program, where he would come home at night and on the weekends. A few weeks after the programs ended, Conor returned to Bradley in crisis.
Sometimes, Maher would wait for hours with Conor at Hasbro Children's Hospital in Providence, where local children who arrive by ambulance are evaluated. Occasionally, the psychiatric beds at both Hasbro and Bradley were full and a social worker would ask Maher to take Conor home.
Dr. Gregory Fritz, academic director of Bradley Hospital, acknowledges that the supply of psychiatric beds for children in Rhode Island doesn't meet the demand. To date, Bradley has seventy inpatient beds and Hasbro has eight. In 2012, Providence's Butler Hospital replaced its child and adolescent inpatient beds with adult ones. Butler still houses fifteen beds for older teenagers and young adults.
"The real problem is, there aren't things other than beds," Fritz says. "It's very, very hard to get outpatient treatment and insurance rates are very poor for outpatient treatment."
This shortage results in an overutilization of inpatient care, Fritz says. It's a common, expensive, disconcerting cycle: If a child can't access mental health services in the community, he or she may reach a level of severity that results in a hospitalization. When the child requires less intensive treatment but a safe placement isn't immediately available, he or she may be held in inpatient care for a prolonged period. Children in these scenarios have a special name: "stuck kids." In 2015, Bradley Hospital reported eight stuck kids per day, a four-fold increase from 2013's two stuck kids per day.
"It just kills me to say this; it's so absurd," Fritz says. "We need to invest in lower levels of mental health care. If we can do something that reduces the amount of time in inpatient care, eventually, the savings would pay for the lower levels of care."
Mirroring national trends, Fritz says Rhode Island could use at least twenty more child psychiatrists. But luring medical students isn't easy, despite the residency partnership between Bradley Hospital and the Warren Alpert Medical School at Brown University. Child psychiatrists must perform at least five, usually six, more years of training after medical school, and they earn one of the lowest salaries per year for specialists, according to a study by the University of California's Davis School of Medicine.
"Orthopedics make three times as much," he says. "I love my orthopedic. It is very seductive; why not go into orthopedics?"
Affably, Fritz answers his own question: "What can be better than helping kids? The nuisance factor is definitely there, but it's very satisfying."
Fritz, who also serves as president of the 9,000-member American Academy of Child and Adolescent Psychiatry, says he hopes to shift the national conversation to integrated care and patient-centered medical homes. The concept, encouraged by the Affordable Care Act, could embed mental health professionals in the same suite as pediatricians.
He points to one successful, specialized integration at Hasbro Children's Hospital: the GI Clinic, in which psychologist Deb Lobato-Barrera works alongside pediatric gastroenterologists to help children whose mental illnesses manifest in the form of stomach issues.
"Your stomach is very sensitive to what's going on in your life: your ingestion, your digestion, your elimination," says Lobato-Barrera. "Bellyaches are a very common condition in childhood in response to stress."
One of Lobato-Barrera's patients, for example, came to the clinic at four years old never having eaten before. "Everything else was ruled out," she says. "He avoided a G-tube because his mom made him shakes. He'd drink but he'd never eaten or chewed."
She started treatment by placing a container of yogurt on the table in front of him. "He'd be under the table screaming. I'd have to let my colleagues know he was coming in," she says.
Now six, her patient is beginning to take food. "This kid is going to eat," she says. "I'll be darned if I'm going to give up."
Across the state, the movement towards integrated pediatric care is picking up. Earlier this year, Rhode Island established patient-centered medical homes (PCMH) at nine pediatric practices. But children's mental health professionals were not included in the three-year pilot contract.
Hannah Hakim, project director of Rhode Island's PCMH Kids initiative, says the mental health component was "an original aspiration…that wasn't realized."
Hakim says each practice has a care coordinator position onsite, which could take the form of a social worker, peer mentor or nurse with mental health experience. She adds that pediatricians often double as mental health caregivers.
But Lobato-Barrera says she'd like to see mental health care folded into the PCMH model, not only for kids who need specialized treatment, but as a preventative measure for all children. "But we're competing with things like developmental screening and immunizations," she says. "We're going to have to be more creative."
"Again with the lollipops? Where are they coming from?"
Conor's youngest sister, Kaylee-Ana, nearly four, tucks her chin and peers up at her mom, eyes wide, a red-tinted mouth breaking into a grin. She wasn't giving up her pop so easily.
Maher laughs. She gets up from the kitchen table, walks into a living room lit by "Peppa Pig" on the television and rummages around. She returns with a box made out of thick craft paper with the words "If You're Having a Bad Day" written in marker on the side.
Kate, in school that afternoon in winter, is the culprit. She amassed the stash of sweets for her younger siblings in case they feel sad.
In the face of last summer's turmoil, Maher says Conor's siblings proved their resilience. They don't act out, and they're generally happy.
Conor, on the other hand, has struggled. Although he missed most of May and June in second grade, his grades went up in the fourth quarter. Maher feels that his teacher socially promoted him. He started third grade in the fall.
"Conor really likes school, but he's missed so much, he's so far behind, there's no way for him to catch up," Maher says. "He can't do the work, so he gets frustrated. When he gets frustrated, he stutters, which makes everything a million times worse."
Maher sought an individualized education program (IEP) for Conor to provide extra help and curb classroom outbursts. She went through her insurance company for neuropsychological and educational testing to determine Conor's delay, which found that his math and reading skills are below grade level and that his overall memory falls in the first percentile. His IQ, on the other hand, is average. Despite the fact that "emotional disturbance" is an IEP criterion, Maher's request was denied.
Meanwhile, Maher tried to keep Conor out of the emergency room. During an inpatient stay over the summer, a social worker told her about Bradley's Children's Residential and Family Treatment (CRAFT) program, which offers intensive around-the-clock treatment to children ages five to eleven who struggle with psychiatric problems. The children live at CRAFT with their peers, dorm-style, while they receive treatment, and they attend school in East Providence.
Originally, the social worker told Maher that in order to enroll Conor in the CRAFT program, she would have to sign over custody to the Department of Children, Youth and Families (DCYF), a temporary solution known as a "voluntary." DCYF is the state's authority on children's mental health. In 2008, the agency spent $32.65 million on children's mental health services. For fiscal year 2017, DCYF's proposed mental health budget is $10.08 million.
The CRAFT program, a coveted one with up to a three-month waiting list, seemed like a good fit for Conor. It aims to reunite children with their families. But Maher says she wouldn't agree to a voluntary. "He is my child, and I was going to suck it up. I was not doing that," she says, adding that Governor Gina Raimondo's movement to overhaul DCYF in July of last year points to bigger issues within the department.
According to a statement released by Jamia McDonald, chief strategy officer of the Executive Office of Health and Human Services and leader of Raimondo's DCYF overhaul, "Children who have complex therapeutic or behavioral issues, which exhaust their parents' ability to continue to provide care, are among our most vulnerable population here at DCYF. We must be sure that we provide the right services at the right time for these children and in the most effective manner possible."
Voluntary placements are a bridge to care for many families with private health insurance, says Lisa Conlan Lewis of the Parent Support Network of Rhode Island, a peer-to-peer nonprofit that helps families navigate Rhode Island's child and adolescent mental health care system.
"It says that this health plan issue has been a problem for a while, if you can get better short-term residential and home and community-based services out of a Medicaid system than the health plan you're paying for," Conlan Lewis, whose son battled mental illness as a child, says. "Right now, our numbers, and they change every day, are somewhere between 130 and 140 families who have had voluntaries in order to access care."
Before 2010, through a DCYF program, families could enroll their children in home and community-based programs such as Children's Intensive Services for up to six months — a policy, Conlan Lewis says, that helped keep children with mental illness out of hospitals, group homes or residential treatment facilities.
"All of these home and community-based service funds went in-plan in 2010, so all the money left DCYF and went to the Department of Health and Human Services and into the health plan contracts," she says. "Then, the six months was cut back to six, twelve, if you're really lucky, sixteen weeks. And there's a lot of reauthorization around that."
Community-based and home programs, Conlan Lewis says, are the key to keeping most kids out of higher levels of care.
"We're trying to prevent hospitalizations or decrease them. We're trying to keep kids in their homes and in the community," she says. "The more frequently a child is in out-of-home restrictive care, there's a risk that they will become more institutionalized and they won't easily fit back into their home and community."
It's something Maher recognized in Conor after several stays at Bradley Hospital.
"He likes it there. He does well there," she says. "I can't be as structured as the hospital is going to be."
After doing her own research, Maher learned that Conor could receive full-time care at CRAFT without becoming a ward of the state. He moved in after the New Year.
Advocates say last fall's Truven report, commissioned by Rhode Island's Executive Office of Health and Human Services, woke a lot of people up.
The findings were bleak: Rhode Island's children are at greater risk for developing mental illness than their peers across state borders. The report points to high parental unemployment and poverty rates as potential causes; one in five Rhode Island children is poor.
While it didn't offer any legislative directive, the Truven report did present recommendations to improve mental health outcomes for all Rhode Islanders. The first and foremost is preventative services and supports for children and families.
The idea isn't new to Rhode Island's legislators. Back in 2014, State Senator Donna Nesselbush introduced a bill that emphasized the need for routine mental health screening in children. The legislation aimed to increase access to mental health care by including mental health providers in health plans and by aligning copayments for mental health office visits with non-preventive primary care office visits.
Nesselbush's sweeping legislation, deemed the "Rhode Island Behavioral Health Care Reform Act of 2014," was referred to the Senate Health and Human Services Committee, which held it for further study, effectively killing the bill by way of neglect.
But the findings of the Truven report struck a chord with state officials. Dr. Nicole Alexander-Scott, director of the Rhode Island Department of Health, says children's mental health is a priority.
"The directors across the Executive Office of Health and Human Services, as well as our lead staff and the Health Insurance Commissioner (OHIC), have already come together to begin to map through and understand the experience that a family and child goes through and how can we improve that experience…regardless of their insurance," she says.
OHIC's involvement is a timely one. In December, the office announced a major investigation into the state's four insurance carriers. The investigation launched in response to a wave of patient complaints, including cases involving children, which claimed that insurers failed to cover mental health treatment in accordance with the federal parity law.
The law, passed in 2008, means that if insurers offer unlimited doctor visits for a chronic health condition like diabetes, then they must offer unlimited doctor visits for a chronic mental health condition like depression. As one advocate put it: "You're just as dead from suicide as you are from diabetic ketoacidosis."
Alexander-Scott, who sits on the governor's revamped Children's Cabinet, says the group is examining the best ways to coordinate services to ensure beneficial health outcomes, "not only for that child and that family, but for the state and ultimately the economy," she says.
The Truven report estimated that 10 percent of Rhode Island's state budget is attributed to the consequences of behavioral health conditions — including millions spent on criminal justice services each year.
The criminal aspect resonates with Maher. Children, after all, grow into adults.
"There are more kids out there like Conor," she says. "And if they're violent at four, six, eight years old, what is going to happen when they're twenty? They're going to be sitting in a jail cell or, worse, they're going to seriously hurt people. It all boils down to money. Nobody cares about the long-term effects that delayed treatment is going to have on any of these kids."
Even at nine years old, Maher notes, Conor is at risk for entering the juvenile justice system. At a playground last summer, Conor attacked Maher and tackled her to the ground. The police arrived and escorted him home in the back of a cop car, an experience he interpreted as fun.
"If he were out on the street and he attacked someone, like he's done to me, he would end up in juvenile hall," Maher says. "And that's not fair. He doesn't understand. I don't want that for him and I don't understand why the state wants that for him."
Dr. Elizabeth Lowenhaupt, a child and adolescent psychiatrist and pediatrician who oversees medical and psychiatric services at the Rhode Island Training School, confronts that scenario every day. Oftentimes, she believes, it depends on who is with a child when he or she commits a crime. A parent? The E.R. Alone or with friends? There's a chance the child could end up at the Training School. It doesn't help that Rhode Island is one of thirteen states without an established minimum age for juvenile corrective custody.
"There are some kids here who have committed significant crimes who need to be detained for community safety," Lowenhaupt says. "But there are a number of kids who end up here because our treatment options didn't go far enough outside for them. It's heartbreaking when a nine year old gets brought in. Why didn't he go to the ER?"
Lowenhaupt, who also serves as president of the Rhode Island Council for Child and Adolescent Psychiatry and helped develop the Rhode Island Child Psychiatry Access Program, says some kids are detained while seeking the right clinical services. Occasionally, they're adjudicated because no other options are available to them. Lowenhaupt says she'd like to work with the police on issues relating to children's mental illness, helping officers recognize who would go to the hospital and who would go the legal route. A kid with significant trauma who gets in a fight and commits assault?
"It's hard for me to call that a crime," Lowenhaupt says. "I'm pretty proud of the treatment we offer here. We are certainly doing our best. But one might advocate that ideally they'd be getting treatment in other places."
In late winter, for the first time in two months, Conor went home.
It was only for a few hours, but he was glad to be there. Conor and his respite worker, Kathy, arrived at his family's Cranston apartment in the early afternoon.
"It was awesome," Conor says the next day, singing the last syllable jovially. "I went in, said hi and checked out the house."
The living room was different, but Conor's room was the same. His bunk bed, his books and his duck trophies — "quack-tastic" awards he earned when he graduated from each therapy program — were right where he left them.
Throughout the afternoon, Conor played with his brother and sisters and "escorted" them, a poignant game inspired by his experience in residential care. Conor takes his siblings by the arm and pulls them to a quiet room where, he says, "they try to get out but they can't."
Over munchkins at a Dunkin' Donuts near Bradley Hospital, Conor says he misses home. He has friends at CRAFT, and a roommate, too. In between school, therapy sessions and at night, they watch "Teen Titans" and play the LEGO Movie video game on Xbox 360. But he likes family night best, when the whole gang comes to CRAFT and they have dinner and dessert together.
It's clear how much Conor loves his brother and sisters. From the car to the doughnut shop, Conor holds the toddlers' hands. Once they're inside, he pushes in his brother's chair and pretends to nibble him, eliciting squeals. He and Kate-Lynn play "reporter," whispering questions in each other's ear and writing down the answers. And although he barely sits still on his own, Conor takes a seat when his mom reminds him that, as a big brother, his siblings will copy his behavior.
Conor says he was sad and angry when he learned he'd be living at CRAFT, but he understands why his mom made that decision. "I needed the help they had to learn coping skills like 'take space, listen to music and ask for help.' And because I hurt my mom," he says.
At school, Conor's coping skills have helped him deal with stressful learning situations, like times tables in math, but they have also gotten him into trouble. In order to "take space" during difficult lessons, Conor would get up from his seat and walk himself to the principal's office. Eventually, he was suspended for leaving class without permission. His struggles continued through the spring: Conor refused to go to school and lost all privileges at CRAFT, including the chance to leave the grounds and go home for a few hours on the weekends.
Conor says he's not sure what he would do if he felt angry with his mom or siblings. Maybe he would hurt someone, he says. He pauses for a second, looks down and presses his finger into a dusting of powdered sugar on his napkin.
"But maybe," he adds, "I would use a coping skill and calm down."
He says he needs more practice. Either way, he hopes he's better in time for Thanksgiving. Conor loves his mom's stuffing and chocolate pudding pie.
"I can't imagine being in that little boy's head," says Maher, who in early spring was hired as a peer mentor for the Parent Support Network. "Conor is continuing to work extremely hard, and we have a ton more to work through. I'm hopeful that he can get enough help and support that he can function. We've come a long way in less than a year. It was either sink or swim."
The odds may be stacked against him, but Conor is learning to swim.