World Cup Fever Grips Rhode Island
Let us take a tour of some of the countries participating with the help of some local restaurants, shall we?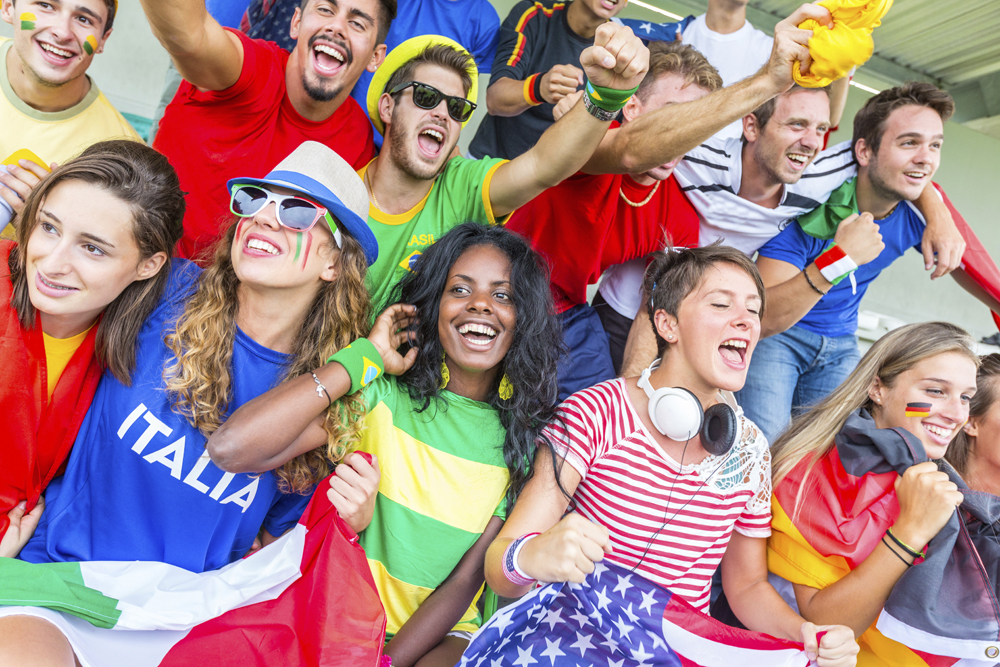 Guest blogger Stephen Donovan is excited to be living in Providence. As the new co-host of "The Heather and Steve Show" on LiteRock 105.1 with Heather Gersten, he is exploring the local dining scene and will blog about his adventures for Rhode Island Monthly each month. Follow him on Twitter at @StephenDonovan1.
If you're anything like me, you have absolutely no idea about soccer, but you love jumping on a bandwagon. If so, this blog's for you.
The World Cup happens every four years, pitting thirty-two countries around the world against each other for global football (you know it as soccer) domination. As you read this, our USA team is still in it, playing against Belgium today. Let us take a tour of some of the countries participating with the help of some local restaurants, shall we?
First up, Ri Ra (50 Exchange Terr., Providence 401-272-1953, rira.com/providence), the place where I watched my first professional soccer match (If you want to fit in with your probably-sensitive-soccer-fan friends, call them matches, not games.) My cousin Ken was in town, as diehard a fan of the sport as I know. It was an English Premier League match, and it aired on a Saturday morning. First sales pitch for becoming a soccer fan, you'll have a socially acceptable reason for going to the bar first thing in the morning.
At some point during the out-of-this-world-delicious breakfast of bangers and mash – complete with onion gravy and garden peas, Ken shares the origin of the name of the English Premier League. Turns out, England has a Premier like America has a President. And that premier – in addition to running the country – is also the captain of the national soccer team. I'm not 100 percent sure how true that is, although I'm 100 percent sure that Ken was drinking. If he's right, though? Man alive, that Margaret Thatcher must have been a dynamite soccer player.
You may know Ri Ra as a nighttime fun emporium – for good reason, they're airing every World Cup game live! – but trust me when I tell you that everything out of their kitchen is delicious. Moving on…
Mexico is a proud member of Group A this year, and so let us visit Don Jose Tequilas (351 Atwells Ave., Providence, 401-454-8951, donjosetequilas.com). This restaurant is so good, more and more people no longer think of Italian restaurants when they think of Atwells Ave. Dine outside and soak in all the atmosphere of Providence's most vibrant street or luxuriate inside amongst the fabulously-appointed tables. I had the Molcajete Azteca (a medley of meat: chicken, steak and shrimp with cheese and cactus, served piping hot in something called a molcajete – a carved stone, bucket-type-contraption. Phenomenal.). Be sure to get the guacamole (made right at your table!) and of course, they have a list of tequilas longer than America's odds of winning the World Cup. For dessert, amongst other things, they have fried ice cream. Did I get it? Of course, I did.
Italy – the Azzurri! – are always favored to win, and there certainly is no small amount of restaurants to lay claim to the title of "Most Italian." It just so happens that there is one restaurant that stands out from the rest, and no, it is not on Atwells Ave. Ladies and gentlemen, I give you Spirito's (477 Broadway, Providence, 401-434-4435, spiritosrestaurant.com). Oh, you disagree? You're not swayed by their dynamite menu? The banquet facilities? The impeccable architecture? Fine, not everybody likes a Farmer's Special (cannellini beans, onion and capicola served zuppa-style with bruschetta. Not everyone would ever have a need of a capacity of 125 people, and fine, when you're hungry, who cares about the crown molding? Fine. You cannot – CAN NOT – argue with this fact: Spirito's just so happens to also be the home of the Italo-American Club of Rhode Island! How do you get more Italian than that? For these and many other reasons (the jumbo cheese ravioli, the family tree of Italian family names hanging in the front room, the Buddy Cianci room), this is the greatest Italian restaurant in town.
Spirito's, located on Broadway in Providence.
Germany, however, might have to be my pick, if only for the feelings I have in my heart for the greatest German restaurant in this or any other state, Schroder's Deli in Riverside, (204 Willett Ave., Riverside, 401-437-3354, schrodersdeli.com). At this point, I'm compelled to give another caveat: I don't know much about Schroder's Deli. I haven't met Herr Schroder or Fraulein Schroder. They may not be still living. But, I do know this: Schroder's Deli is home to the single greatest sandwich on the East Coast. And they only offer it one day a week: Turkey Thursdays. It's a French roll with turkey, cranberry sauce, stuffing and all around culinary goodness. From the first day I set foot in the place 'til today, I couldn't tell you one other food item they sell. I don't want to know. I've only been there on Thursdays, and more than likely, I'll only go there on Thursdays. 'Cause that's the only day they sell it.
Now, you may have questions:
1. What does a sandwich about Thanksgiving have to do with Germany?
2. Does this blog qualify as a gambling advice column?
3. How much of your take-home pay are you spending in restaurants?
All excellent questions.
1. Next to nothing. Yet, at the same time, everything.
2. It barely qualifies as a dining-out column!
3. Probably way too much.