Why Dining at the Bar is the Best
Try sitting at the bar for a lively restaurant experience.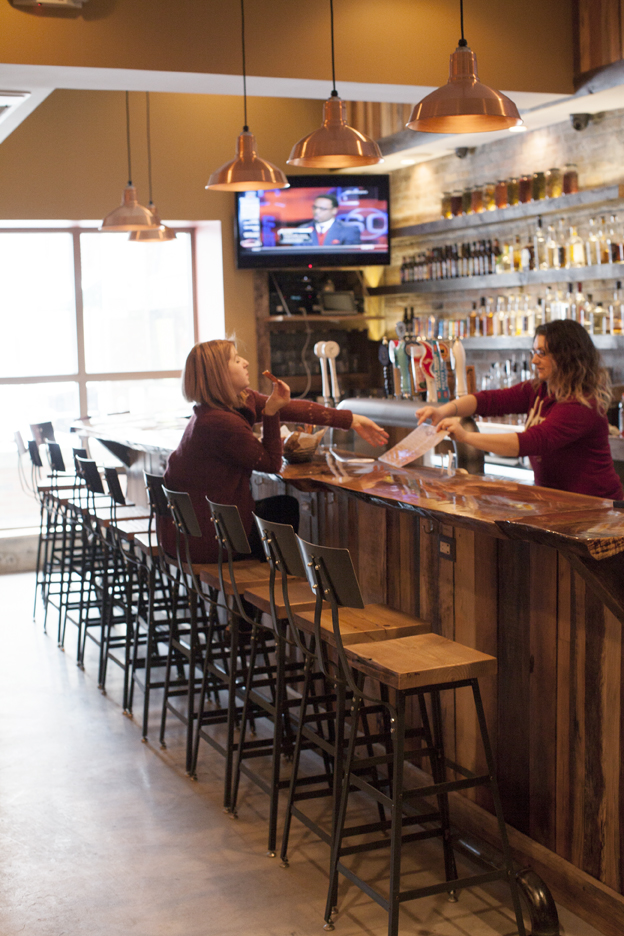 Guest blogger Stephen Donovan is excited to be living in Providence. As the new co-host of "The Heather and Steve Show" on LiteRock 105.1 with Heather Gersten, he is exploring the local dining scene and will blog about his adventures for Rhode Island Monthly each month. Follow him on Twitter at @StephenDonovan1.
The best words you can say in a restaurant. I know what you're saying, "But, hey, this is date night! What happened to undivided attention?" Overrated. And too much pressure. Eating at the bar means you'll enjoy the wildcard of not knowing what your bartender/fellow patrons are going to throw in to the conversation. Case in point…
Catanzaro's Pizzeria (1283 Park Ave., Cranston, 401-946-8880, catanzarospizzeriacranston.com), the site for lunch with me and my friend PJ. He's there first, so I join him at the bar. The bartendress comes over, I ask "what's good?" she says the lobster and the cracked crab.
The lobster and the cracked crab, a throwaway line if ever there was one. Now, maybe this means nothing to you. Maybe you haven't seen 1983's Trading Places (and shame on you if you haven't — Eddie Murphy and Dan Aykroyd in one of the funniest movies of the decade). Maybe you don't remember the scene at the end of the movie where our heroes celebrate by ordering the lobster and the cracked crab. The point is since 1983, I've enjoyed thousands of meals in thousands of restaurants and exactly zero times I've heard that quoted back to me. Both PJ and I are professional comedians, and we would never have come up with a line like that! Brilliance.
As far as the food goes, I did not go with the lobster and the cracked crab (not on the menu), but an out-of-this-world BBQ chicken calzone. If PJ was a Justice of the Peace, I would've married that bartendress on the spot. It was that delicious. (Don't tell my girlfriend.)
Speaking of which, don't think that just because you're going out to eat with your sweetheart, you can't eat at the bar. Hogwash. My girlfriend and I have eaten at the bar on more than one occasion, and each time was better than the last. If you're like the two of us, you live together. And if you live together, you talk to each other every day. So, when you go out to eat, why should you continue to only talk to each other? You might as well just stay home.
Last week, the lovely and myself found ourselves back at the Duck and Bunny (312 Wickenden St., Providence, 401-270-3300, theduckandbunny.com). She got the Mazzy Star (a fabulous crepe – portobello and Fontina with rosemary and truffle oil), I went with the Bunny Bleu (crisp apples, toasted pecans with baby spinach and cider vinaigrette). We were soon joined by two couples at the bar, and conversation quickly started up. When it was time for dessert – a Reese's Peanut Butter Cup Cupcake – we passed it along the bar, everyone having one bite (with their fork; we're not savages). The point is, that kind of camaraderie could never be found if each of us were eating at individual booths. Can you imagine? Plopping down at someone's booth, announcing you couldn't help but eavesdropping, and would anyone like to share a dessert? You'd get a fork in your larynx.
Couple of weeks back, when it finally stopped snowing, we found our way to Rogue Island inside the Arcade (65 Weybosset St., Providence, 401-831-3733, rogueislandgroup.com). They had just soft opened the night before, and so it still had that new car smell. I'm sure if we grabbed a booth we would have had a lovely time, but we decided to eat at the bar. We're halfway through our pretzel bites, when another couple – lovely people — bellies up to the bar. Like us, they've recently relocated to Providence. Unlike us, they didn't come down from Boston, they came up from North Carolina. Alissa's enjoying her Harvest Salad (big beet fan, that girlfriend of mine), I'm putting away a beautiful Berkshire Bourbon Pulled Pork Sandwich. (The food is fantastic, by the way – they pride themselves on a local menu sourced exclusively from nearby farms). Overwhelmingly, though, the takeaway was the conversation. We compare notes with the other couple, as to how each is enjoying life in Providence. We say, "Coming from Boston, we can't get over how friendly people are." The other woman says, "Coming from North Carolina, we can't get over how rude people are. I feel like no one's using their manners!"
So much for Northern hospitality.
Photo: Dining at the bar at Rogue Island. Photo by Alex Gagne.