What Happens When a Carnivore Dates a Vegetarian?
As luck would have it, this fine city of Providence − this culinary mecca of New England − is chock full of healthy options, and we have visited them on more than one occasion.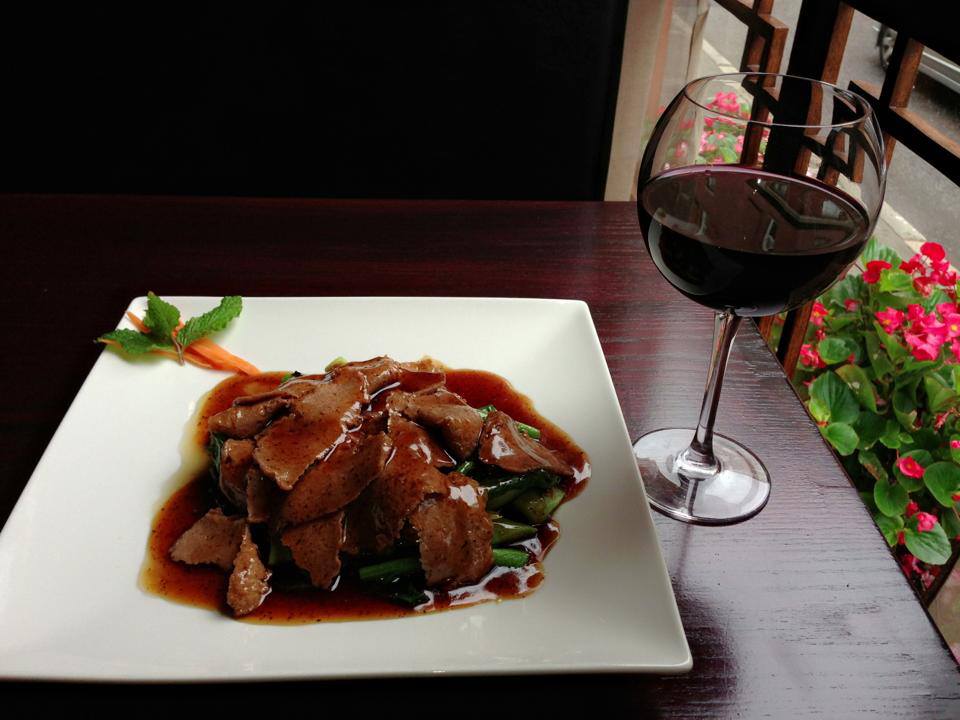 Guest blogger Stephen Donovan is excited to be living in Providence. As the new co-host of "The Heather and Steve Show" on LiteRock 105.1 with Heather Gersten, he is exploring the local dining scene and will blog about his adventures for Rhode Island Monthly each month. Follow him on Twitter at @StephenDonovan1.

For most of my life, eating meant two questions:
Am I hungry?
Will this taste good?
I never concerned myself with counting calories or eating healthy, Monsanto, GMO, or anything like that. I was too busy enjoying bacon.
Then, my girlfriend has us watch the documentary Forks Over Knives, which is all about healthy eating and the effects on our health from eating a Western diet. Everyone should watch it. It's compelling, powerful stuff while not being overly preachy.
From that day to this day, the lovely Alissa (that's my girlfriend) has been converted. No more red meat for her, no more dairy. Goodbye chicken wings; hello tofu things! She's the healthiest eater I know.
As luck would have it, this fine city of Providence − this culinary mecca of New England − is chock full of healthy options, and we have visited them on more than one occasion.
The first stop in any vegan trek should be Veggie Fun (123 Dorrance St., Providence, 401-270-4700, veggiefunri.com). Veggie Fun is a "pan-Asian vegan restaurant," (meaning they offer Chinese, Japanese and Thai food), and it has to have the most defiant, challenging name of any restaurant I've ever seen. If you were making the list of most frequently heard adjectives in connection with veggies, "fun" would have to come after "sultry," "seductive" or "perspicacious." When I was kid, "veggie fun" was either how many peas could I hide under my mashed potatoes, or is my cousin P.J. going to be so into telling his story that he's going to forget about his ear of corn resting on the stick of butter and melt the whole thing?
But, man alive, Providence's Veggie Fun is fantastic. For appetizers, we had the Barbecue Seitan (grilled with barbecue sauce). Lord knows what seitan is, but I definitely scarfed it down like a champ. Entrees? What's this − General Tso's soy protein? I'm in. I've been eating General Tso's Chicken since he was a lieutenant. Again, I have no idea what soy protein is or where you find it. All I know is it was delicious.
And the place itself − immaculately clean, easy-to-get-to downtown location with a universally friendly wait staff. Throw in TVs at the bar with the game on (check!) and you would have absolutely no idea that you were actually taking good care of yourself.
Over on the West Side is another healthy option: The Grange (166 Broadway, Providence, 401-831-0600, providencegrange.com). Again, here's a place with everything a restaurant should have: ample parking around the corner, funky decor, sassy wait staff, delicious menu of "locally sourced and seasonally inspired" fare. These folks are taking care of our local farming community while you're taking care of your gluten allergy! A true culinary win-win. I'd like to consider myself a man of the world, but prior to checking out the Grange, I had never been in a vegetable restaurant. Not a vegetarian restaurant; a vegetable restaurant.
The fine people of the Grange are not satisfied with just being a "vegetable restaurant," they also have a bar (live music featuring local and regional acts every Wednesday night), and a life-saving café, Chicory. Maybe they're only life-saving to me, since the Lovely One had nixed the idea of a bacon-egg-and-cheese bagel sandwich last Sunday. On our way to 95, we pulled over, ran in, and about eight minutes later, had ourselves a delicious Italian egg wrap (two eggs over easy with smoked collard greens, pesto, ricotta and red onion), smoothies and scones.
When you have the time, by all means, belly up to the bar, order yourself some delicious Korean barbecue tacos (seitan, salsa verde, smoked avo, lettuce and queso fresco) and spend some time at the Grange.
If you have vegans or vegetarians in your life, take them to Veggie Fun or the Grange. 1. You won't believe that food that tastes like this can still be good for you. 2. You won't believe how refreshing it is to go to a nice place and watch them order whatever they like off the menu without having to parse through the ingredients with a fine-tooth comb.
Enjoy yourself. And try to forget how delicious the barbecue pulled pork slices are at Fellini Pizzeria. And tell me how you did it.