Web Extra: Oktoberfest Style
Dirndl, lederhosen or authentic Alpine hat? Get some style inspiration from past Oktoberfesters.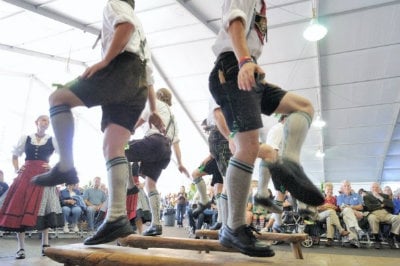 International Oktoberfest is right around the corner on October 17 and 18; can you believe it? New this year, the event takes place on the Providence waterfront at India Point Park — which means you need to up your Oktoberfest game to contend with ever-fashionable city dwellers. Below, check out on-point looks from previous years, and buy your tickets here.
The Family Lederhosen
Looks like the little fellow could use some cheering up. I think he's upset that dad broke theme with an unauthentic balloon hat. So not German.
Your Dancing Socks
Put 'em on, pull 'em up and climb on the nearest stool for a jig. It's the straightest shot to an Oktoberfest gal's heart.
Lady in Red (and Black with Gold Buttons)
The colors of Germany's flag are red, black and gold. Pair them together in an old-worldly way, and your look is complete.
German Arm Candy
You can dress like a twenty-first century American, sure; just bring someone in lederhosen. The ultimate Oktoberfest arm candy.
Matching Dirndls
Halloween is right around the corner, and the party stores are overflowing with St. Pauli Girl getups. Grab a partner in crime and dress up.
Hats, Glorious Hats
Put one on and feel the transformation. Accessorize with a proper beer — or an air hockey puck, whatever works.
Speaking of Beer….
You can't go wrong with a golden-hued stein. It matches everything and, when it comes to Oktoberfest's annual stein-hoisting competition, your vessel doubles as a workout prop. Who knew it hurt so much to look this good?
When All Else Fails, Hold an Accordion
Preferably your own. I don't think this gal is giving hers up.