Warwick Native on Bravo's "Below Deck" TV Series
The reality TV show follows Kat Held and a group of crewmembers that live and work aboard Ohana – a 153-foot mega-yacht in the British Islands.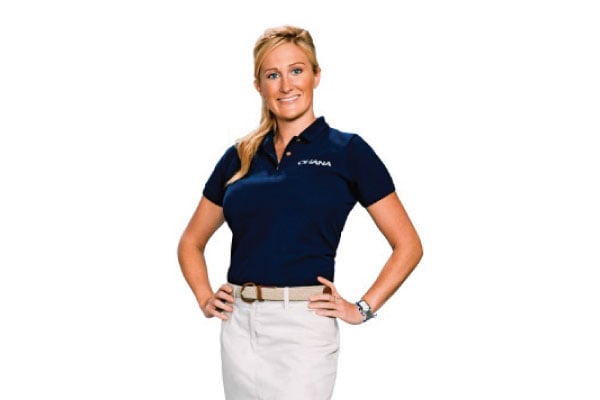 Warwick native Kat Held stars in the second season of Bravo's docu-series "Below Deck," airing on Tuesdays at 9 p.m. ET/PT (watch re-runs on Thursday at 4 p.m., and Friday at 11 a.m. and noon on Bravo). The show follows a group of crewmembers as they live and work aboard Ohana, a 153-foot mega-yacht in the British Islands. The young, single crew, known as "yachties," live, love and work together onboard the privately owned yacht, while tending to the needs of wealthy, demanding clients. Read a Q-and-A with Held about her life as a yacht stewardess, her reputation as a party girl who's making some positive changes, and her love for Newport, Rhode Island.
What inspired you to work on a yacht?
I was inspired to work on a yacht for more than one reason. Growing up in the smallest state in the country had a big influence on why I decided to become a yacht stewardess. I always wanted to try something new and go someplace different. I always had a mind for adventure and also, education. I knew that traveling would give me both of those things. Education was so important to me that I decided out of high school to enroll at the University of Rhode Island. Not knowing what to choose specifically as a career, I still managed to graduate with a bachelor's degree in communication studies. I wanted to keep my future plans (or lack there of) open for any opportunities that may open up so I could still use the skills I learned in college to get ahead.
Throughout college and even after I graduated, I worked as an administrative assistant for a large psychiatric practice. I did this for six years. After I graduated, I was still sitting at the same desk everyday doing the same thing. I decided it was time to make a change. One summer day, I was sitting by a pool on Goat Island in Newport with a girlfriend of mine who happened to be a flight attendant. We were discussing what it was like for her to travel for a living. During our conversation, we spotted a huge white mega yacht that was coming into port. I asked my friend "Do you think I could work on one of those?" and her response was, "Of course you can." After that, my mind was set. I actually knew nothing about working on a yacht so I literally googled the term 'yacht stewardess,' and found a book titled The Insiders Guide to Becoming a Yacht Stewardess. I purchased the book, read it cover to cover, followed the directions and made this dream of mine come true. I took my certification class at the Confident Captain in Newport, packed my belongings and moved to the yachting capital of the world, Fort Lauderdale. It took me one month to find my first permanent position. And now, five years later, I am still working as a yacht stewardess and I am still enjoying it.
What is your favorite part about working on a yacht?
My favorite part about working on a yacht is the educational experience I get from traveling. I have traveled to a lot of places in the past five years. On every island and in every town and city, there is a piece of history to learn. Every place has its own culture with different foods and a different way of living and celebrating life. When you actually get the opportunity to live and experience places around the world, you learn more about who you are as a person, such as the things you like or dislike, what makes you proud to be you, what makes you stand out from others and most importantly, no matter where you are in the world, there will always be apart of you that symbolizes where you came from. Furthermore, it's important to realize that when we visit a new port, we don't stay for very long, so what we can learn and take with us is forever memorable.
What is the most challenging part of the job?
There are several aspects of being a yacht stewardess that make this job challenging. Mainly, I think accommodating guests on a twenty-four/seven basis is the most challenging aspect. To accommodate guests onboard a yacht, you must wear several hats. I am a server, a bartender, a host, a party planner, a Laundromat, a psychologist, an adult babysitter, a lifeguard, a mind reader, a transportation coordinator; the list is endless. Yet, there is something that comes along with wearing all those hats that makes the job even more challenging, which is doing all those things with the expectation that everything will be perfect, while of course staying calm and happy at all times. In addition to accommodating the guests, it's always a challenge to live and work with the same people in very small quarters. Often there is going to be, among the crew, a difference in personalities, which can lead to a lot of confrontation. Since the boat is your home, you do not leave at the end of your work day. Therefore, you are forced to either make amends with the person you are having a conflict with, learn to accept each other's differences or live and work with someone that you don't get along with. A severe difference in crew personalities can be so challenging that it can lead people to quitting their jobs.
What do you miss most when you're at sea?
When I'm at sea, I miss spending time with my family and friends, especially during special occasions and holidays. During the first four years of my yachting career, I did not spend one holiday with my family. Now that I'm already in my fifth year of yachting, I realize that family is more important to me than any job. Luckily, the current boat I'm on has a more relaxed program, so there is a very good chance I will be home for Christmas. In addition to missing my family and friends, there is one other thing that I desperately miss when I am at sea, and that is the gym. Working out for me is what keeps me sane. When I'm working out, I feel like I can conquer any fear or task. Without that, it's easy to get restless and aggravated. However, some of the most calming moments I have ever experienced have been while I was at sea. When you are at sea in the middle of the night and all you can see is the ocean and the stars, it actually feels magical. Catching the su rise while at sea can make you forget where you are, because at that moment, nothing else matters.
What are your favorite things to do in Newport?
This is an easy question for me because if Newport would stay warm all year round, I would live there permanently. Newport is such a quant little town. The feeling that I get from it is like no other place I have traveled. A lot of people say this, even those who are visiting for the first time. Newport has such a unique beauty to it. When you put together Ocean Drive, the cliffs along the water, the crashing waves and the houses built on such a beautiful landscape, you end up with my fairy tale dream. My all time favorite thing to do in Newport is to take a ride around town on the back of a friend's motorcycle and house shop. By that I mean just looking at all the houses along the way. I like to believe that anything (within reason) is possible. Even if a house isn't for sale, there's always the possibility that I could own it someday. Other than that, I like taking a cruise on a small boat around the harbor, possibly stopping somewhere for lunch. Sunday brunch is always a fun time. I love going to Safari or Ocean Cliff on a Sunday afternoon. Also, I could eat seafood everyday. Nearly every restaurant in Newport has seafood, but my favorite casual place to grab a bite to eat is on the first floor of Benjamin's. Lastly, I love to find a place that has live music so I can grab a cocktail and dance. My favorite places to go for music are the Pelham and the Blues Cafe.
What is your biggest piece of advice for young adults looking for the adventure and freedom you were craving?
My advice to young adults who are looking for adventure and freedom would be to number one, save your money, because that will help you to gain independence, which is an essential part of adventure and freedom. Number two would be to educate yourself about the options and jobs available that allow you to travel. Number three is to seek advice from adults because they have been in your shoes before, so they can offer you some of the most valuable information possible. Lastly, make a plan and be confident about the decision you make.
What were the most important lessons you took away from last season, and what are your goals for this upcoming season?
The number one most important lesson that I took away from last season is that my health is the most important aspect of my life. Last season, I was the party girl. I was always ready to celebrate and open a bottle of wine, even if there was nothing to celebrate. However, after watching myself on TV, I decided that I did not want to be the person that I saw. From then on my focus changed from partying to working out and taking care of myself. Now, life is so much more enjoyable for me because I'm healthy and I feel confident about myself and the decisions I make. It was a blessing in disguise. In addition to my health, I learned that people are going to judge you no matter what, because it's their nature to do so. Some people are going to like you and some people are going to hate you. Regardless of what anyone else thinks, all that matters is how you feel about yourself and how the people who are closest to you feel about you, such as your friends and family. Your family and friends will be there for you no matter what, and somehow they know what is best for you.
My goals for the upcoming season are to party less, keep my funny quirky personality, be the best that I can be at my job, gain new friends and enjoy the ride. In doing so, [I hope to] learn something new about myself that I didn't know before I started.
"Below Deck" airs Tuesdays at 9 p.m. ET/PT on Bravo