There's More to the Story on Children's Mental Illness
Join the conversation on May 4 at "Kids' Mental Health: A Road Map to Stronger Minds."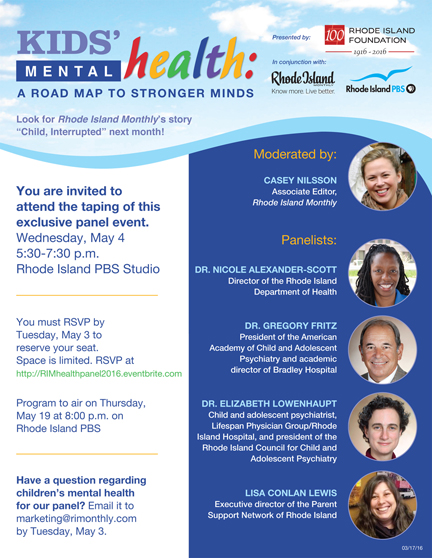 I was moved to write "Child, Interrupted" (in the May issue of Rhode Island Monthly) after reading a report by Truven Health Analytics, which found that one in five kids in Rhode Island has a diagnosable mental illness. One in five. The statistic blew me away, and I wanted to know how families, mental health professionals and advocates were dealing with it on the ground.
The story centers on a boy named Conor, whose mental illness went undiagnosed for much of his childhood and, last summer, he spiraled out of control. During one of our last conversations, Conor's mom, Shana, said, "Throughout all of this, I've never felt so alone. And if talking about it is going to make one person in a similar situation feel less alone, it's worth it."
Shana spoke extensively about stigma. Other parents talked about it, too. Kids with mental illness aren't treated with the same compassion as their peers with other chronic, life-threatening diseases, they told me. It's misunderstood and swept under the rug.
So we're going to talk about it. Out loud. To be televised.
On May 4, the public is invited to "Kids' Mental Health: A Road Map to Stronger Minds," a conversation presented by the Rhode Island Foundation in conjunction with Rhode Island Monthly and Rhode Island PBS. It'll be a gathering of minds, of sorts, where expert panelists will discuss the state of children's mental illness in Rhode Island, and will offer suggestions for a better future. The event, which will be taped for broadcast on Rhode Island PBS on May 19, is free and features a pre-panel reception with food and drink for attendees.
Towards the end of the discussion, the floor will open up to the audience for comments and questions for the panelists. Rhode Island Monthly, Rhode Island PBS and the Rhode Island Foundation are producing this event to keep the conversation going. If you have something to say about children's mental health, let your voice be heard.
"Kids' Mental Health: A Road Map to Stronger Minds" will take place at Rhode Island PBS, 50 Park Ln., Providence, on May 4, from 5:30 to 7:30 p.m., featuring a reception, panel discussion, videos and an audience discussion. Seating is limited; RSVP here. If you can't attend the event, pose a question to the panel by emailing marketing@rimonthly.com before May 3.