The Mousetrap is Fast-Paced Fun
2nd Story Theatre's latest show is a must-see this summer.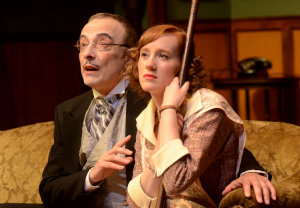 The longest-running play in the world harbors a unique tradition: the audience mustn't reveal its twist ending to anyone, for whatever reason, or else. I promise I'll abide by the rules.
Part of the fun of The Mousetrap, an Agatha Christie murder-mystery, is contemplating the clues in your own head and, whether you're a bloodhound or a Scooby Doo, watching the whole mess come together for one neat resolution.
Dame Christie was a brilliant mind; theater-goers can automatically bank on a classic show with high entertainment value. But 2nd Story Theatre's talented cast elevates the play to a fast, fun summer experience — so fast, in fact, that I was sad it was over — and does justice to one of Christie's greatest masterpieces.
As the story goes, eight strangers are stranded at an English guesthouse in the middle of a blizzard. A murderer is on the loose, and there's reason to believe he or she is amid the group of travelers. But the guests are holding their cards close to their chests; no one wants to reveal their connection, however slight, to a horrific case of child abuse from years earlier that likely inspired the most recent crime in town. All are suspect until the very end of the play.
"My money's on the fop," you'll whisper to your companion as the show goes on. Actor Ben Church plays an excellent Christopher Wren, portraying his emotionally stunted character with jumpy, squealing delight. He's the stand-out performer of the night, and his delivery sparked strong, reactive exchanges with his fellow cast members.
If not the fop, is the murderer one of the guesthouse keepers? Actors Dillon Medina and Erin Elliott play Giles and Mollie Ralston, respectively. Medina is hilarious as the young, exasperated proprietor. His sardonic tone brings a touch of modernity to a play six decades in the running. Elliot plays a lovely young housewife and, contrary to her stage husband, precisely resembles her 1950s character as she was written — struggling to keep house, run a business and look stunningly beautiful, all at the same time.
Is the murderer Mr. Paravicini, the Italian in all that makeup who was conveniently stranded outside the guesthouse after falling victim to wintry road conditions? Vince Petronio is all irony in this role, hopping from sinister to comic and back to sinister again with much ease. He sparked more than one fit of laughter from the audience, and not just because of his bad accent and heavy rouge.
2nd Story's The Mousetrap is laugh-out-loud funny yet wildly stimulating — and a strategically timed escape to blustery England (snow falling beyond the big picture window and all) in the middle of a New England summer. Like all murder-mysteries, you'll know the curtain is coming, and maybe you'll even predict how it all turns out; but, in this case, you really won't want it to end.
The Mousetrap is onstage through September 1. As a neat summer twist, The Murder Room, a spoof of the murder-mystery genre, will be performed in repertory with The Mousetrap through September 1. Check back next week for our review of The Murder Room and visit 2ndstorytheatre.com for more information.