The Making of the Zeppoles at LaSalle Bakery
Learn how the famous Italian zeppoles are made in this behind-the-scenes video.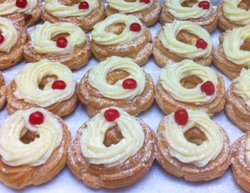 We're all familiar with the catchphrase, "Time to make the donuts!" but at one traditional Providence bakery, it's time to make the zeppoles.
Once February 1 rolls around, LaSalle Bakery owner Michael Manni and his family and staff members get ready to mix, form and bake the quintessential Italian, but very Rhode Island, pastry.
Manni says the bakery could produce the cream-filled and cream-topped, light and airy dessert that's bedecked with a maraschino cherry every day, but they prefer to keep it special. La Salle only makes the sweets around St. Joseph's Day, which is Wednesday, March 19. You can buy them from February 1 to Easter.
"It's like Christmas cookies. You could make them year-round," Manni says. "We could sell them all year long. People ask for them all year long. But we feel that we keep the product a little special by having it a seasonal product."
Manni and his son, Michael Manni, showed us around the bakery on a day when the zeppole machines were up and running. I witnessed firsthand how painstaking a process it is to make them, with various machines and many workers involved. The staff is very careful about food safety, making sure that everything moves at lightning fast speed, so that nothing is ever left sitting and the ingredients are always cooled quickly using special machines.
Watch this video for a sneak peek inside the kitchen as LaSalle Bakery makes one of Rhode Island's favorite pastries.