The Dish: Star Chefs Coastal New England Rising Stars
Massive chefs' event highlights coastal New England talent, including Rhode Island favorites.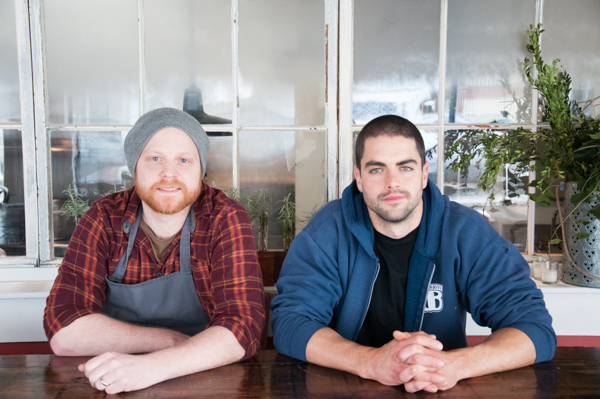 Providence is hosting the Star Chefs 2014 Coastal New England Rising Stars Gala at the Providence Biltmore on April 15 from 5:45–9:30 p.m. The event, sponsored by starchefs.com, will honor up-and-coming chefs and culinary professionals across New England. The awards ceremony starts at 6:30 p.m., and the dish tasting begins at 7 p.m. The walk-around tasting gala will give attendees the opportunity to experience twenty of Coastal New England's top chefs and restaurants, including Rhode Island's favorites, as well as notables from Nantucket's Straight Wharf, Maine's Hugo's, Eventide Oyster Co. and Earth at Hidden Pond, New Hampshire's Stages at One Washington and many others. Dishes will be matched with wine or cocktails by the winning sommelier and bartenders.
Rhode Island chef honorees include Tyler Burnley and Chad Hoffer of Thames Street Kitchen (Newport); Matt Jennings of Farmstead (Providence); Jake Rojas of Tallulah on Thames (Newport); and Ben Sukle of birch (Providence). James Mark of north (Providence) won the community award and Derek Wagner of Nicks on Broadway (Providence) won the sustainability award. Melissa Denmark of Gracie's (Providence) won for pastry chef; Ian Cappelano, Peter Kobulnicky and Mike Lingwall of Foremost Baking Company (Providence) won an artisan award; Eric Lepine of New Harvest Coffee Roasters (Pawtucket) won a roaster award; Jay Carr of the Eddy (Providence) won a bartender award; and Kevin Hale of Providence Biltmore Hotel (Providence) won the host chef award.
General admission is $95 per person. VIP tickets are $125 and include a private VIP reception with Champagne and Petrossian caviar, beginning at 5:45 p.m. A portion of the evening's proceeds will go to the Rhode Island Community Food Bank. Tickets can be purchased at starchefs.com/risingstars.
We sat down with starchefs.com managing editor Will Blunt [pictured right, photo by Autumn Stein Photography] to find out his thoughts on Rhode Island's burgeoning culinary scene. Here's what he has to say about our beloved community and what you can expect at the gala.
What can we expect at the gala?
Guests will enjoy twenty signature dishes matched with twenty beverage pairings that will enhance the dishes. The winning sommelier from Nantucket has created pairings with very good wines from the Rhone Valley. There will also be beer from the Belgian-style brewery Ommegang out of Cooperstown, and then beers from our brewer award winner out of Maine. Dishes are fully composed – two to three ounces – so you'll get a fully plated dish that looks like an approximation of what you would have in the restaurant. There's an aesthetic to all twenty dishes and there's some substance to them. We will have a VIP reception for forty-five minutes with Champagne and Petrossian caviar, then we'll have the awards ceremony and roll into the tasting.
How did you choose the winners?
We conduct tastings and interviews with as many chefs as we can. We start with nominations through our site and from other chefs. We have an editorial team that researches, and we make a big list of candidates based on their menus and biographies. We make sure we visit places that are doing things at a high level, then we distill it down to a manageable number of candidates. When we are traveling, then there's also word of mouth. We might think we have a town, city or neighborhood figured out and then we are always given new places to go. We ended up doing 120 to 130 tastings and interviews with individuals. I did all of Rhode Island. Antoinette [Bruno, starchefs.com CEO and editor-in-chief] did the rest of New England. We send the chefs guidelines. They'll share four dishes or cocktails or do wine pairings to represent what they do. They talk about what's going on in the dish, and then we interview them. We take photos and document everything.
What's the thinking behind the sustainability and community awards?
It's a special nod to someone who is a model for other chefs around the country. To win that award, it's not just about being responsible, it's also about being a leader. The way I look at Derek [Wagner], any chef that's interested in building a restaurant program with a sustainable angle could learn a lot from going to Nicks on Broadway and seeing how Derek operates.
James Mark is another example at north. He won our community award. He is fostering community more than just by being a good guy. He's the glue in the community, and the industry in particular, by staying open later and keeping his prices down. Chefs work really hard and their hours are really tough. There are very few places to eat late-night and unwind. There's a lot of adrenaline in cooking, and you need some place like that. He also gave a huge donation to the Rhode Island Food Bank [collected by the restaurant], and he's good to his employees.
What's the thinking behind the awards for purveyors?
Over the years, we tried to give awards that give a fuller picture of the restaurant ecosystem. It's a group of awards called artisan awards – it's creating a product by hand. We always hear chefs talk about how important producers are, so we try to recognize the people behind the ingredients. It's kind of cliche to say, but a chef is nothing without great ingredients.
Foremost is a great example, they are committed to supplying and supporting restaurants. They bake during unconventional hours for bakers. They'll bake in the afternoon so that certain breads are fresh when they are delivered for service. They also do a lot of custom orders, so not every restaurant has the same product.
Then there's New Harvest. One of the cool things about New Harvest is they host a conference of roasters and they are very engaged in the community. They don't just sell coffee to restaurants. They go the extra step of training and showing them how to best serve the product and make their customers happy. They are very progressive and could go toe-to-toe with any top roaster in the country, like Intelligentsia, but they are not so precious about it.
What else have you observed about the Rhode Island restaurant scene?
The Rhode Island restaurant community is really supportive of each other. It's smart because people don't dine at the same restaurant every night anyway. You need the chefs to talk each other up and support each other. The execution level here is very high. It's on par with other markets like Chicago, San Francisco or New York. The turnover is the lowest turnover I've ever seen, which says a lot. When we interview them, we talk to them about industry pains and challenges, and turnover is one of the great pains because consistency is one of the most important things in a restaurant. You need to have a well-trained staff that can repeat it consistently. And you want them to like what they're doing, take pride and be engaged. Another oddity is there are so many culinary couples. The restaurant lifestyle is challenging, and the hours are tough. The couples are on the same page, and it seems like it makes for peace and happiness. It's a real partnership. You have a lot of product that is amazing here. The chefs are cosmopolitan and they have a sense of trends across the country. Many of them are already leaders in your community, we're speculating on the impact they're having on a national level.
Matt Jennings of Farmstead Inc.
Ben Sukle of birch.
Jake Rojas of Tallulah on Thames.
James Mark of north.
Derek Wagner of Nicks on Broadway.
Melissa Denmark of Gracie's.
Ian Cappelano of Foremost Baking Company.
Eric Lepine of New Harvest Coffee Roasters.

Jay Carr of the Eddy.