The Dish: Ogie's Trailer Park Opens in Providence
We learned the story behind Providence's hottest new retro hangout.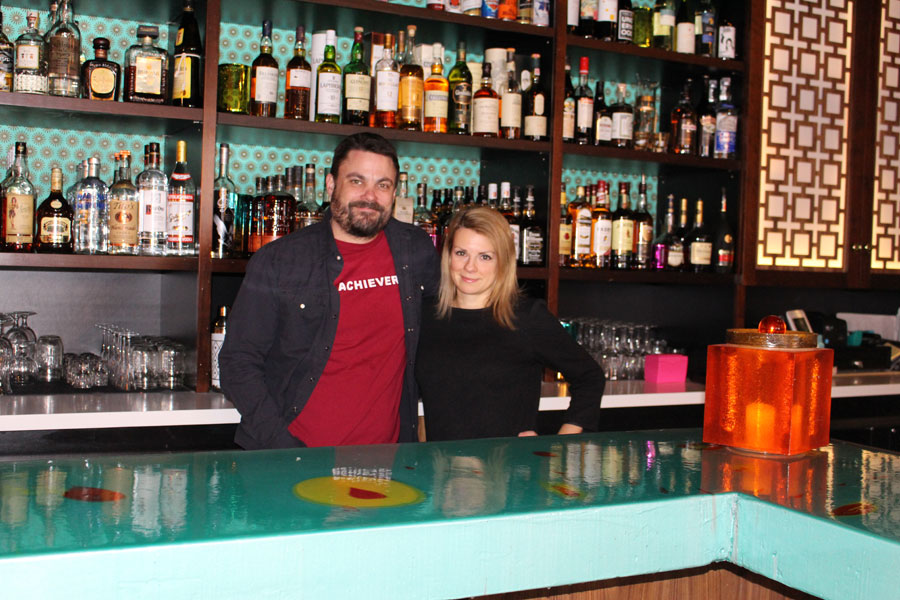 Providence's hottest new bar is Ogie's. Dan and Jessica Becker from the Duck and Bunny in Fox Point are back with a retro trailer park where old-school mobile homes are deconstructed into art. This place has everything: A fire pit outside with multicolored lounge chairs where you can warm up by the flames and mingle with "the smokers," cats superimposed into famous reproduction paintings, tater tots in varieties like poutine and all the way (no, they will not sleep with you). Inside it's just sick; urchin sputniks hanging from the ceiling, garage doors that open up when the weather is warm, Disney movies playing on the TV, tons of West Side scenesters swigging 'Gansett from a can and your mom and dad rocking out to the Rolling Stones over White Russians. Oh, and at Midnight on Fridays they blast "Dark Side of the Moon" for Floyd Fridays. "It's a nod to my childhood," says Dan Becker.
But who is Ogie? And why is the bar named after him or her? Ogie is the Beckers three-year-old cat ("the baby!"), named after Dan's legendary uncle. And then there is Granny Boo's Kitchen (the walk-up trailer window), named after their other nineteen-year-old feline Boo, who Dan had as a kitten. She's now known as Granny Boo.
But in all seriousness, the idea for the trailer park bar came from the many trips the Beckers took to Austin, Texas. The couple loves the laid-back food truck scene in Austin, and Dan wanted to bring that same look and feel back to Providence. It all began about two years ago in January 2013 when they saw the Westminster Street space for the first time and acquired it in June of that year.
"It was just an empty garage and cinderblocks – and we saw the garage doors and thought trailer park," says Jessica Becker, who is also an interior designer for her own business, Jessica Becker Designs. She studied the mid-century modern style of the late-fifties and early-sixties and began to collect items for the bar. "The vintage and retro theme evolved over time," she says. "We wanted something swanky, kitschy and silly." When they found out they couldn't have an actual food truck inside the building, they constructed a makeshift mobile home out of custom aluminum siding and drywall for the kitchen trailer, where food is served through a walk-up window. Eventually, they hope to have a variety of food available outside at the trolley in the lot.
The couple constructed the bar top that looks like a watercolor painting with a teal base and swirls of bright yellow, blue, copper and red made with hand-poured epoxy, which is the same material used to transform the teal floor. Jessica Becker dreamed up the custom-made urchin sputniks – the unusual spiky lighting fixtures that hang over the bar. The drop pendant lights were discovered at Rocket to Mars and the tourist license plates and other memorabilia were scored at the Rhode Island Antiques Mall. Jessica's grandmother's antique lamps stand safely high up on a shelf.
Look at the art on the walls. Artist Daniella Ben-Bassat incorporated Ogie into reproductions of famous paintings. There's "American Gothic" with Ogie as a farmer, and a Lichtenstein with the Providence city skyline in the background and a black-and-white Ogie saying the words, "Oh Jessica, you just knew that I love American beer in a can, and…Guinness" in a speech balloon. Don't miss the Andy Warhol by the front door starring four Ogies in two different color schemes. The star paintings inside and the mural and Route 66 trailer art outside were created by illustrator Caleigh McGrath.
Then there's the food. "It's gourmet comfort food," says Dan. "We wanted to do food people are familiar with — tater tots, mac and cheese croquettes, burgers and Rhody fried chicken sandwiches — but we wanted to make it the best they ever had." The smaller menu was tweaked with help from chef Dan Hultquist (yes, there are two Dans, dammit!), who makes everything from scratch, including the special Ogie's sauce, a spicy sriracha mayo "that goes well on everything." They also have vegetarian, vegan and gluten-free selections like chili, veggie burgers and grilled peanut butter and jelly sandwiches.
The cocktail menu is graphic-designed by an Austin artist with classic beverages any bartender should know how to make, but also some drinks people might not be familiar with like the Seelbach and the Blood and Sand. Of course, the White Russian is a nod to The Big Lebowski. The beer list contains brews from all over the country and your favorite Rhode Island brews. But one beer they have trouble keeping in stock is Ballantine, even though "it tastes like a handful of change in your mouth," says Dan. Most people sip 'Gansett and Pabst straight from the cans.
It's safe to say the Beckers have already successfully changed up nightlife in Providence. It brings to mind a talk Dan gave last year at RISD to a group of art students. "Don't be boring," he said. "It's a simple philosophy but it's hard to execute. Just make it interesting."
1155 Westminster St., Providence, 401-383-8200, facebook.com/ogiestrailerpark