The Dish: Gluten- and Dairy-Free Goodies
Two Little Buns mixes up breads, muffins, pies and other treats that are gluten- and dairy-free, and many of the ingredients are vegan, organic and non-GMO.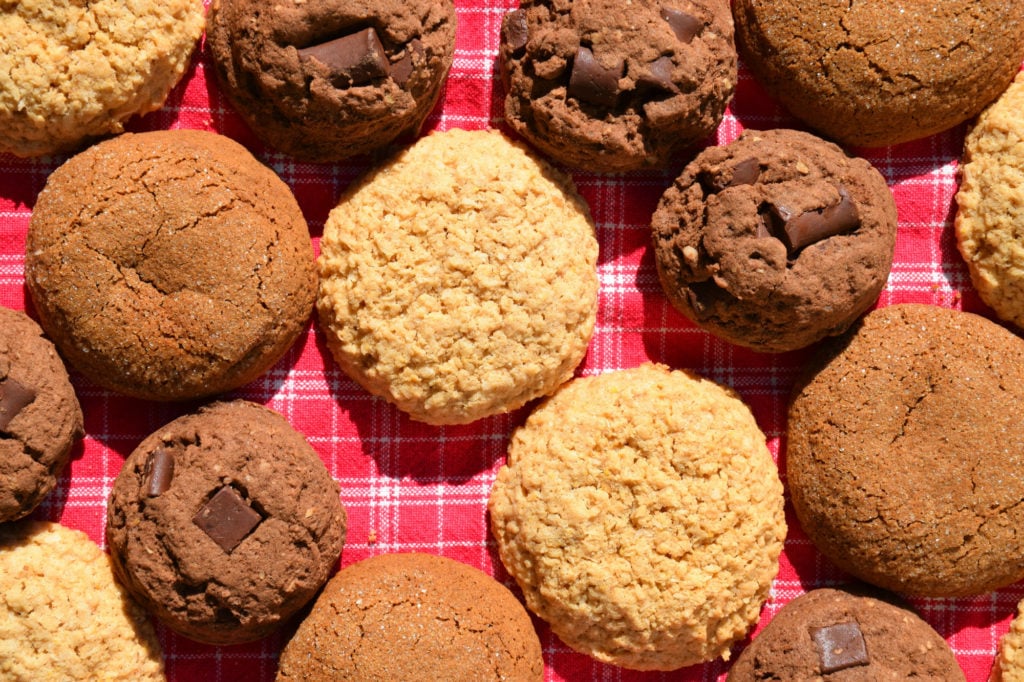 Jessica Sullivan really wanted good bread. But her gluten intolerance made that nearly impossible. She found that the options for gluten-free loaves were lacking. "I gave up on bread. Which was a bummer," she says. After using two to three pans to make dinner every night, she thought, "It would be so much easier if I could just make a sandwich."
She took matters into her own hands, kneading dough herself. "I was hell-bent on making good gluten-free bread. I knew it was possible, so I started experimenting," she says. Sullivan creates a four-flour blend using ingredients from Bob's Red Mill (made in a gluten-free facility), including organic white rice and brown rice flours, tapioca flour and potato flour and mixes them all together for her dough base. "I got a good recipe and then expanded on that line," she explains. Varieties of bread include bare bread, dill bread, basil country herb, onion chive, garlic rosemary and oat molasses.
Tomato sandwich with gluten-free, dairy-free basil bread, organic hydroponic tomatoes from Wojnar Family Farms, organic onion, organic kale from Sullivan's garden, drizzled in olive oil and balsamic vinegar.
Oat molasses bread with organic strawberry jam.
Sullivan's gluten intolerance began affecting her in her early twenties, when she suffered from headaches, joint pain and fatigue. "I'd wake up every day with aches and pains, I couldn't concentrate, my memory wasn't good. I thought I should not feel like this at this age," she says. "I found out it was a diet issue. I changed what I was eating, and the difference is night and day for me."
A few months ago, Sullivan left the workforce and took her entrepreneurial and baking skills on the road to launch Two Little Buns gluten- and dairy-free goods. The business is named after her two bunnies, Wendy, a Polish flop mix, and Walter, a dwarf breed. The two rabbits are featured on the logo wearing chef's hats. "The name is warm and cute, and if I had a dollar for every person who said they liked it, I'd make a lot of money," says Sullivan with a laugh. Bread, bunnies and posterior references aside, the name simply suits the fledgling business.
Gluten-free and dairy-free vegan banana muffins.
Sullivan developed the recipes, she nailed the branding, and then she secured a commercial kitchen space inside a family member's market, baking on off hours when the store is closed. She's been fine-tuning favorite family recipes and now she has more than ten different products to sell at local farmers markets. Cookies include double chocolate chunk, molasses and oatmeal, and she also sells muffins, vegan pizza, her grandmother's date squares, plus cheesy cruncher crackers and graham cracker crusted brownie pie (made with her homemade gluten-free graham crackers.) She uses her blend of flours and substitutes coconut oil or olive oil for any recipes that require butter, and she'll use coconut milk in place of milk. Between 70 and 80 percent of her ingredients are non-GMO and certified organic, and she uses as many local supplies as possible, including fruit, honey and eggs.
Gluten-free and dairy-free, vegan apple crisp.
"I'm walking the walk and talking the talk: embrace small. I'm developing relationships with farms and working their produce into recipes; herbs, seasonal berries and fruits," she says. "I'm trying to have fun with what's available right here right now."
Two Little Buns gluten- and dairy-free goods are available every other Saturday from 9 a.m. to 1 p.m. at the Wintertime Farmers Market at Hope Artiste Village in Pawtucket, which begins Nov. 7. Follow updates on Two Little Buns Facebook page or website, twolittlebuns.com, for specific dates.
Gluten-free, dairy-free vegan pizza (left) and a gluten-free, dairy-free, vegan date square made with organic medjool dates (right).