StyleWeek Northeast: August 2014: Shalyn Webber, Alistair Archer and Restored By Design
The looks at Thursday night's show covered styles from avant garde and playful to whimsical and romantic.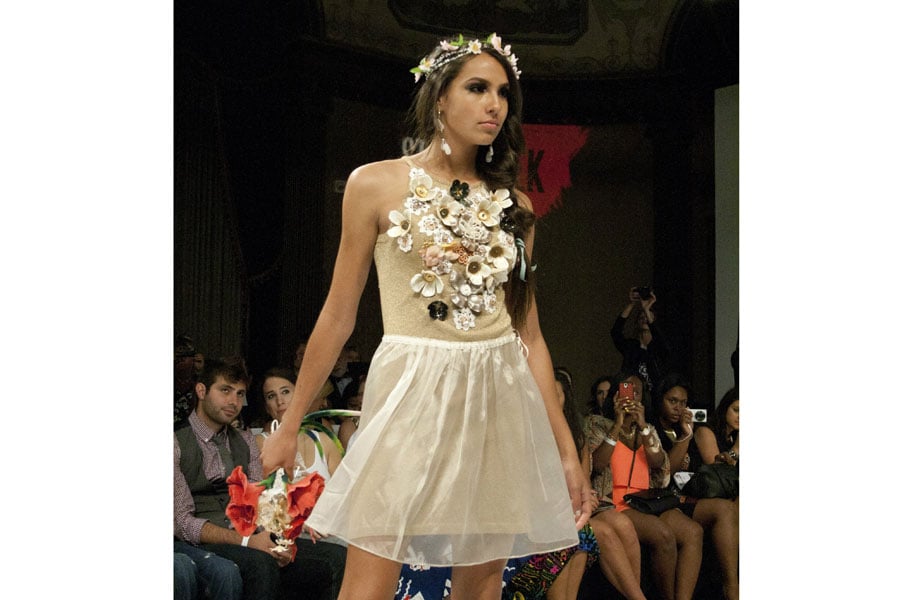 Photos by Carolyn V. Marsden
The runway is always a stage for Shalyn Webber's theatrical fashion shows, this season featuring playful takes on traditional Japanese dress. Long shoulder-bearing kimono-like gowns and skirts in silk shantung graced the catwalk paired with leather halter-style tops with intricate detailing. Some of the most exceptional looks included a gorgeous navy, backless pantsuit and a mauve ombre halter-style gown. Giant tufted bows on the back of fitted floor-gracing skirts added avant-garde touches that sent this fashion show to a level worthy of the tents in New York.
Alistair Archer must have been singin' in the rain when he created his outstanding collection of bright and sunny rainwear, featuring coats and umbrellas with coordinating rain boots. Vivid turquoise, green, yellow, purple, hot pink and watercolor-like prints will turn any dark and dreary day into a double rainbow reward. The beauty in Archer's designs is truly in the dramatic handpainted prints. Every outfit is like a Monet painting, channeling a color palette and style similar to those famous water lilies. In other words, we don't mind getting drenched if we can be decked out in these designs.
Those antique lace curtains your grandmother preserved in your family's hope chest? If Martha Jackson could get her hands on them, they'd likely be turned into romantic and flirty fashion created with reclaimed and reinvented fabrics and lace. Every look in the Restored by Design runway show is a worthy wardrobe choice for the Great Gatsby's Daisy Buchanan. Layered skirts, sheer blouses and paneled dresses floated down the runway in hues of blush pink, ivory and rose with pops of turquoise jewelry, also created by Jackson. Restored by Design repurposes vintage looks into modern-day, eco-friendly masterpieces. New storefront opening Sept. 10 at 128 N. Main St., Providence.
More StyleWeek coverage:
Night 6: PINI, Yellow Clover and Jonathan Joseph Peters
Night 4: Eight United Republic Affair, Battle Designs, Carissa Lynne Frazier
Night 3: Bound by the Crown Couture, Julie Kontos and NoMy Style
Night 2: Caronah Cassell Designs, ASK Fashion and DeBrichhio