StyleWeek Northeast: August 2014: Jess Abernethy, Glenn Michael, Stetkiewicz
Veteran designers and one newbie hit the runway with show-stopping patterns, hip-hugging silhouettes and tailored menswear.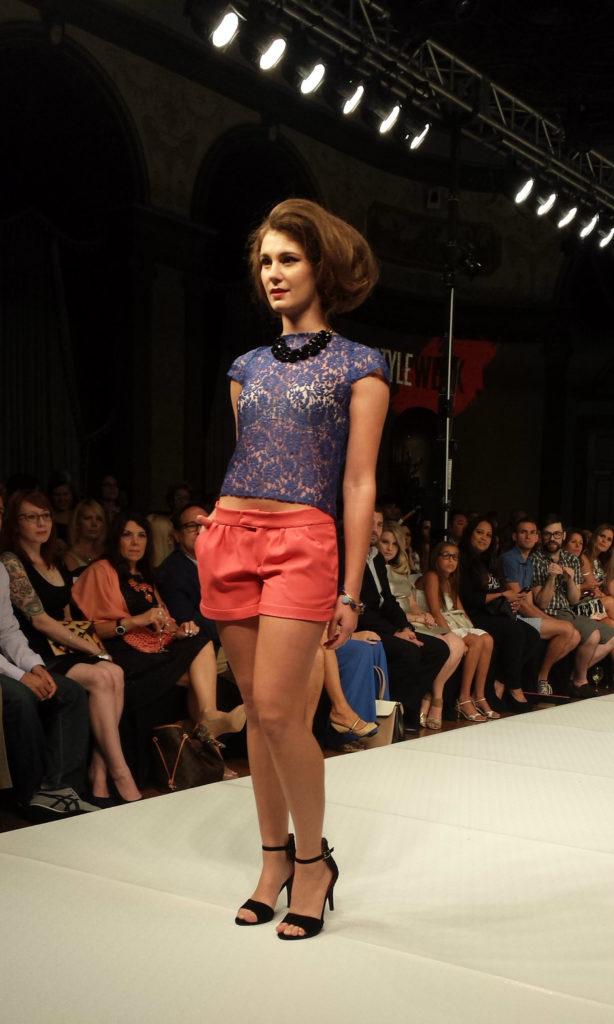 StyleWeek Northeast is happening August 24-29. Don't forget to get your tickets.
Veteran StyleWeek designer Jess Abernethy works with a vivid palette of red, emerald green, tangerine and prints paired with white and navy lace accents on sleeves, a blouse and a coordinating jacket. I thought one of her prints – pink poppies popping out from a black backdrop, looks like it was reminiscent of the famous Marimekko Unikko poppy print, but with Abernethy's own spin on it. Coincidence or not, the Unikko print is celebrating its fiftieth anniversary, and Abernethy's take – subtle but bright blossoms on a muted black background – appear on a pair of high-waisted tapered pants, a pencil skirt, a tailored jacket and a striking one-shoulder gown (though we would like to see what the gown looks like without the flyaway sleeve). For the more daring, flashes of multi-colored patterns caught attention in the form of a crop top, blouse and maxi skirt. Abernethy's collection features a variety of looks that can be mixed and matched and blouses that can be worn just as easily with a pair of jeans. My absolute favorite outfit from the whole evening is the navy lace top paired with the tangerine shorts.
This may have been the first all-men's collection (except for one look) to appear at StyleWeek, and we loved watching the guys strut their stuff – hello Enrique/Ricky Martin lookalike, call me! Just kidding, I'm married. Beautifully tailored, reversible coats and Capri pants with unusual rounded hems wowed the crowd. The jackets are impeccably sewn, made from luxurious fabrics and demonstrating expert detailing. Michael's designs commanded the catwalk with skater-chic looks and surfer-dude worthy apparel, but there were also a few New England prep looks in there for good measure (Providence is thirty miles from Newport after all). We especially admired the monochromatic cricket team – dressed head-to-toe in white and wielding cricket paddles – that looked like they were ready to run to the field straight from the runway.
Stetkiewicz knows how to work it with leather (lambskin, suede and fused cowhide). Her pants are always showstoppers in metallic, hip-hugging silhouettes. The designer's craftsmanship shows in every piece of her collection – from an impeccable asymmetrical color-blocked dress in lilac, midnight and white to an incredible top with intricate beading. Just as awe-inspiring is a soft cowl-necked, one-shoulder dress that any woman would want to cozy up in. A crowd favorite cocktail dress with slashed draping in the front – we've never seen anything like it except in the movie Edward Scissorhands – is a sexy little number I want in my wardrobe!
Photos by Katelyn Coelho
More StyleWeek coverage:
Night 6: PINI, Yellow Clover and Jonathan Joseph Peters
Night 5: Shalyn Webber, Alistair Archer and Restored By Design
Night 4: Eight United Republic Affair, Battle Designs, Carissa Lynne Frazier
Night 3: Bound by the Crown Couture, Julie Kontos and NoMy Style
Night 2: Caronah Cassell Designs, ASK Fashion and DeBrichhio