StyleWeek Northeast: August 2014: Bound by the Crown Couture, Julie Kontos and NoMy Style
The third night of runway shows dazzled the crowd with sweet swimsuits, futuristic military wear and plus size designs.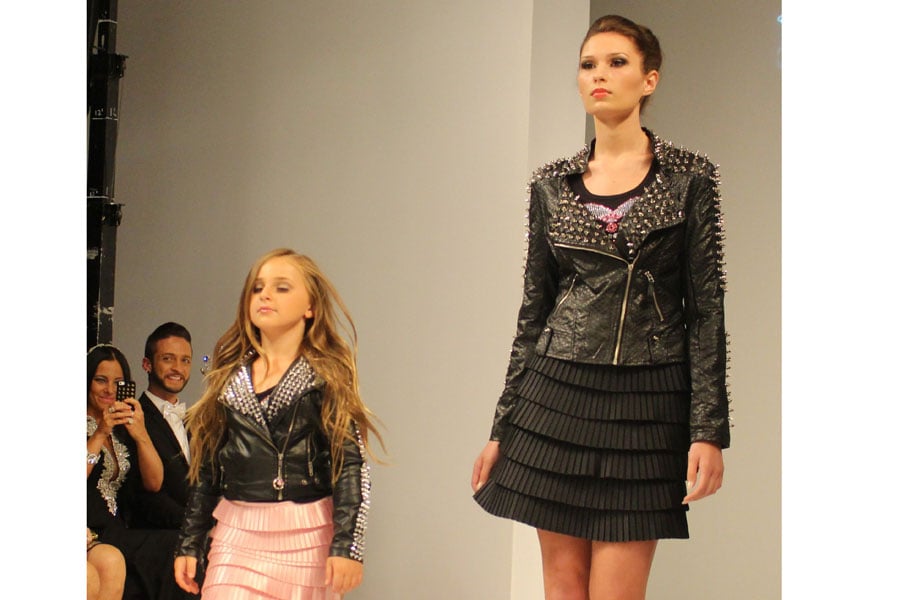 StyleWeek Northeast is happening August 24-29. Don't forget to get your tickets.
Bound by the Crown Couture by Chances R Designs
Bound by the Crown Couture is an adorable children's line by veteran women's wear designer Toni Lyn Spaziano of Chances R Designs and Bravo celeb Susanna Paliotta. The show opened with several eye-catching swimsuits featuring classic black nylon accented with pearls and Swarovski crystals, all of which were glamorous yet wearable. An embellished sheer black hooded cape was my favorite piece; paired with a tiny two-piece bikini, it was a daring choice that really paid off. Chic suits in timeless fabrics and muted color palettes seemed a perfect fit for sophisticated little girls who might someday be running the boardroom. A handful of well-made evening gowns and fun party dresses in rich hues fit the adults as well as the kids. Matching black spiked leather jackets were paired with accordion pleat skirts and crystal-studded glitzy tanks for a mother-daughter look that had the whole audience smiling in delight.
The Boston-based designer's self-titled Spring/Summer 2015 line offered show-stopping looks that were both edgy and luxe. The exciting women's ready-to-wear collection was inspired by futuristic military, which was reflected both in Kontos' impeccably sewn garments and in the to-die-for Race&Grant body armor, stunning chainmaille handbags and accessories. Fabulous Trojan-helmet coiffures, bold lips and furious brows served as perfect accoutrements, as did the models' cloven hoof-shaped boots. With an earthy palette of olive green, smoke gray, crisp white and jet black, all items could be easily incorporated into any fashionista's wardrobe. Some of my personal favorite pieces included a sheer lace top, a swingy faux-leather skirt, a pair of slim tailored slacks and a fitted blazer featuring newsprint detail on the cuffs. Put simply, this show was to die for.
Designer Naomi Sauro prides herself on being able to whip up garments that flatter the shape of all women, from size two to size fourteen. Her line featured a simple palette of black, white and red along with minimal styling of the models. Swimsuits were modest yet housewife sexy, made with ample fabric and paired with gauzy cover-ups. The most cheery outfit of the bunch comprised bright lace-covered shorts and a printed blouse tied up a la Daisy Duke. A black and white polka dot skirt featured unfinished hems and layers that floated nicely in the breeze. The final number was an interesting black and red full-skirted tutu dress, which was cut so that it appeared much shorter in the back than the front.
More StyleWeek coverage:
Night 6: PINI, Yellow Clover and Jonathan Joseph Peters
Night 5: Shalyn Webber, Alistair Archer and Restored By Design
Night 4: Eight United Republic Affair, Battle Designs, Carissa Lynne Frazier
Night 3: Bound by the Crown Couture, Julie Kontos and NoMy Style
Night 2: Caronah Cassell Designs, ASK Fashion and DeBrichhio