Sierra Barter Wants to Get Connected
The Lady Project cofounder is linking up women around the country.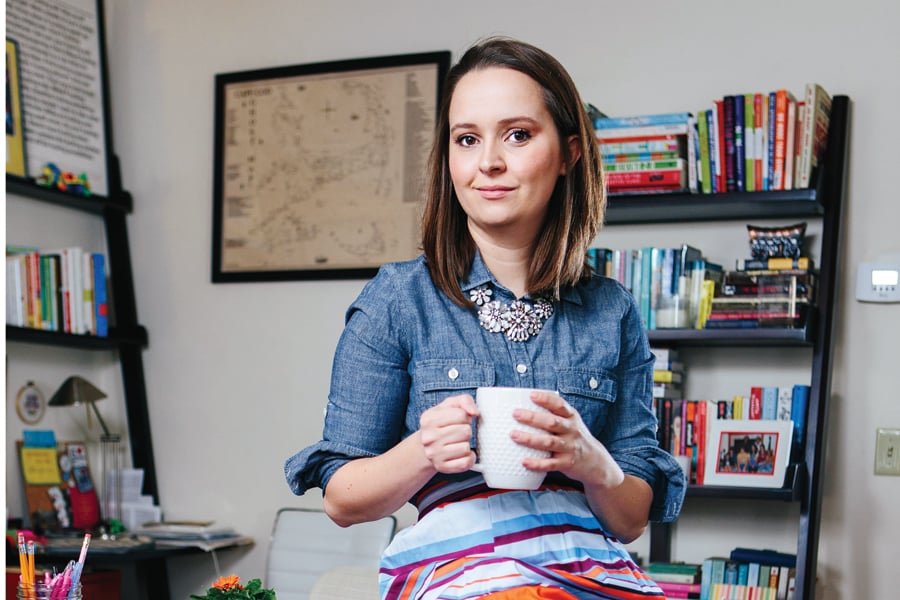 Many people may think they have a pretty cool party trick, making a coin disappear or picking a card out of a deck or drinking the most beer with a ping pong ball in it.
But Sierra Barter's is a beauty. It's her bellybutton or, to be more precise, the lack of one.
Barter, twenty-nine, cofounded the Lady Project in Providence in 2011, a nonprofit of networking, mentoring and socializing for women by women. But when she came into the world in the tiny town of Hubertus, Wisconsin, a Milwaukee suburb of 5,300, the odds were severely stacked against her.
"I was born with omphalocele," says the vegetarian Barter, munching a salad one day at Rosalina in downtown Providence not far from Johnson and Wales University, where she works as its social media coordinator. "It happens during gestation when your insides don't fully form. All my insides were outside my body in a small sack when I was born. For the first three months of my life, I was in intensive care."
She was baptized in the hospital, had last rites administered and was, she laughs now, "a hot mess," enduring corrective surgeries that left her without a bellybutton.
"We thought she was going to die," says her mother, Lisa Majkrzak, a photographer in Hubertus, of the rare condition. "It was a rollercoaster for the first three months of her life."
And it wasn't over. As a small and frail child with asthma, Barter spent a lot of time in the hospital battling pneumonia. Late in her teens, she was put into a medically induced coma.
"Dylan called my room," Barter jokes about the oldest of her three brothers who claimed dibs on her bedroom at home if she didn't make it. "I didn't understand the severity of it. I just remember being mad because I was missing a concert I wanted to go to. You know, seventeen-year-old priorities."
"She almost died then," Majkrzak says. "She's gone through a lot. Those issues were something she had to accept and fight through. And she did. It's really made her stronger."
That may be putting it mildly. After graduating from Johnson and Wales in 2009 with a degree in advertising and marketing communications, she befriended Julie Sygiel and the two young women soon brainstormed forming a women's group. The Lady Project was born in 2011, with its first event held in February 2012 at the Dorrance restaurant in Providence where Barter says "a lot of women we didn't know came, not just friends who had to show up."
Since then, the Lady Project has spread to nine other cities: Boston, New York, Philadelphia, Boulder, Nashua, New Haven, Washington, D.C., San Diego and Seattle. There are at least five more forming this spring, a few more in the fall and who knows how many after that.
Barter is slamming busy keeping up with all of it. She works full time at her alma mater, waits tables at Trinity Brewhouse, and puts in at least forty hours a week of her remaining spare time on the Lady Project, which has a tiny office space on Chestnut Street. But she mostly works out of her tiny apartment in the Summit neighborhood on Providence's East Side that she shares with two tiny dachshund-mix dogs, Dee Dee, a shelter dog, and Lucy.
That's just the way she lives her life, one that last year got her lauded as one of the country's fifty hometown heroes by Glamour magazine. "I'm a fast-moving person," she says with decided understatement.
And one without a bellybutton, which still delights her to talk about.
"It's a fun party trick," she says, laughing. "In college, I'd joke that when I got drunk it would go away."
I had not yet met Barter before attending the Lady Project's annual holiday gift guide launch in the cavernous Hope Artiste Village in Pawtucket, the event held inside Chifferobe Atelier, a female-owned business.
There are at least fifty women here milling about before the program commences, but Barter is not hard to single out. With shoulder-length chestnut hair and dark eyes, she moves smoothly, working the room, chatting with women, and sliding fluidly from one to the next in a seamless, unforced manner.
She spots me, the only uncomfortable-looking male in the mix, and brightens, walking over to extend a hand and a smile.
"So glad you made it," she says, adding in an earnest, mother-hen sort of way. "I want you to feel welcome, talk to people, have a drink, get something to eat."
We chat about tonight's program, which will include a "three-on-three" segment, three women of varying backgrounds talking about their passion for three minutes each, the self-doubt each had crafting their careers and how they overcame it. Barter then moves along, welcoming others before the program begins, saying of it and the Lady Project in general, "This is what happens when amazing women get together and do cool things."
Membership has grown rapidly in the Providence Lady Project, which now has around 550 members (and 1,200 total in all the chapters), all women or those who "identify as a woman," according to its website. "We want to be as inclusive as possible. We have heard people say they're glad we have that wording," she says.
Has she ever gotten pushback from men who might feel excluded or that the Lady Project is gender elite? She laughs.
"I've seen guys joking on Twitter that they're going to start a 'Man Project,' " she says. "Good luck. It's a lot of work and you don't get paid."
The Lady Project is an all-volunteer operation, running close to the bone on donations, sales of Lady Project merchandise and annual memberships that run from $25 to $50.
Three team members, including Barter, receive small monthly stipends.
"The other day, I bought us a printer," she says dryly.
The Lady Project's main thrust is getting women together to discuss issues of concern, network, support each other and have fun. It hosts two or three events a month, in addition to its signature event, a daylong summit, now in its fourth year. The monthly events cover a range of topics, which have included self defense, finding a mentor, negotiating a salary and a yoga class, all of it, Barter says, "to get people trying something new."
The Lady Project also partners with local charities, raising money and goods for the work they do, including Sojourner House, Girls on the Run, the Girl Scouts and Amenity Aid.
The annual summit sells out well in advance, and draws a maximum of 300 women from all over the country, with past keynote power speakers like Olympic medalist Michelle Kwan, Meredith Walker, cofounder of Amy Poehler's Smart Girls, and Tammy Tibbetts, founder of She's the First. This year's speakers included Ruma Bose, serial entrepreneur and president of the Chobani Foundation, Ann Shoket, former editor-in-chief of Seventeen magazine, and image consultant Elaine Pouliot.
The summit also hosts popular panel discussions and worships on things like "Negotiating While Female," "Five Tips for Creating Your Own Happiness" and "How to Make Your Words Stand Out in a Sea of Saturation," led by local women such as Kristen Adamo, vice president of marketing and communications for the Providence Warwick Convention and Visitors Bureau, and Kaitlyn Roberts, founder of Easy Entertaining in Providence.
"It's great, women come from all over, L.A., Austin, Seattle, the New England area," Barter says. "That's the great thing about Providence; it's easy to get here."
Though she's only lived in the city for eleven years, she thinks like a native. Asked why she doesn't host the summit in a big place like New York, she scoffs at the idea.
"I can literally call a guy named Tony and get linens for a third of the price here," she says. "And I love showing off Providence."
She also does the Rhode Island thing of giving directions "based on where the Dunkin' used to be," she says, and will hand deliver merchandise when locals order online.
"I feel bad making people pay shipping. I figure hey, I'm close, I'll just drop it off," she says.
She relies heavily on her core group of fifteen team volunteers and six interns, plus chapter city managers and their teams.
"It's the most incredible team," she says. "I can't wait to pay them all one day."
As a senior at Hartford Union High School in Wisconsin, neither Providence nor Johnson and Wales were on Barter's radar. But it's the only school she applied to, based on the recommendation of a friend who went there.
"I wouldn't advise kids to do what I did, apply to only one college," she says. "I had two requirements for a school: It had to be outside Wisconsin, and it had to have DECA, which I was involved with in high school." (DECA, aka Distributive Education Clubs of America, focuses on careers in marketing, hospitality and finance.)
She did decently in high school, but a guidance counselor told her she wasn't college material. She applied to Johnson and Wales and got in, earning marketing and DECA scholarships in the process.
"When I get my master's degree," she says with a laugh, "I'm sending a copy to that guidance counselor."
Clockwise from top left: With cofounder Julie Sygiel at the first Lady Project Summit, April 2013 (Jen Brister). At a mixer with the Founders League, July 2013 (Jen Brister). At Stocktoberfest with Girls Pint Out, October 2015 (Brittanny Taylor). The Holiday Guide Celebration, December 2015 (Brittanny Taylor). With then-Mayor Angel Taveras at the office warming at Batchbook, July 2014 (Brittanny Taylor). At the Bring Your Own Mentor Bash, September 2013 (Natalja Kent).

She says her mom is her biggest supporter, a free-spirited woman who raised four kids pretty much on her own and backed whatever dreams they had.
"She's the most supportive person I know and much cooler than I am," Barter says. "If I'd told her I was quitting school to make it on Broadway, she would have said, 'Go for it.' "
"When she told me she was going to a college in Rhode Island, I asked, 'Are you gonna ride your unicorn there?' " says Majkrzak. "But she got scholarships, worked to make money. I was proud that she did that."
Barter loved Providence's little-city, big-town vibe, and the small class sizes at Johnson and Wales, where she befriended many, including professors Christine Ure and Patrick Oscar "Chil" Chilabato.
"I thought she was this cute quiet girl from Wisconsin with a sweet, sweet smile, eager to get involved, soaking up everything," Ure says. "She still speaks to my classes as an alum and a fellow employee, helping with our social media branding. She's just a generous person."
Then and now, Barter runs in a million directions, says Chilabato, who calls his former student "a great communicator who showed even then she could be a leader." But being busy often meant being late for project meetings.
"She over committed herself, as successful people do, so I had to sit down with her, which broke my heart a little, to tell her 'Look, this is the way we run things, we start at 9, not 9:30, not 10,' " Chilabato says. "She took it personally, but then perked right up and said, 'Chil, you'll never have to worry about me being late again.' "
And she never was.
"As capable and accomplished and smart as she is," Chilabato says, "what makes everyone remember her is the type of person she is. The Lady Project's success doesn't surprise me. She's what sells it. She's the face of the program."
Ashley Horning is Barter's life-long friend. They met in second grade, their common bond being schoolmates and the children of divorce.
"So according to the universe of second-grade girls, we were destined to be friends," says Horning, who lives in Oklahoma, working in education.
The friends did everything together, walking all over their tiny hometown to candy stores and parks, with Barter's early leadership skills evident.
"She'd say 'Let's do this and do that,' " Horning says. "We were both into the Baby-Sitters Club books, so she started a babysitters club, and a Beanie Baby club. She was always a leader and a worker. At twelve, she made babysitting business cards and put them up all over town, she bused tables at twelve, she worked at Kmart."
They remain close. Barter planned Horning's wedding, renting a hotel room where she later surprised her friend with displays of photos of them growing up and her favorite foods, "even food I'd forgotten about," Horning says.
"She was super organized," she says. "She had spreadsheets out for everyone. I had nothing to worry about, she did everything."
Dylan Barter, twenty-seven, a Wisconsin-based web developer, is proud of his big sister and admires her "ability to put her head down and power through" challenges.
"We were definitely rivals growing up and in some ways similar, both stubborn and wanting to get our own way," he says. "That showed in our teenage years where we hated doing anything with each other, but later figured out we're really very much alike."
Lady Project cofounder Julie Sygiel met Barter at a party at the Alayne White Spa in Providence in 2011 and hit it off, both recognizing each other in that "Oh my god, you're one of my people" sort of way, Sygiel says. "I was drawn to her because she's really outgoing, ambitious and optimistic," she adds.
They soon started talking about various women they knew, and how to connect them, the idea of forming a group to do just that quickly gelling. They kicked around various names like "Trailblazers," "Girl Bosses" and "Superstar Women" before settling on the Lady Project.
Sygiel, who founded the underwear line Dear Kate, lives in New York City now and turned over the Lady Project reins to Barter, still helping out but mostly "cheering from afar," she says. The other chapters that have formed have largely been started by Providence members who moved and missed it, she says.
"The Lady Project is almost like a friendship club,"
Sygiel says. "You walk into a room and know a lot of people and meet those you don't. People aren't going to judge you or tear you down. They challenge you to climb higher, be more and cheer you on through good times and bad."
The Lady Project isn't making money but could, says communications consultant John Taraborelli, the only male board member of the group, who calls Barter "a cheerleader for everything she believes in" and speaks highly of the project's mission of female empowerment and bringing women together.
"But I'm more interested in developing the brand and business side. It has tremendous potential as a brand," he says.
Matthew Barter, Sierra's father, is a Brit, living in Brighton, England, working as an antique iron restorer. He and Majkrzak divorced when Sierra was three, but he sees her often. He is proud of her, he says, and her long-standing ethics, which includes being environmentally conscious.
"She was about eight and we're in this restaurant and she goes over to another table and lectures people there on the dangers of using Styrofoam," Barter says, laughing at the memory. "She lectured total strangers."
He admires what he calls her "ideology for the greater good" in running the Lady Project, which takes much of her time with no financial reward.
"She could easily be making more than $100,000 a year by now, if she chose that path," he says. "But she's chosen something a lot more beneficial, all without the makeup and bling. She's not putting on an act, which is kind of the American way. She's as genuine as it gets."
Linda Pritcher, a life coach in Rhode Island and Lady Project member, first met Barter at a product launch the project was sponsoring. Pritcher was sitting outside with others, chatting in the dark when Barter appeared from the shadows to welcome her.
"That's what foundationally makes it such a dynamic organization, she puts people at ease so they share, connect and support each other," Pritcher says. "And it all emanates from her. Her vibrancy is undeniable. At its heart, the Lady Project has a dynamic creator who's shaking things up in the loveliest of ways."
Feminism is a word that, in recent years, has taken on negative connotations, Barter admits, while freely and proudly admitting to being one.
"People dismiss it as hating men, but at the end of the day it's about political and economic equality," says Barter, a Hillary Clinton supporter. "We should all agree we have equal rights, from the same money for the same job to access to the same resources."
She loves that Rhode Island is a state with paid family leave, but is disheartened that the nation doesn't, adding, "It's ridiculous that it's 2016 and we're the only country not offering that."
She's happy the Lady Project has had political supporters, from Governor Gina Raimondo to Providence Mayor Jorge Elorza, and knows much remains to be done in a country, she says, "that has had forty-four presidents, all men and only one of color. Women need more representation, not just on the national level, but state and local."
Asked if she has political aspirations, she smiles and says, "Maybe one day. But not for president."
Her ethics, inherited from liberal parents, are her own, her father insists.
"Her mother and I both had these ethics, but we never forced them down her throat," Matthew Barter says. "They come from within her, like becoming a vegetarian at ten. Believe me, living in the Midwest, it's not normal to be a vegetarian."
"I raised her with strong feminist ideals, but also taught her it wasn't a world of two sexes, but of humans," says her mother. "In hindsight, it makes sense that she is who she has become."
Who she has become is many things, including driven, ambitious, crazy busy and always working to connect like-minded women in a spirit of bringing out the best in all — not bad for someone who cheated death as a kid.
Does her unrelenting passion for life stem from that? Barter pauses.
"I think so," she finally says. "As cheesy as it sounds, I was meant to live I guess. Something in me has always wanted to do more, to not settle."