Secrets Behind Brown University's A Cappella Groups
A Q-and-A with Raquel Bryant, the outgoing a cappella czar at Brown University, who helps manage fifteen singing groups on campus.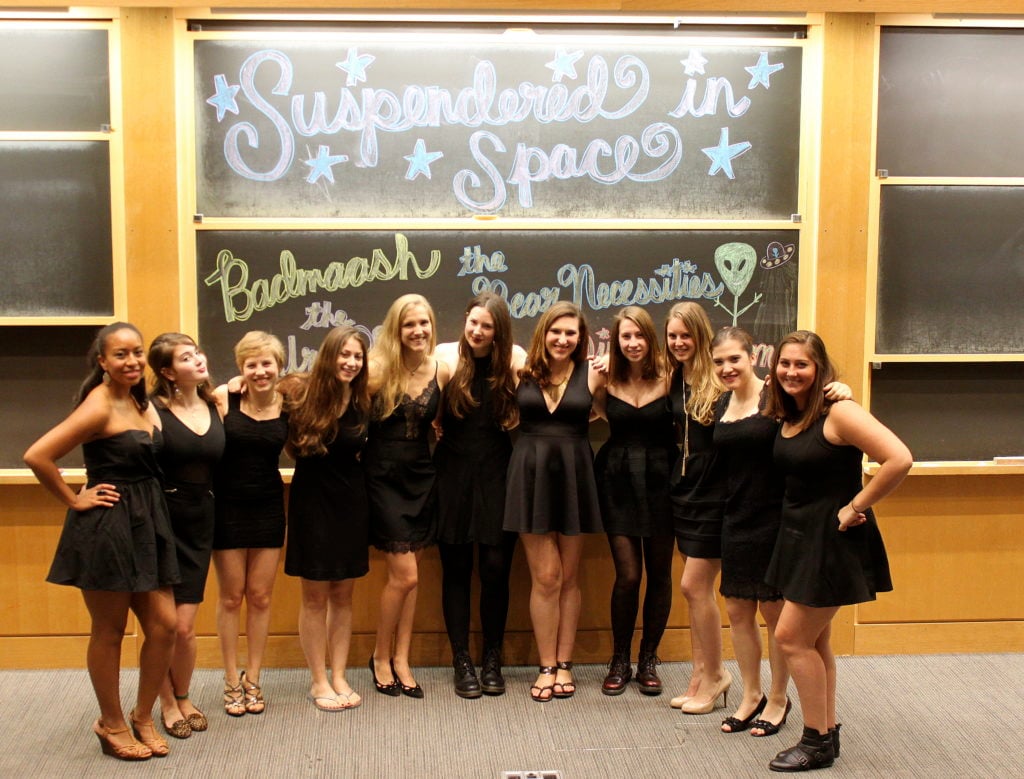 In the January 2015 issue of Rhode Island Monthly, we profiled five different Brown University a cappella groups. This web-exclusive interview with Raquel Bryant, the outgoing a cappella czar at Brown University, explains how she manages to lead the fifteen singing groups on the Ivy League campus. Between auditions, recruitment and song choices, it turns out things can get a bit competitive and dramatic – especially when it comes to Beyonce songs.
How did a cappella start at Brown? A cappella has a history throughout old schools. People were in the glee club or choir, and it wasn't including the music they wanted to sing, so they began making their own singing groups.
You maintain the song list for all the groups. Can you tell me the drama behind that? The "song doc" requires groups to fill in their name, group and what song they want. It's time-stamped, so we know exactly which group reserved what song at what time, so there can't be any disputes. It's pretty controversial; some people in a cappella hate it, some people think it's necessary – but the purpose is to maintain balanced power amongst the groups. To be fair, we want to make sure everyone is singing relevant, upbeat songs. You don't want everyone to sing the same songs on the radio. We have everyone reserve choices. You can't sing a song you haven't reserved, and if another group has performed a song, and you want it, you have to wait until their exclusive rights run out [four months]. Sometimes that results in some drama.
Are there songs that groups compete over? Can you name one that stands out? Oh my god yes. Last December, Beyonce released a secret album, with no press or anything, and a cappella went crazy. We instilled a rule a year ago, that you can't reserve more than three songs off an album. That stemmed from Beyonce's previous album. Groups tried to reserve the entire album. So Beyonce is causing a lot of problems.
What does it mean to be the czar? Basically, I send a lot of emails, and I get a lot of emails. Instead of emailing twenty different people, you can email me, and I get the information to the right groups. I am the filter, and the liaison to the school. It's really hard for the school to track down all a cappella groups and their members. It's easier for me to address the group.
When do the auditions happen? The second week of the fall and spring semesters. It's pretty intense. In the fall, it takes up most of your time. There's no room for anything else for the people in it. Groups usually do three nights of auditions, a total of ten hours of hearing people sing. You get upwards of seventy people auditioning per group. I am the one that handles room reservations. This is when the power of the czar comes in to put everyone on an equal playing field. I am the only one who does publicity, so it's fair. Groups don't have to worry about also being the best advertisers or posting the most on Facebook, or putting up the most flyers to recruit members. I do all of that. People say a cappella at Brown is our version of Greek life. After auditions, callbacks are posted at midnight (Thursday night/Friday morning) at the arches. We sing at arches [the concerts are called Arch Sings], and there are two big arches on campus. One is called Wayland and one is called Mo-Champ.
What happens after that? After callback, we have a Midnight meeting, where all the a cappella groups get together in a big room. People who are invited to callbacks have to fill out their preferences. It's a secret form. They write which group they want to be in the most; which group they don't want to be in. I pull out the cards. And I'm like, "Okay, who wants Jamie." And all the groups are like, "We want Jamie!" Then it's a big moment of suspense, and I yell out, "Jamie will be a Chattertock!" But after all this hullabaloo, they might decide they don't want to be in a cappella after all.
Do members go through initiation? All groups retrieve their new members from their dorm rooms. So we tell them to wait by their phones starting at 11 p.m., and be ready. Make sure you are wearing shoes and clothes because you might be leaving and going somewhere. Groups have secret things they do. It's that first night of bonding and you're welcoming that new person into the group. Then they jump right into rehearsal.
Are there any particular traditions for a cappella groups? Each group has an alumni song, which was the first song their a cappella group ever performed, or is in some way special to the group. That's the first song you teach when you get your new members and you sing it at your senior sendoff concert, which is also an alumni concert.
Do groups have a dress code? The group with a dress code is the Brown Derbies and they wear brown vests and bowler hats. That's their thing. Whether they like it or not, I'm not sure. The Ursas exclusively wear black dresses, which is a little problematic. Some of the other groups might wear black dresses, but we're the LBDs. This is always a running joke. We have a spectrum of LBDs. Like parents' weekend LBD, or Fish Co. LBD. Like "How are we dressing tonight?" "Fish Co. LBD."
Fish Co.? You still call it that? That's from years and years ago! When I was a freshman, my best friend was a senior, and to this day, she says. "You better still be calling it Fish Co. You better not call it Whiskey Republic. You need to keep it alive." I am literally the last person still calling it that.
Anything else you'd like to mention? Midnight organ concerts are a thing at Brown, during the scariest nights of the year. There's one on Halloween and both nights of finals, in the spring and fall, and the first day of classes. The one at the end of the fall semester is the first night of finals. All the a cappella groups sing Christmas songs. Or a Christmas song that's been revamped for Jewish holidays. The Ursas sing about finals at Brown, so there are lots of inside jokes about Brown, and for one reason or another, we throw condoms into the crowd. students.brown.edu/IGCAC/