Run Like the Wind
Two innovative nonprofits support young athletes as they mentor Woonsocket kids and train for their dreams.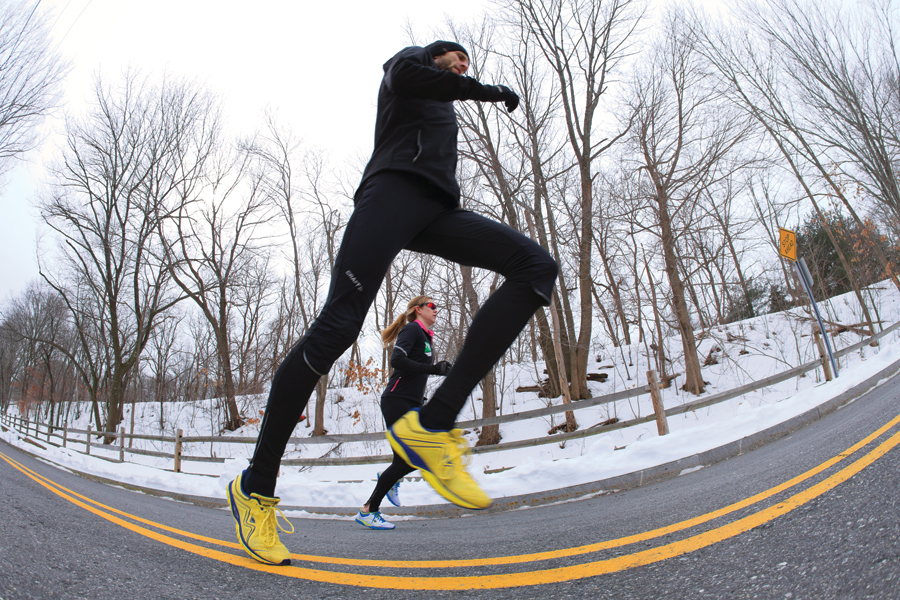 Even in Woonsocket, a city that grabs hold of every funky urban trend, David Goodman stands apart. The lanky twenty-four-year-old popped up on city streets in late 2012, literally a stranger to all, and he's been tearing up the pavement ever since, running eighty, ninety, sometimes more than a hundred miles a week. He's now a familiar face along his route, yet most who give him a passing wave are still perplexed by his presence.
First, there's his curly mane. It's a safe bet he's steered clear of barber shops since his arrival, and in cold-weather months he also sports whiskers a squirrel could nest in. Catch a flash of his shaggy countenance as he zips by on a winter morn, and you'll swear you've spied one of those wooly men of Rocky Mountain lore. It's an apt association, as Goodman blew into town straight from those rugged hills. He's a 2012 graduate of Western State Colorado University, with a bachelor's degree in environmental studies. Google his name and you'll learn he was a stand-out college athlete, once winning the Division II NCAA championship in a track event known as the steeplechase, a nearly two-mile race with hurdles. That explains why his workout togs look ever crisp and new. He gets all his gear — his shorts and socks and Caribbean-blue running shoes — from Karhu, an athletic apparel company, and they give it to him free, with the hope that when he surges toward a finish line some of the glory will rub off on their brand, too. Then there's his, well, aura — one of serenity, like a yogi. Every day he embarks on another grueling workout, yet as he lopes along his posture is always confident and upright, his expression relaxed and worry-free. It's as though he's still bounding through bucolic mountain glens, not dodging traffic on gritty city streets.
David Goodman trains on the Sayles Street bridge, over the Blackstone River.
You can see why people are scratching their heads. Running belongs in the enlightened cities of the West, in resort and college towns, not in a chilly corner of urban New England. So why did Goodman say goodbye to a place where eagles dare and the antelope play and relocate to a dog-eared mill town?
Here's why: Woonsocket may never be the next Eugene, but these days the city has caught the attention of a lot of young people with Olympic fever. The credit goes to two nonprofit organizations: New England Distance, a fledgling outfit launched just two years ago, and NeighborWorks Blackstone River Valley, an economic development agency with a twenty-five-year history in northern Rhode Island. Together they've been working to establish a first-of-its-kind professional running team, and they can already lay claim to some success. Three more runners have since joined Goodman in Woonsocket, and two more are expected, making the place a regular chariots-of-fire training ground.
Nich Haber, the hipster businessman behind New England Distance, isn't waving million-dollar paychecks to lure athletes to the city. It's a shoestring operation. What he offers instead is some modest support for post-collegiate track stars with big aspirations. The program provides both a livelihood and ample time to prepare for top-level meets and marathons. Those who sign on get free housing, coaching and gear, plus travel money to get them to national competitions; in exchange, they work part-time tutoring Woonsocket school kids and leading after-school youth programs.
Pro-running teams are nothing new, of course (though you won't find another in Rhode Island). The International Olympics Committee dropped its amateurs-only rule more than two decades ago, and now all the sports footwear companies — Nike, Adidas, New Balance — sponsor their own packs. Nowhere else, though, will you find a program like the one run by New England Distance; no one else has their team living in an urban center, and links training assistance with community service. You could call it a domestic Peace Corps, for top jocks only.
Haber, a Providence resident, had a reason for locating the team in Woonsocket. What makes the project work is the partnership with NeighborWorks BRV, headquartered in the city.
Joe Garlick, the urban planner who heads the agency, has a knack for cobbling together innovative financing packages and squeezing every bang from every buck. Since 1993, his agency has created hundreds of affordable apartments and homes throughout northern Rhode Island. Their flagship project is Constitution Hill, a Woonsocket neighborhood that was on the skids two decades ago. Through the years, they've rehabbed dozens of derelict tenement buildings, transforming the once-blighted enclave into something straight out of Norm Abram's sweetest dreams. Today it's a quaintly preserved mill village, with a picturesque Victorian or a Greek Revival cottage on almost every corner.
Garlick's group didn't stop with housing. They've built playgrounds and planted gardens and created new retail space. Along the way, they also bought a long-vacant red brick mill building on the banks of the Blackstone River, and turned it into the Mary A. Longtin C-3 Center. The Cs stand for "community, college, career," a tip off that it's an after-school center, a place where teens can go for help with their homework or to join some extracurricular activities. The budget is minimal. The penny-wise organization staffs the program by enlisting "community builders in residence," folks with special skills — from teachers to artists to jazz musicians — who devote fifteen to twenty hours a week to mentoring youngsters. In return, the mentors get free or cheap apartments on Constitution Hill. Thus far, it's been a huge success, so much so that NeighborWorks BRV recently expanded the program. They've set up an umbrella group, the Woonsocket After School Coalition, that lets other youth organizations use their community builders, too.
And that's how New England Distance provides their runners with housing and jobs. You'll find Goodman at the Longtin Center two afternoons each week, helping teens with math problems or maybe organizing a basketball game in the parking lot. Other days he's at the local YMCA, where he leads an exercise class that teaches kids lifelong fitness habits. His home during the two-year hitch is a fourth-floor walkup he shares with the more recently recruited runners, located just a block or two from the center.
"Coaches have told me this kind of work can help with training," Haber says when asked about the focus on public service. "If you have a bad day with your workout, you need something to get your mind off that. Keep thinking about it, and it could bring you down the next day, too. Then it snowballs, with one bad day leading to another. If you have meaningful work, that can take you somewhere else. We've seen that with David. He's spends time at his job, and he comes back the next day fresh. And he's picked up a real fan base, too. Every one of those kids is cheering for him."
New York City's emotional recovery from the 9/11 tragedy began sooner than anyone expected. By most accounts, the city's hard-nosed resolve first reappeared on November 4, 2001 — the day of the New York Marathon. The mood was somber as the event began, The New York Times reported, with runners silent and long-faced as they assembled near the starting line. But then the herd of 30,000 began moving across the Verrazano-Narrows Bridge, and the scene quickly changed. Hundreds of thousands of spectators lined the route, roaring encouragement to the athletes.
"I had witnessed the attacks," Nich Haber recalls. "I was watching from a neighbor's apartment when that second plane hit. Like everyone else, I had been thinking, how could this city ever come back? But it happened — the city did come back, and I saw that, too. On the day of the marathon I was standing at the eighteenth mile, and what I saw was a tremendous life-affirming event."
Growing up, Haber had never been a track star. In high school and college, he was too busy banging away at a guitar to devote time to running. The marathon, though, filled him with inspiration. Soon he was jogging around his block. Before long, the exercise routine became a passion and progressed into a serious training regimen. When New York's race day rolled around again in 2002, he was a participant, not a spectator. "Since then I've run nine marathons, including Boston," he says. "I got hooked."
The other thing you should know about Haber is that he's an extraordinarily creative guy, with a talent for transforming whimsical brainstorms into very successful projects. That's how he landed in New York. He graduated from Brandeis in 1990 with a bachelor's degree in biology and no idea what sort of career he'd pursue. He wound up taking temp agency jobs in the Boston suburbs, a situation he shared with his brother, Jonathan. In their off hours the two passed the time in great discussions; they'd rehash their notion that temp agencies could do a better job matching workers with assignments. Then they developed a few computer tests that could be used to grade job skills. Before long they'd created hundreds of assessments, and were on the road to becoming entrepreneurs. They launched their own company, SkillCheck, and began peddling their services to agencies and HR departments. Soon bigger companies in the personnel field took notice, and in 2006 the brothers sold their operation to First Advantage Corporation. For Haber, the deal included an employment contract as a First Advantage vice president in the Big Apple.
The move to Rhode Island came a few years later, after he and his wife, artist Lynne Harlow, became parents. Both Massachusetts natives, they wanted their young daughter living closer to her grandparents. Haber said a temporary goodbye to the corporate world, and they relocated to Providence, which they picked as their new home because of the vibrant arts scene.
The return to New England did nothing to dampen Haber's new enthusiasm for running. He joined the Ronald McDonald House of Providence Running Club, a group of 200 or so men and women who get together for weekly workouts, compete in road races and promote their namesake charity.
At the same time, he learned about Community MusicWorks, a Providence program that supports classical musicians and enlists them to teach young people to play as well. That set him to thinking. A decade had passed since the 2001 New York Marathon, but his mind kept turning back to that event. He'd seen how athletics can have a huge social impact, and before long a new big idea was percolating through his brain: He would establish a team of top-tier distance runners in Rhode Island.
From left: Bob Rothenberg, a retired Brown University track coach who volunteers with the program, and Nich Haber, New England Distance founder. Right: Urban planner Joe Garlick, head of NeighborWorks BRV.
To develop his plan, Haber cornered some of his running club friends and picked their brains. He talked to track runner Molly Huddle, who competed in the 2012 London games, and Bob Rothenberg, Brown University's track coach through the '80s and '90s. What could he offer athletes, he asked, that would help them reach the top?

After hearing their answers, a plan started taking shape. "The theory is that distance athletes need a few more years out of college to reach their potential," he says. "The problem is, once a track athlete graduates, there's very little support out there. If they take a full-time job, that means too little time for training. So the two big things they need turned out to be part-time work that leaves them time to train, and help with their biggest expense, which would be housing."
Over lunch in a Providence restaurant, Haber shared his thoughts with a friend, Christian Calderone, the deputy director at NeighborWorks BRV. Calderone suggested he visit Woonsocket for a get-together with the agency's boss.
Joseph F. Garlick Jr., was born and raised in Pawtucket and has lived in Rhode Island most of his life. That explains his old-fashioned Yankee values and character; he's frugal, self-reliant and reticent when it comes to self-promotion. "I tell people I build houses, and leave it at that," he says when asked about his work as executive director of NeighborWorks BRV. "Maybe that's Catholic guilt."
He's built hundreds of homes and apartments and even some commercial properties all over northern Rhode Island, which makes him one of the state's real estate Goliaths, right up there with Richard Baccari and James Procaccianti. The difference is that Garlick works the other side of the street. He runs a nonprofit in hard-luck Woonsocket, and he doesn't seem concerned that he'll never be a millionaire.
He makes about $90,000 a year and prefers jeans to Armani. When the time came for him and his wife, Sherry, to settle into a home of their own, they took a page from Thoreau and built it themselves, with just minimal assistance from a mason and an electrician. Twenty-five years later they spend weekends still laboring at the project. "Every house is a work in progress," he jokes.
After graduating from Providence College in 1978, Garlick headed to Rutgers University for a master's degree in urban planning. New Urbanism, a design and planning movement, was coming into vogue.

The philosophy is an easy fit with the do-right New England ideals Garlick grew up with, embracing walkable neighborhoods, mass transit, green building codes, historic preservation and the reclamation of idle industrial areas. In suburbia, where no one wants to give up cars and mall shopping, the movement somewhat fizzled, but in cities it's been a huge success, especially in the area of housing development. Today sprawling urban public housing is fading into the past, thanks primarily to New Urbanism. "The projects" has become a pejorative euphemism that suggests reservations for the poor, or government-owned slums where crime and poverty fester. The New Urbanists instead push mixed-income housing, with affordable or subsidized units scattered throughout neighborhoods and close to job training programs, bus stops and business districts.

Garlick first arrived in Woonsocket in 1987, when he took a job as grant writer for the city's planning department. Massachusetts was then riding a high tech boom, and home prices in southeastern New England were skyrocketing. That had City Hall looking for money to create affordable housing, and Garlick was charged with the task.
Within a year or two, the region's economy reversed direction. The computer industry moved to the West Coast, and New England slumped. Lending institutions that had jumped too deep into real estate financing were stuck with a heap of foreclosed properties. Some went under, including Woonsocket's Marquette Credit Union. In northern Rhode Island, that meant the recession would be long lasting and deep. Housing prices dropped, of course, but more people needed help. And in Woonsocket, speculators who'd been grabbing up tenements abandoned their investments; in some neighborhoods whole blocks stood vacant.
Garlick saw a challenge. In 1994 he left his city job and took over leading the Woonsocket Housing Development Corporation, the nonprofit that would later become NeighborWorks BRV. At that time, the outfit just poked along, but the new director was soon able to speed up the pace. He studied up on a federal program that used tax credits to finance the creation of affordable housing, and then bought fifteen empty buildings on Constitution Hill, a ten-block neighborhood that sprang up alongside the Blackstone River back in the city's mill heyday.
Through the years the organization has kept buying properties in or near Constitution Hill, becoming a major neighborhood presence. Those first fifteen buildings provided forty-four apartments, and later purchases would push the number to more than 100. Every step of the rehab project has been guided by New Urbanism principles. The old tenements are now eco-friendly, with insulated windows and siding to save energy in winter months. Recycled materials were used whenever possible: Decks and ramps, for example, are built of composite planks made of reused plastic and wood chips. Preserving the neighborhood's historic character has been a top priority, too. All the decorative touches from the 1800s come shining through: arch-topped palladium windows, ornate molding, bay windows, corbels and cornices. One or two buildings were razed to create small playgrounds and parks, including one with an orchard of dwarf fruit trees.
Jobs and economic development have also been part of the plan. Some tenement apartments were remodeled to have larger rooms, and reserved for families running home daycare centers. A Main Street manager was hired to plan promotions for Woonsocket's nearby downtown, and NeighborWorks BRV has purchased a building there as well, for use as a farmer's market. Just a block away the organization has built an office and retail mini-mall, Heritage Place. The property includes the group's headquarters, with space for classes on home-buying, managing family finances and avoiding foreclosure. As a finishing touch, Garlick pulled an antique dining car from a salvage yard and made it the plaza's anchor.
Through the years NeighborWorks BRV has grown to fifteen employees, and their reach has expanded well beyond Woonsocket. At North Smithfield's Marshfield Commons — with thirty-eight townhouse-style apartments — their architect copied the Federalist Era cottages in the town's historic manufacturing village. In Harrisville, Garlick points to ClockTower Apartments, an abandoned factory eyesore transformed into forty-seven apartments, with a geothermal heating system that draws renewable energy from the very bowels of the earth. And in Pascoag, a construction supervisor is helping a dozen families build their own homes, a project that targets first-time buyers.
Despite those successes, most of Woonsocket's civic leaders have changed their stance on affordable housing. Politicians and radio talk hosts have stamped renters with a label — "the Element" — and talk of ripping down buildings to drive them from the city. They've blamed the tenant class for everything from crime to City Hall fiscal woes; the real issue, however, could well be race. The turnaround came as an influx of Hispanics reached the city and finger-pointing became popular among more-established city residents who can boast their own immigrant forebears arrived a generation or two earlier.
Garlick stops short of making the racism charge himself, but he's quick to dismiss the notion that NeighborWorks BRV developments are anything like the public housing projects of the past. Residents are encouraged to take responsibility for their neighborhoods by joining boards and associations, they support each other and local businesses, their children spend time in after-school programs, not on the street, and they're learning to handle their money and move toward their dreams.
"There's still a real demand for good affordable housing," he says. "To rip down those homes on Constitution Hill would have been crazy. We're fixing up blighted properties, and we're not just slapping things together. We preserve the local character and the architecture, we bring in amenities like parks and playgrounds, we're educating kids and empowering people and building communities. The naysayers just don't get it."
Winter afternoon sunshine is pour- ing through the big factory windows at the Mary A. Longtin C-3 Center, which now looks like a cross between an upscale loft condo and a brightly colored rumpus room. About thirty youngsters are on hand, ages twelve to eighteen. Some sit at tables with books open before them, or at desks where they tap away at computer keyboards. Others bounce on sofas with kid-proof upholstery, laughing and socializing with friends.
You'll find David Goodman there, too, still dressed in his running gear. He stops by a table where textbooks and papers are spread out to check on a teen's homework, looks over a near-completed assignment, then moves on to help someone else. When the students finish their work, he might join them in the basement for a game of pool or foosball. This is his routine two days a week. On two afternoons when he's not providing homework help, the athlete-mentor can be found at the Woonsocket YMCA, where he leads fifty or so youngsters through physical workouts on treadmills, cross-trainers and other gym machines, a program set up by a local health center. Most of the children he works with are from immigrant families, hailing from the African countries of Senegal or Ghana. It's a whole new world for Goodman, who grew up in a small farming town in Indiana, and it's clear he enjoys the fresh surroundings and challenges.
"When I was in high school, my parents always told me, you're great with kids, you should be a teacher or a coach, and I'd give them a 'yeah, yeah' and shrug it off," he says. "Now I've found I love it…. It's tremendously satisfying when you can see them improving."
Young people at the Longtin Center will tell you his one-on-one tutoring has brought results. Seth Chaplin, sixteen, has seen his math and chemistry grades improve since he began doing homework there. "I won't do it at home because it's too distracting, and I won't do it at the library because it's too boring," he says. "And this is right down the street from my house."
New England Distance recruit Meaghan Hobson helps lead a dance class at the C-3 Center.
"I was having trouble with fractions, but now I've seen my grades go up," adds twelve-year-old Kathia Dioh. "My mom and dad don't always have the time to check my work, but there are people here who can help."
Goodman moved from Colorado to Rhode Island in the fall of 2012, arriving in an aging van borrowed from a friend. Haber had promoted the New England Distance program by emailing college coaches across the country, and when Goodman's coach read about it, he urged the young man to apply. After several meetings and interviews, Goodman signed up for two years. "When I landed this situation," he says, "I just thought, awesome! It's a job that lets me keep training. That's not easy to find."
His workout regimen also includes weekend sessions in Providence with Bob Rothenberg, the retired Brown coach who now volunteers with New England Distance. "I've continually gotten better," he says. "I see myself as being good enough to get to the top."
The living arrangements have been a boost, too. A gang of recent college grads sharing an apartment might call to mind an MTV reality show, but Goodman insists it's nothing like that. They keep each other's nose to the grindstone, sitting down together for healthy meals and sharing notes about their progress. A late night out is a rarity. "We kind of hold each other accountable," he says.
Meaghan Hobson, the second New England Distance recruit, arrived in Woonsocket in early 2013. She holds the school records at Philadelphia's La Salle University in the 400- and 500-meter events, and now sets her sights on the 800-meter and the mile. Her goal, she says, is to qualify for national meets and be in contention for a spot on the USA Team.
"Whether it's competitive or not, I just know I'm always going to keep running," the twenty-six-year-old Pennsylvania native says. "I don't know why I do; I just love running. I do believe I can be one of the best in the country. I just feel like I owe it to myself to give myself that shot."
Working with young people is her second passion. She's got a bachelor's degree in psychology and a master's in elementary education, both from La Salle. When she's not training, she leads children's enrichment classes at Woonsocket's Citizens' Memorial Elementary School. "I've been fortunate enough to have some extremely positive role models in my life, to help guide me to where I am now," she says. "I hope to work with students and have that same positive effect on them that I had in my life."
Other athletes New England Distance recruited last fall include Lara Crawford, a 2008 Olympic trials qualifier in the ten-kilometer and 10,000-meter events, and Katrina Spratford, a Pennsylvania State Athletics Conference women's cross-country champion. Before reaching Woonsocket, the two women were friends at Shippensburg University of Pennsylvania, where Spratford earned a bachelor's degree in exercise science, and Crawford worked as an assistant track coach while studying for a master's degree.
As Haber predicted, the runners have found a built-in fan club among the kids they tutor and coach. There's a video clip posted on YouTube that says it all. The scene is a room in the Longtin Center, but the lights are out. A gasp or giggle here and there lets you know the darkened room is filled with youngsters. On this day, they're watching a widescreen TV showing a track event broadcast live from New York City. One of the lanky figures dashing by onscreen is Goodman. The clip is just a minute long, but that brief stretch is filled with tension. You hear nervous applause and kids' voices shouting "Go!" and "He's coming!" The mile run is not Goodman's usual event, but in a few seconds it's clear he's heading toward a third-place finish. Then waving hands and dancing silhouettes block the screen. It's the kind of exuberance you see on Super Bowl Sunday, but it feels ten times warmer. They're cheering the guy who cheers them when they're tackling algebra or long division.
The teens and the runners aren't the only ones benefitting from the program. The partnership between New England Distance and NeighborWorks BRV will eventually make winners of taxpayers, too. When kids take up fitness activities, that means lower health care costs through their lifetimes; better grades will mean better jobs, which helps build a stronger economy for the city and the state.
And imagine if a few city leaders could put aside the usual demagoguery and instead do something that builds on the running team's success. They could launch a municipal fitness campaign and other things that would be voluntary, or even fun. How about walking clubs in the high-rise senior housing, or a Biggest Loser contest at Autumnfest, or a website to promote healthy menu options at local restaurants? Or, for visitors, a walking tour like Boston's Freedom Trail, but exploring the city's industrial past. Woonsocket could land on the cutting edge of the national fitness movement, and in the process give itself a bright new brand, one that might help bury the city's old image as a dead-end Foodstampville. Sure, it's a stretch to think anyplace in Rhode Island could ever qualify as America's Fittest City, but how about the Get Fit City, or better yet, the City Making a Change, with a half-dozen world-class athletes on hand to inspire the rest of us.
There could be a brighter day ahead, just a short walk — or run — down the road.