Rosalina
Move over Federal Hill. There's a new Italian restaurant downtown that's giving old-school competitors a run for their money.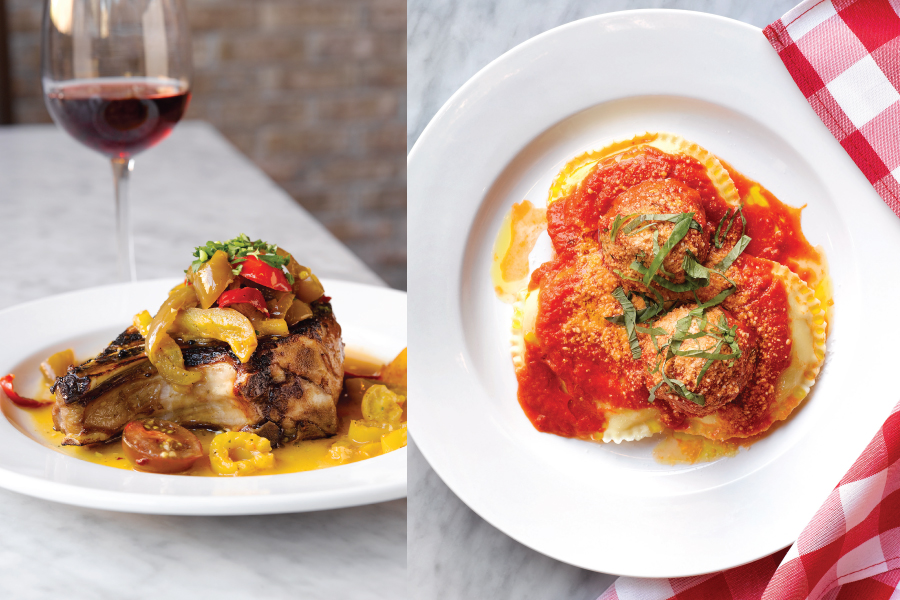 50 Aborn St., Providence, 270-7330, rosalina-ri.com. Open for lunch and dinner seven days a week. Reservations recommended. Wheelchair accessible. Valet parking. Cuisine New Italian. Capacity Seventy-five with bar seating. Vibe Old-school Italy meets modern industrial. Prices Appetizers $5–$14; entrees $14–$27; dessert $8. Karen's picks Pizzette fritte, sauteed shrimp, chicken, pork chops with vinegar peppers.
Key
Fair
Good
Very Good
Excellent
Half-star
Rosalina — moniker included — is the proverbial contemporary throwback: a marriage of innovative appetite and mid-century aesthetic. It's no big surprise given classic Italian food regularly sits in the sweet spot between what we know and what we'd like to learn. Centuries later, there are still innumerable variations on the tomato sonata and still immeasurable crowds willing to explore those riffs. They all want the assurance of a good Bolognese to temper the intrepid ascent into modernity. Sure, you can offer a kale salad in addition to the Sunday pasta and gravy, but don't be misguided; you cannot replace it.
The good news is that Rosalina is adept at forging forward. Saturated in silver and gray, the small restaurant reads industrial at the entrance but gradually transforms into a retro homey hangout. Metal chairs give way to red and white picnic-style napkins; brick accents add warmth to the soaring ceilings and four massive, nearly monochromatic paintings by Buck Hastings capture the fedora era of American culture. The decor marks a vaguely familiar future in which primary Italian ingredients — tomato, cheese and dough — have free range to meander and morph.
The hands-down winner of this culinary evolution is a simple pizzette fritte or — thank you, heavenly father — a Frisbee of fried pizza. But offering praise to the precocious pizzette is like expounding on the joys of love: Words never do it justice and your desire can't be sated. Part puffed air, part acidic sauce, it's possible that, by year's end, Rhode Island might be known for more than one innovative pizza.
But the pizza is not anomalous; there are plenty of options that intrigue the palate. A bright kale salad with apples and lemon ($9), roasted chicken ($22) with feta on some nights, cinnamon-flecked sauce on others. Bubbling baby cauldrons filled with shrimp bathing in a tomato-vermouth sauce ($12) are like serving the sauce without the pasta but there's no complaint: Whatever's left pooled on the bottom can be soaked up with bread or burnt fingers. This is the kitchen's comfort zone: a hybrid approach to classic cuisine in which tradition is shifted but never abandoned.
There are dishes, however, that stray even further from the perimeter of Italian influence. As to how people respond to such deviation, there are two camps: those who draw lines in the cultural sand and those who are less rigid. All are good, though they begin to play with the identity of a restaurant that occasionally meanders into bistro territory.
The real issue in securing Rosalina's reputation as an Italian eatery lies in the pasta. As a whole, it's just not as strong as the other dishes and that's not a readily ignorable problem. For every meat dish and meatball that comes out of the kitchen well-seasoned, there's a bowl of pasta that demands more intensity. Pappardelle Bolognese ($15) and rigatoni with veal ragu ($15) are subtle to the point of indiscernible, and though they include some bold ingredients (pancetta, Parmesan, tomato and wine), none of them assert themselves in a meaningful manner. Even the gnocchi sorrentina ($15), baked with burrata and basil, needs a healthy dose of salt to make any impact. With a less familiar dish — something more unexpected or less tied to lineage — one could overlook the misstep. But a restaurant that calls itself Italian has no choice but to make pasta the way it's been written into history, and this one falls flat.
Cavolo nero kale salad with celery, apples and warm pancetta with lemon oil dressing; eggplant parmesan with Narragansett Creamery ricotta and crostini.
That's not to say cultural attitude is entirely missing. Nothing is more important to home-style cooking than the sense that one is dining out in someone else's home and Rosalina does pepper the glossy interior with a sense of maternal affection. Olive oil is shipped in from the family farm in Kalamata, Greece (not Italian but still enchanting), Chianti is served in raffia-wrapped bottles and cheesecake ($8) is hand-carried from the second most Romanesque place in the States: Manhattan. Granted, it's not ricotta-based but this archetypal version is good and, frankly, it's socially acceptable to call any sweetened cheese dessert vaguely Italian. The New York import is in good company alongside chocolate-shelled cannolis and a revolving suite of gelato that includes everything from hazelnut to coconut. The final course is one in which Rosalina entrusts the preparation to others — a culinary hand-off, but a wise choice to let the local (and distant) masters handle the classics when you're determined to inch forward.
Squid ink spaghetti "alla chitarra" with chopped calamari, garlic, chili flakes, parsley and house olive oil.
Overall, one has to laud the kitchen for understanding how important progress is when you're joining a time-honored club. Constructing an old-school Italian restaurant in Rhode Island is, at this point, next to impossible. Decades-old competition is too firmly established and way too intense. And yet there's still a future beyond Atwells for a new approach that pushes pasta past nostalgia. Demand remains high as most Rhode Islanders, regardless of ethnicity, have a measurable quantity of tomato sauce pulsing through their circulatory systems. And Rosalina has responded to that longing with a measured approach. Both bar and dining area are capable of making small dishes (a plate of meatballs, shells stuffed with a trio of cheeses) into a nightly fete. But it's the ease with which diners meander in, some in suits, some in sweats, that marks Rosalina's impact on the neighborhood. Perhaps even Nonna has considered adding some kale to the family's weekly dinner, just to prove she can.